Whisper and Winterwind: Terror Loose on Dreadfall
Author's Notes: I apologize for this year's comic being a day late. School has been pretty harsh this second half of October. Originally, I intended to do a long Dreadfall story with some spooky suspense and a new Flightmare character, but it was too long to finish for this year. So here's a short two-parter introducing an OC that I've had for a long time and finally have in-game.
Also, please excuse the exclamation points above people's heads. My Norbert Viking hasn't done all the quests yet.
The Wolf and the Howl: Terror Loose on Dreadfall
Part 1: Monster on the Loose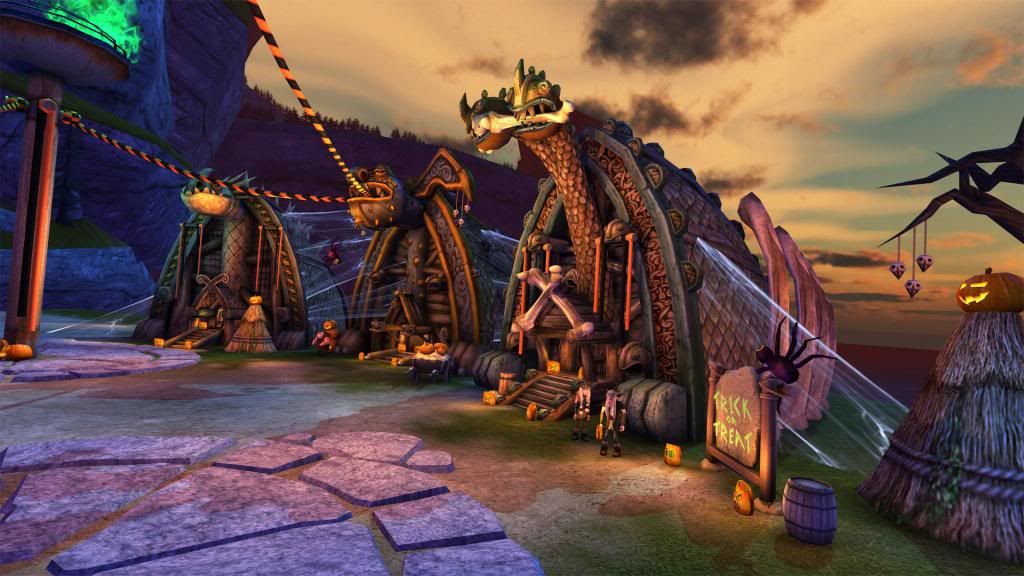 Once again, Berk was celebrating its annual Dreadfall celebration, Whisper and her Woolly Howl Winterwind had already picked out their costumes for this year (without a fight this time), but someone else they knew was still putting the finishing touches on his own.
Norbert (Viking): Alright, all done!
Frostclaws (Shivertooth): Great, can we go now?
Norbert: Aw, come on! Don't you care about costumes? Look, mine even has glowing spines!
Frostclaws: I just want to scare people!
Norbert: Well, costumes can help you scare people!
Frostclaws: Not if your hood doesn't match the rest of your costume.
Norbert: …Seriously?
Frostclaws: I can't let you go out un-color-coordinated.
Norbert: *muttering* You're so weird sometimes.
A little while later…
Norbert: How about now?
Frostclaws: Better. Can we go?
Norbert: Actually, I can't see out of this mask. At all.
Frostclaws: Really?! Come on!
A little while later…
Norbert: There we go. Face paint!
Frostclaws: Okay, let's go! I want to scare all the trick-or-treaters!
Norbert: Alright, alright, come on.
Norbert: Where's Whisper? I said to meet over here…
Frostclaws: By the giant wolf head?
Norbert: Yes. I thought it'd be ironic.
Frostclaws: She's going to be salty about that.
Norbert: Yeah, so?
Whisper, sometimes known as Whisper the Wolf, is an úlfheðnar, a type of warrior-shaman like a berserker, only one that takes on the spirit of a wolf, instead of bear, in its insane trance. Whisper doesn't like her trance abilities because she's always afraid she'll hurt someone accidentally, and as a result has become rather bitter toward wolves, despite her warrior nickname. And Norbert likes to push her buttons.
Norbert: She's never late. That's my job. Wonder where she's gone off to?
Frostclaws: You're telling me! There's feasting and celebrations to get to!
Norbert: Let's ask Gobber if he's seen her. Wherever she is, Winterwind is with her, and there aren't many brown Woolly Howls flying around Berk.
Frostclaws: Ask Gobber? After what he did to my mouth last appointment? No thanks! Dentists are evil!
Norbert: Fine. I'll ask him. *dismounts*
Norbert: Gobber, have you—?
Gobber: Was that monster yours?
Norbert: Uh…
Norbert: Frostclaws, did you do something?
Frostclaws: No. I don't think so. Maybe? Probably? I bet whatever I did was awesome!
Gobber: No, not that giant monster. He's gone a whole day without trouble for once.
Frostclaws: He's right! I need to step up my game.
Gobber: I mean a little monster! That Terrible Terror that was just here a moment ago! She bit my toe, and while I was hopping around, she ran off with my candy for the kiddies! Small, green thing, got brown down its back.
Norbert: That sounds like most of the Terrors on Berk…
Frostclaws: Don't we know a Terrible Terror like that who's always causing trouble?
Norbert: …Nah, it couldn't be! Whisper makes sure she stays at home. …Right?
Gobber: Oh, and I heard you talking to your dragon over there, and if you're looking for your friend, I don't think you'll find a brown Woolly Howl tonight. She came to me for help with her costume, you see. *wink*
Frostclaws: …Well, that was cryptic.
Gobber: Ah, here we are, right on schedule!
Norbert: Oh, look, Hiccup and Toothless are coming!
Hiccup: Hey, we're right over here!
Norbert: Oh, then who's…?
Frostclaws: Uh, Norbert? Do Night Furies have beards?
Norbert: No..or tusks...
Whisper (Viking girl): Oh, thank goodness you're here!
Norbert: Whisper?
Frostclaws: Winterwind?
Winterwind (Woolly Howl): *lowers head, looking uncomfortable* I decided to join in dressing up this year. It makes Whisper happy.
Whisper: We're Hiccup and Toothless!
Hiccup: Hey, I like it!
Toothless: Nice!
Frostclaws: Ugh, you're covered in soot!
Winterwind: Do you have a better way to make me black?
Whisper: Paint made her fine scales stick together.
Winterwind: It was a nightmare.
Norbert: Aw, but I dressed up as a Night Fury, too! I can't be the same thing as your dragon!
Toothless: Why not? Night Furies are the best!
Whisper: Look, we can talk about it later. Have you seen Sparrow? Icevein's already out looking for her.
Gobber: Ah, so it was your Terror, lassie! I have a bone to pick with you!
Frostclaws: Called it.
Tue, 11/01/2016 - 02:38
#3
Very good!
I love your comics! My favorite part was when Frostclaws says "called it" and poor Cloudjumper...
Tue, 11/01/2016 - 05:56
#5
XD
I think even Causemoe would find Sparrow obnoxious.
Tue, 11/01/2016 - 07:55
#7
:D
As always Whisper, your stories bring a laugh and a smile to my face :D
Let me just say again, your screenshot skills are amazing.
Pure master - it is as if everyone is looking to the sky, even Gobber!
Tue, 11/01/2016 - 18:01
#9
That's how you do it?
I hadn't thought of that way of keeping my dragon awake for a picture. I usually mounted and dismounted, trying to reposition the dragon and myself after getting off. Thank you for mentioning this; it will be so much more convenient! I can also take this approach to capture Sparkflare roaring or just open-mouthed.
Tue, 11/01/2016 - 17:01
#11
Silly Terrors & Dreadfall fun
Not that I'm condoning Sparrow's misbehavior, but hooray for the Terrible Terror! I was eager to see your avatar with her tiny troublemaker, so I wish he had made an appearance earlier in the comic. I'm really happy for you.
This was one of the newly released dragons that I almost felt like I wanted to train. But since it wouldn't add much to my gaming experience besides its cuteness, I decided against it. I just can't help being careful not to gather too many dragons, and the baby Death Song was enough trouble to handle. (I don't have it yet officially, but I would have adopted it almost a year ago based on my assumed timeline.) Besides, the Terror still costs the full price of a rideable dragon.
I liked how this story was pretty much a great big reunion of characters who enjoy pulling pranks! And the sets of armour are really nothing but sturdy costumes, great for dressing up for Dreadfall but otherwise impractical. Oh, how did you take the wide picture of Sparrow with Cloudjumper? One of those fixed camera angles?
Tue, 11/01/2016 - 17:32
#12
Hey, now I get that!
I noticed a few more things when I reread it. At first I had no clue what you meant by the wolf head, but it was the thing on the ground. I had always seen that as a dragon head; isn't it the same image as one of the options for a clan symbol?
The other point was Flostclaws question: "What's wrong with glowing blue eyes?" Right, because his are the same! What a clever detail.
Tue, 11/01/2016 - 18:27
#14
Wiggles the whispering death ate my subject
It's funny how taking pictures of the ingame dragons can sometimes be like trying to put a real animal in the right pose.
Inner thoughts while trying to take pics (Slightly exaggerated for LOLs of course); "No don't fall asleep. Look that way. That way. No don't sit down. Here's an egg. Please stay standing and look over there. No DON'T GO TO SLEEP! I JUST WOKE YOU UP. Ok looking good looking good. (camera clicks) Darn I missed the shot. Have to do it again. (Sigh) Please stop trying to take a nap while I'm taking a picture of you. Darn I moved and now you think it's time to move too. (After a little while of putting the dragon back in the correct spot) There. Now I can- OH THAT'S THE MOMENT THERE!!! (Camera clicks) HAHA! Finally! Now I have to do that at least ten more times."