This is a very surreal moment for me
Because Amanita and Crossfire are finally together! I don't care if the Grapple Grounder looks like it got chewed up by a Bewilderbeast and spat out again. I finally have my main dragon!
We gonna go kick some butts!
Fri, 06/12/2015 - 13:59
#10
I think my favorite's lunch
please note that this isnt aimed directly at you, I really love the colors you chose and how you still love your dragon. I hope you have a lot of fun with him! He looks very impressive!
Everyone says that this is tha absolute worst that they could of done, but lets face it it is not the absolute worst.
*cough cough "Hobblegrunt" cough cough
Everyone was hoping for the dragon to be like the HTTYD game (which is pretty bad imo. Didnt buy it after researching it because my god they ruined so much, like you can take the tails off dragons and they can still fly??? that was kind of a major part to the movie that they cant fly? or that you can have more than one night fury? or completely change the look of a dragon until it doesnt look like it should be able to breathe!) but the model that was used was the one from Rise of Berk a longer skinnier version of the same dragon, which the developers did a pretty decent job at the recreation. Now I understand the hate but you also shouldn't say that this is the worst because at least its the same species *cough cough hobblegrunt*
Could it have been done better, yes. The head could be more rounded, the frame a little thicker, and the pattern a little more visible
Could a new animation been created, most certainly. Or at least a combination of the animations could have sufficed, like a scauldron neck movement, whispering death roar thing, zippleback run/sitting, and a skrill hover animation with maybe a scauldron flight pattern (I feel like those bodies would bounce a lot)?
But it still isnt the absolute worst thing. It could have been smaller, with different horns, less patterns etc., plus it isnt overpriced like the stormcutter was for all the demand it recieved, which needless to say was very impressive. I think this dragon got about the same amount of demand as the stormcutter.
TL:DR its not the worst possible thing, but it could be better, even though they used RoB as a guide.
(also I am kinda wondering why the heck does everyone put the DS picture of a grapple grounder, seeing as the DS graphics are prety limited to say the least... at least use the Xbox/wii version if anyone would like to critique it.)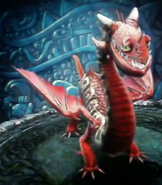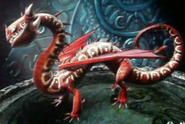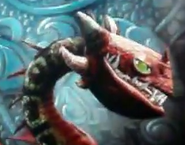 Please use these pictures at least to base the criticism on? The DS version just looks way to blocky and hard to distinguish most features, and i play on my DS a lot!
***** let's try to make this bad situation a decent one********
Here's my attempt to calm the masses. The dragon in the HTTYD video game is so much thicker because those were specifically bred to fight, to be more muscular, while these ones arent needed to fight so the skinnier ones are more common.