~ Typhoomerang (Bouncies)~
Here's my Typhoomerang BladeWing
If you want one like this, Please feel free to request :)
Mon, 09/29/2014 - 09:36
#9
Me please!! I love you
Me please!! I love you bouncies!
Here's Captain! He's red, white, and blue ;) That is, white body, dark blue wings, and red wingtips
Thank you!
__________________
Kidogo (you can call me "Kid") ;)- Proud Elder of Plasma Furies and proud member of Loki's Girls! (forum clan)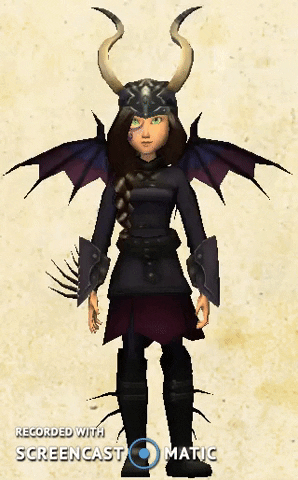 BoltStrike, Sahara, and Kidogo drawings by BoomBox74!
_________________________________________________________________
Other Vikings:
Princess Nala- Clan: Loki Girls
SunnySahara- Clan: Plasma Furies
_________________________________________________
Forest by Hattori, Mara by Rae, Sahara by greenleaf123, Captain by Hattori ;) Scroll down for more bouncies!
Not gonna lie, my favorite Avenger and Marvel hero is Bruce Banner/the Hulk!
If you love Marvel, feel free to check out my tumblr! I'm always posting Marvel things ;)
Credit to Kevinbrandon for the amazing Loki's Girl banner!
Forest- Monstrous Nightmare, Mara- Deadly Nadder
Zanzibar- Thunderdrum, Tembisa- Thunderdrum
BoltStrike- Skrill, Shira- Skrill
Sleek and Streak- Hideous Zippleback, Kalahari- Scauldron
Ceros- Rumblehorn, Canary- Flightmare
Spinose- Whispering Death, Rose Thorn- Whispering Death
Kibo- Gronckle, Scar- Hobblegrunt
Mischief- Smothering Smokebreath, Captain- Typhoomerang
Mjolnir- Raincutter, Shadow- Boneknapper
Uhuru- Hotburple, Sierra Leone- Stormcutter
Banner- Stormcutter. Widow- Changewing
Marvel- Fireworm Queen, Elsa- Tide Glider
Karoo- Sand Wraith, Flare- Sliquifier
Nguvu- Woolly Howl, Zambezi- Shockjaw, Chavuma- Shockjaw
Echo- Speed Stinger, Paka- Moldruffle
Atlas- Groncicle, Baridi- Groncicle
Kupoza- Prickleboggle, Nyasa- Slithersong
Nobillis- Deathsong, Njeri- Deathsong
Mamba- Grapple Grounder, Nile- Singetail
Ngozi- Eruptodon, Igneous- Snafflefang
Mawenzi- Silver Phantom, Chura- Flame Whipper
Sumaku- Armorwing, Vibrania- Razorwhip, Vibranium- Razorwhip
Mekali- Windwalker, Rwenzori- Snow Wraith
Bushveld- Buffalord, Groudon- Thunderpede
Kibo by catiedragons, Scar by Ren Roar, Mischief by Hattori , Kalahari by chakuu, Ceros by LidieChap,
Shadow, Sierra Leone, and Banner by Defy ;)
I'm a total Disney freak!
*Photo above courtesy of Disney Photo Snapper
Forest banner made by the wonderfully talented Ellie, and Forest edit by toothless572!
Make your own Night Fury here! http://www.dolldivine.com/night-fury-maker.php
Picture above by AniuRavenwolf!
Picture by slurpie!
Above 2 pictures by kelcyk123!
Picture and bouncie above by MidnightMare!
Left picture by x-HaZey-o, right picture by toothless572!
Picture above by Sunny Visionari (SunnyVisions)! :D
Adoptables and other dragon requests!
<--by Scoubidous, Elsa the Snow Glider ;) A friendly and happy girl!
by Scoubidous, Flare the Sliquifier ;) A fiery and feisty boy!-->
<-- by Scoubidous, the Snoggletog Wraith! ;)
"I have an army."- Loki, "We have a Hulk."- Tony Stark (The Avengers)
"That's my secret, Cap. I'm always angry." -Bruce Banner (The Avengers)
"There is only one God ma'am, and I'm pretty sure He doesn't dress like that."- Captain America/Steve Rogers
(The Avengers)
"My God's not dead, He's surely alive! He's living on the inside, roaring like a lion!" - Newsboys ("God's Not Dead")
"Seek justice, love mercy, walk on, be with your God!" - Casting Crowns ("Courageous")
"You never know what's around the corner. It could be everything or it could be nothing. You keep putting one foot in front of the other. And then one day you look back and you've climbed a mountain." - Tom Hiddleston
"All our dreams can come true, if we have the courage to pursue them." - Walt Disney
Who's online
There are currently 9 users and 416 guests online.