Too much cute! (Baby dragons!)
What could possibly be cuter than screenshots of baby dragons?
Screenshots of baby dragons making baby dragon friends, of course! I've a few screenshots of my girls as babies, doing just that. I thought I'd share.
I took this one of my new Grapple Grounder, Trinity, and a random baby Thunderdrum earlier today.
This is Lisa, my dwarf/perma-baby Whispering Death, enjoying the fire pit with a couple of baby Nightmares.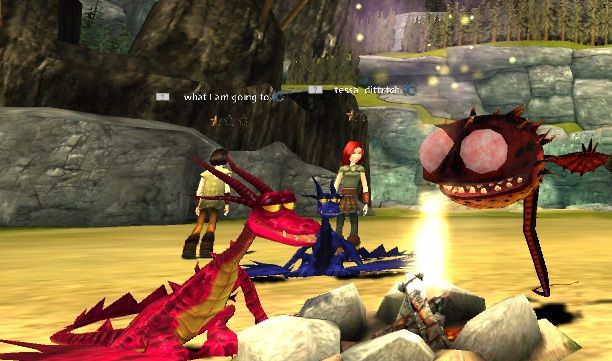 A pair of baby Sand Wraiths. The shy-looking black and grey one is my Ruth; the midnight blue beauty is called Blacknight and belongs to my in-game friend.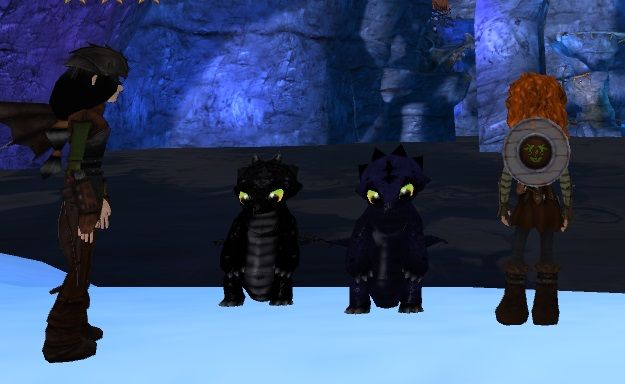 Last, but by no means least (I have to say that or she'll sulk) it's my Stormcutter, Samantha, as a baby, chattering to a pretty little Scauldron - and bonus photobombing Raincutter!
Have you got ridiculously adorable snaps of your baby dragons having fun with other people's baby dragons? I want to see! Let's find out just how much cute this forum can take! :D
Fri, 06/19/2015 - 15:33
#1
ⓐⓝⓓ ⓣⓗⓔ ⓢⓞⓝⓖⓑⓘⓡⓓ ⓢⓘⓝⓖⓢ
You know what's cuter?
YARNY
(hint - E3 2015)
Fri, 06/19/2015 - 20:00
#3
So cute :D
They are probably the cutest pictures I have ever seen :D
Not as cute as your pictures, but I have some pictures of my baby Hobblegrunt attempting to make friends with Toothless. I don't think Toothless was too happy about that, though...
Actually, not much has changed now that Ashwing is older :P
Sun, 06/21/2015 - 03:16
#5
Cute :)
That picture is so adorable! It's almost like he's trying to stare her down or something. I wonder what Toothless has against babies, anyway? They're so cute and little :3
But it's not just babies he dislikes. I have a screenshot somewhere (I can't seem to find it :/) of him just glaring at my viking, like she was the worst thing in the world or something. I don't know what it is about his animation, but he seems to really dislike certain things...
I love the colours on your baby Grapple Grounder, by the way. As much as I was dissapointed by the GG, I have to admit that the babies are absolutely adorable :)
Sun, 06/21/2015 - 21:08
#7
:D
I do feel kinda sorry for Toothless sometimes. It can't be very fun having to deal with so many in experienced dragons and vikings. But still, the looks he gets on his face at times...XD
I have to admit that the Grapple Grounder in-game is cool in its own way, but it almost seems like a completely different dragon. Personally, I'd like to see both this version and the "original" one in the game. But that probably can't be done :(
Sat, 06/20/2015 - 03:46
#8
Silver manipulated my subject -_-
Oh meh gosh..... Das just too cute XD