The Tidereaper - Customizable Fan-Dragon Bases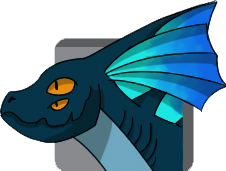 Welcome the Tidereaper!

Class: Tidal
Attack: 12

Speed: 14

Armor: 10

Firepower: 8

Shot Limit: ??

Venom: 0

Jaw Strength: 10

Stealth: 15
Basic Information
Tidereapers are secretive dragons, rarely seen by Vikings unless they are injured. As thair name suggusts, they are aquatic and prefer to live in the seas and oceans. They mainly eat fish, like most dragons, but will also prey on sharks, birds, and any other meat that comes thair way. They are solitary, as well. Few see a Tidereaper to begin with, and those who do almost never see them with another of their kind. They are solitary creatures, only seeing another of their kind to mate, and then they leave, never to see the other again. They have four eyes and four wings, the eyes for seeing in the deep waters they call home, and the wings for propelling them through the water. The tail-fin is used as a rudder, so the dragon can swerve away from danger.
Habitat
Most Tidal Dragons live in shallow waters, save a few. Tidereapers, however, live in deep ocean trenches and icebergs, where they rest in peace. They prefer to live far away from any settlements, and if they do live near one, they rarely are out of their nest.
Personality
Many Tidereapers are cautious, and paranoid. They live alone, and dislike being seen. Their paranoia makes it hard to tame them.
Fire Type
A burst of burning steam
Hidden Abilities
When in extreme danger, they can heat the water around them to scaulding, and make it into a 'shield' so that whatever's attacking them will be cooked alive.
~~~~~~~~~~~~~~~~~~
They may be rare, but it IS possible to tame a Tidereaper! 10 have been seen near Berk- do you have what it takes to tame one? There are two versions- Baby and Adult!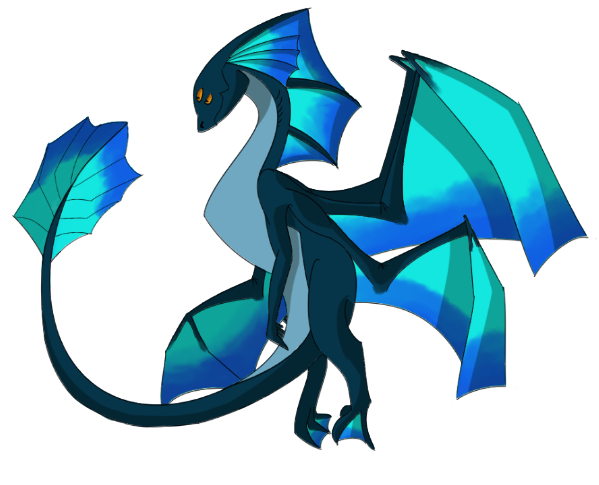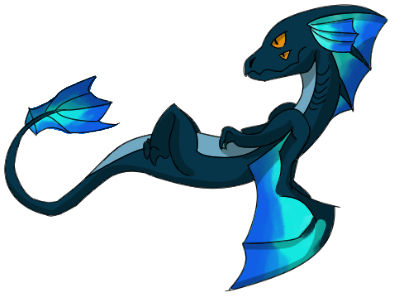 Form:
Age:
Primary Color: (Currently Navy)
Secondary Color: (Currently Electric Blue)
Accent Color: (Currently Midblue)
Belly Color: (Currently Pale Blue)
Eye Color: (Currently Pumpkin Orange)
~~~~~
Name:
Gender:
Background/History:
Other things you want to say about your new comapinion:
~~~~~
I will be reading through these- please have it make sense! And the colors should at least be semi-natural! I don't think a neon pink will do it for a deep-dwelling ocean dragon, unless your story has it make sense! Plus, you don't have to tame the dragon- this could be an encounter with it, told by your viking. Or it could be a story through the dragon's eyes, telling of their life.
Rules (Everyone's favorite!)
1) First come, first serve: If you post before someone else, you are considered 'before' them, even if you just reserve a spot and they fill out the whole form.
2) One dragon per user! These are extremely secluted, it doesn't make sense that they will gravitate to a certain viking.
3) Credit me! I'm fine with this being used in a signature, as long as I am credited.
4) Please, if you're too late, don't fight or get upset with me or the others who were here on time. It's not my fault you were late.
5) Do not reply to my DNR posts
6) I will not add scars/scarves/extras to the dragons; this is a color-changing base and I don't want to pick favorites.
7) Please, please fill out all of the form. It's all I want in return for making your dragon. I will not post your dragon until you fill out all of the from.
8) Don't steal other's dragons; it's a violation of respect for me and for the Tidereaper's owner.
9) If you're no specific with colors, I will pick what I see fit.
10) Use the provided form, please.
11) Be respectful- to me and to everyone else. If you don't specify something and I ask about it and you get angry, I will not make a dragon for you. It's simple- be respectful and get a custom dragon.
12) Let me post the tracking sheet before you post forms!
13) Read the rules! It's not hard- Fill out the form, and be respectful, and it allows you a free dragon.
Thanks!
~Goldenwolf