Snoggletog is Here!
Pour some yaknog and bundle up because the event of the year is finally here! Winter has arrived in Berk, and with it returns every Viking's favorite holiday – Snoggletog!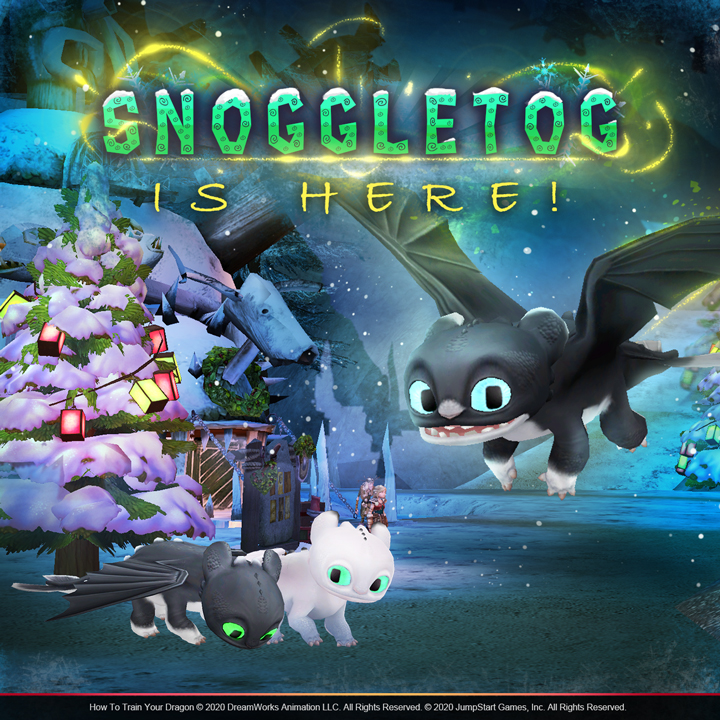 As always, earning cookies for limited-time rewards is the name of the game, so strap in and brace yourselves for the themed quests that await you. Vikings ready to join in on the fun can expect the following:
• The opportunity to earn and train the all-new Mystery Class Chimeragon!
• Festive décor throughout campus
• New and old seasonal racetracks
• Themed Dragon Tactics levels
• Snoggletog mazes
• And tons of new and old store items
Additionally, with Snoggletog comes several other quality-of-life updates throughout campus, including:
• The option to hatch up to six dragon eggs at once!
• The ability to hunt eels throughout campus
• And a reimagined age-up menu that more clearly outlines age-up opportunities
Those ready to embark on their Snoggletog journeys can head over to campus now to start participating in the festivities! Plus, earn those cookies quickly – the faster you earn them, the sooner you can claim the fiercest Snoggletog prize of them all – the Chimeragon!
Tue, 12/15/2020 - 09:49
#5
***
"The ability to hunt eels throughout campus"
Nobody needed this d.amn change, seriously. Nobody asked for removing the option to play with your dragon. Nobody asked for making the game harder to play. I would accept it if it fixed something, but I strangely don't think you fixed anything :v I used the option to pet my dragons to level them up and icrease their happiness whenever I need, not whenever I find this dang eel. That's super cool you made it much harder for no reason, thank you :v