~Show me your Whispering Death Tunnel Screenshots!~
Sat, 09/20/2014 - 17:01
#52
Oh xD
Thank you! That made my day because some one actually said that I draw good! :) (Today I shall call it "Make Flame Sword's Day" day! So many people have made bouncies, and even some one (AshleytheCool) made a banner for me!
P.S. Ren Roar, I hope you don't mind, but I am going to put the "Get well Frost Bite" banner in my signature next to Frost Bite! (That was also something that made my day!) It will look amazing!! :D Hope this doesn't bother you... xD
Sat, 09/20/2014 - 10:25
#55
Why post screenshots?
I can just show you an entire vid! :P
Sat, 09/20/2014 - 13:18
#57
Oh yes!
My YouTube channel will focus on HTTYD games, if you're interested. And Thank You for watching it!
(Thanks! I guess I won't change the colors after all!)
Sat, 09/20/2014 - 10:26
#58
Why post screenshots?
I can just show you an entire vid! :P
Sat, 09/20/2014 - 12:25
#59
Cave Adventures!
Okay, so I had WAY too much fun with this mission. I never thought I would be so excited to get a whispering death but I really was, but that's another story and if you want to read all about it click here. Now as for the caves... WHAT AN AMAZING PLACE! I spent so much time here just wandering around. I'm pretty sure I know the place like the back of my dragon's head by now. None the less I keep going back to explore and to fish: since my sweet little Diei (whispering death) loves the blindfish so much. Maybe once she's fledged I'll take her there to meet some of her own kind, after all a dragon should know where she comes from.
Anyway, enough of my lengthy text, feast your eyes on my adventures!
It's behind me... Isn't it?
And I thought the ONE was bad...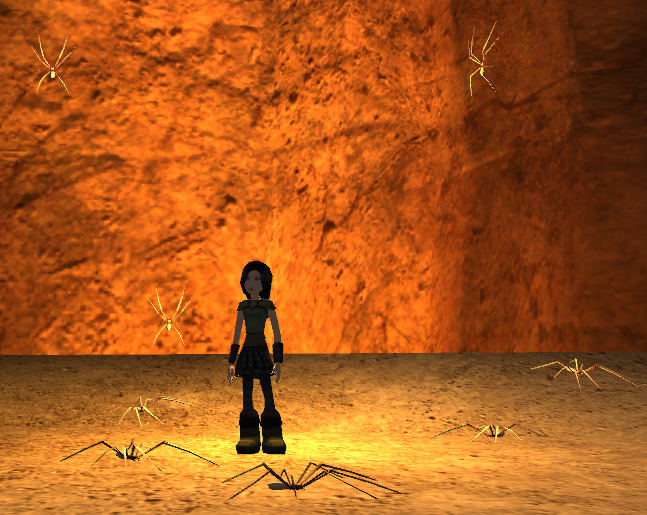 Noctis? What's this? A BOX OF EGGS?!
I love the underground water features... and so does Noctis!
Sat, 09/20/2014 - 13:57
#60
Same!
You can never have too much fun in a place like this, though. I mean a FREE dragon AND a new place! I go back there all the time!
Sat, 09/20/2014 - 16:42
#61
True
That's so true. I was so excited to get Diei because I've been thinking about buying a second dragon anyway and now I have her! Two dragons covered in spikes, who can go wrong with that? No one, that's who! Lol, can't wait to get some screen shots of Diei back in the tunnels she was born in.
Sat, 09/20/2014 - 16:46
#62
Sat, 09/20/2014 - 17:11
#64
My girl hatched a while ago,
My girl hatched a while ago, I just got her to level 10 about an hour ago. I'm pretty pleased with the way she turned out. :) I took a few screenshots but I didn't get back to the caves before my game crashed. I could have refreshed the game but I figured I'd been playing long enough as is. xD
Hmm maybe we can all have a WD party in the caves when the server starts working again.
Sat, 09/20/2014 - 17:43
#66
Oh the fun everyone could
Oh the fun everyone could have! Plus all the new whispering deaths can make new buddies! What's a whispering death without a bunch of other whispering deaths underground in a cool dark tunnel? We should make it happen.
Sun, 09/21/2014 - 07:15
#67
but really
Why wouldn't anyone? Even if somebody started with a Whispering Death, they're gonna want to go there all the time with him.
Sun, 09/21/2014 - 09:37
#68
Everyone should definitely
Everyone should definitely bring their whispering deaths to the cave. We can all hang out and share the love for our crazy spiky buddies. Maybe we could even have an all whispering death Thunder Run Race! Imagine how fun that would be! ... I wish there was a cave/tunnel race track, that would just make it perfect.
Sun, 09/21/2014 - 10:30
#69
Count me in!
Mine literally just hatched moments ago, so once Silent Fear is old enough, we'll totally go back and explore! Those tunnels need to be multiplayer soon so we can do that. A tunneling track would be SUPER amazing, and super easy because they would just have to take that one from Flight Club!
Sun, 09/21/2014 - 11:45
#70
Oh how I hope it all happens
Oh how I hope it all happens soon! (not that I'm a demanding player or anything xD I know how hard creating a game is) I'm so stoked to have a new map, and such a cool one too - plus the fact it's a location that actually appears in the HTTYD shows.
P.S.
Silent Fear - I like the name!
Sun, 09/21/2014 - 12:16
#71
I do as well
I'm never really demanding either, but that mistake release of gloworm bait, new skins, and new fish has had me pumped since it happened! Everything is just gonna happen one at a time, first Turn it Up Tuesday and slowly easing into more updates... but hey, I'm already thinking about October! I'm one to think ahead way too far...
P.S.
Thanks, I got the name from a contest I hosted
Sun, 09/21/2014 - 13:22
#72
Oh the glow worm bait was a
Oh the glow worm bait was a mistake release? That would explain why it disappeared. Lol, I never bought any though. Hmm, what's happening in October? I feel so out of the loop!
P.S.
That's a good idea. I should do that for my Thunderdrum and Scauldron (that I plan on getting with a membership in the next few months)
Sun, 09/21/2014 - 16:50
#73
Yep, it was
GAH, I JUST REALIZED!! GLOW WORM? DEEP SEA CREEPY LOOKING FISH? NEW SKINS, AKA COSTUMES? ITS SO OBVIOUS NOW! SCHOOL OF DRAGONS IS SAVING THESE THINGS FOR HALLOWEEN PARTY! I just got so excited XD
P.S.
Awesome! I reccomend getting the Scauldron first, because as soon as you get membership, you get a new Viking slot that you can start of with a Thunderdrum
Sun, 09/21/2014 - 22:46
#75
Oh Halloween! My all time
Oh Halloween! My all time favorite holiday! Oh how I hope they do a Halloween party! ... but I won't be around most of October, how sad (that's the reason I haven't bought a membership yet).
Oh no worries I know all about the membership. I did a ton of research. The Scauldron is for my second character. I'm going to have him start with a Thunderdrum then buy the Scauldron afterwards. He's going to be an all aquatic dragons character. Which makes me hope they come out with the Sea Shocker and RainCutter (I know not technically an aquatic dragon BUT it looks like one and even dreamworks says it's closely related soooo I'd get one of them too). My main character is the one I'm just going to collect random dragons with - though my next hope is a Skrill for her - then maybe I'll get a few mystery boxes. :P
Mon, 09/22/2014 - 13:04
#76
There will be
They did a Halloween party last year, I'm sure they will annually...
That does work out perfectly, and is a great idea. I also love Tidal Class dragons and Scauldrons SOOO much, but the #1 dragon I want to see the most is also an official Tidal Class dragon (unlike the Raincutter) and is called a Sand Wraith. It is SUPER awesome. Unfortunately about the also-awesome Seashocker is that the dragons are MUCH too large. School of Dragons did, however, shrink down the size of Typhoomerangs, but the Seashocker is even bigger than that... See the size comparison here: https://www.howtotrainyourdragon.com/explore/dragons/sea-shocker
Mon, 09/22/2014 - 13:17
#77
Oh how I love Halloween! I
Oh how I love Halloween! I hope I'm around at some point to see it, Octobers' a pretty busy month for me... then again, there is always reading break (which my birthday just happens to fall smack in the middle of!). Plus once that's over we can look forwards to the potential return of Turkeys and later bunnies! (I want to have all available animals on my farm).
My second character's actually based of of an RP character of mine, he's a traveler and really loves the ocean - hence his fascination with aquatic dragons. In the RP he actually has a Sea Shocker as his partner, but since I can get more than one dragon in this game I thought I'd go full aquatic dragon. :P
YIKES! I never realized they were so big. They didn't look that big in the movie! I always imagined them Thunderdrum sized. That's too bad. (I wouldn't mind if they scaled them down though - though I'm usually against playing with canon features).
Wow we got really off topic from Whispering Deaths... Oh well, they know we still love them even if we aren't talking about them. :P
Mon, 09/22/2014 - 14:59
#78
That's awesome! My birthday
That's awesome! My birthday just happens to fall between Thanksgiving and the winter holidays. As awesome as it is that Turkeys and bunnies are returning, it seems they don't have much value. You can't use turkey feathers nor bunny fur for anything... Chickens, however, are like the wood of minecraft. You can use eggs to feed your dragon and use it for fishing. I have no need for every animal until they come to use of me.
Funny how much your character sounds like me! I wouldn't suppose his fascination was based on yours, would it? If it was... (Marine Biologist in training you're talking to.) The sea dragons are indeed lovable, and the new movie introduced so many new dragons of this class, I was overwhelmed! I look forward to seeing your dragons. (and possible new Tidal Class ones)
There are extremely big, aren't they? It came as a total shock, because in te movie, you only saw what must've been the very tip of their dorsal fins. If they scaled it down like they did with Typhoomerangs, I really wouldn't mind at all. It would actually make me squeal with joy!
WHO CARES XDDDD Is that not the point of conversation? To keep going even if you do digress?
Tue, 09/23/2014 - 12:51
#79
Oh that's awesome! :) I love
Oh that's awesome! :) I love cool-weather birthdays, though when I was younger I regretted it because I couldn't have pool parties. Oh well, I get Halloween-themed parties instead! Even better! Anyway, side tangent over... As for the animals I've seen lots of very profitable missions from Trader Yohan involving Turkey feathers, though I've never encountered any for bunny fur yet. Mind you that's not really the reason I want them, I'm a collector - I like collecting things - so having all the available animal species in my farm makes me happy. I do agree that chickens are 100% most useful. Bait, Dragon Food, Sellable - honestly no lose situations anywhere in sight!
Oh Marine Biology! Very exciting! :D I love all animals (exception being bitting bugs), though I probably tend to focus more on terrestrial things. In fact I'm going to school for wildlife and environmental stuff. <-- Yeah, I know very scientific terms. /obvious sarcasm/ My personal favorite dragons tend to be sharp class or strike class, though I'm a big fan of the aquatics too so I wanted to make Ackley in game (especially since I can start off with a ThunderDrum). I'm definitely excited for my aquatic character - being busy over October I probably won't buy him until the next month or end of October but once I have I'd be happy to show off his new buddies to ya.
Yeah I mean I know it was just the tip of their fins, but come on that seemed a little on the over-the-top size scale, don't you think? I feel like ThunderDrum size would have been more practical, but whatever - they aren't my species. (though it would make me happy to see a scaled down version in the game - After all Ackley's real dragon partner (in his RP and everything) is a sea shocker)
Sounds about right! Besides how would you ever make new friends if you only ever talked about one thing right?
Sat, 09/20/2014 - 16:21
#80
I have only one picture but
I have only one picture but it is awesome! Here it is! My dragon is inspecting the spider xD
Sat, 09/20/2014 - 16:26
#81
Sat, 09/20/2014 - 16:32
#82
U see it! Is very strange!
U see it! Is very strange! Idk how I did that lol
Sat, 09/20/2014 - 16:40
#83
Yeah!
It's like a professional shot!
Sat, 09/20/2014 - 16:50
#85
Haha yes! He really wanted to
Haha yes! He really wanted to shoot that spider! And know her secrets!
Sat, 09/20/2014 - 16:51
#86
Ikr?
It's true that a picture can say a thousand words.
Sat, 09/20/2014 - 17:52
#87
Haha!
Dragon: Ooo wha is dis ting?
Spider: (twitches feelers)
Dragon: ERMEGERSH IT'S SEW SCRY!
Spider: (crawls up wall and eats bug)
Mon, 09/22/2014 - 16:43
#88
Great stuff, everyone!
Loving all the stories and comics. So creative! (Also, the fantastic five-minute MSpaint Thunderdrum.)
I did the quest on my Whispering Death, Ellen. I had my hands full with that crate of eggs, so I didn't get shots from the quest itself, but Ellen loved the tunnels so much we dived straight back down to explore. WARNING: long post approaching. Love this landscape!
She was totally unconcerned by the spiders, and tried to scare me:
She got very excited about the green, glowing pool.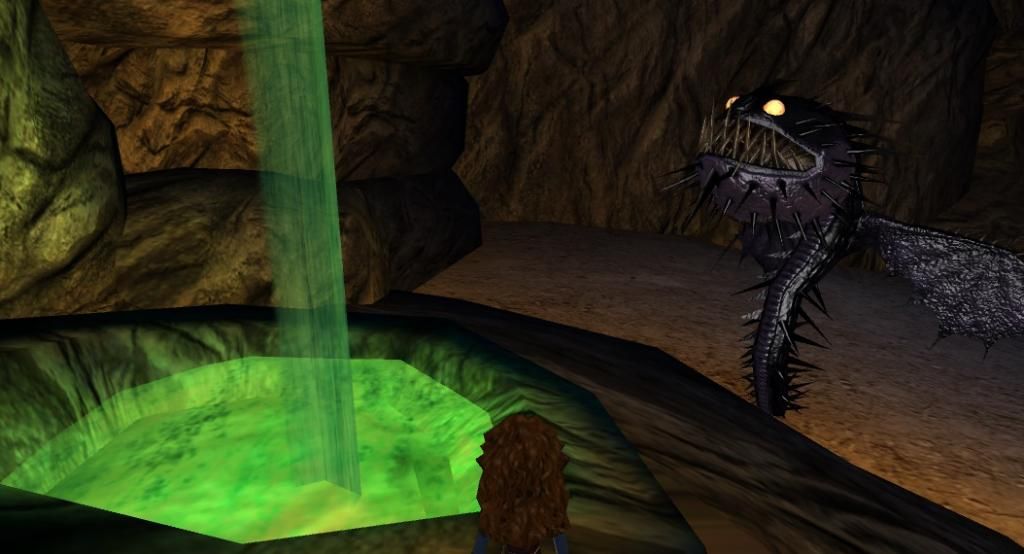 We flew around for ages till we noticed a strange light coming through a gap in the rocks. We flew towards it and ended up here: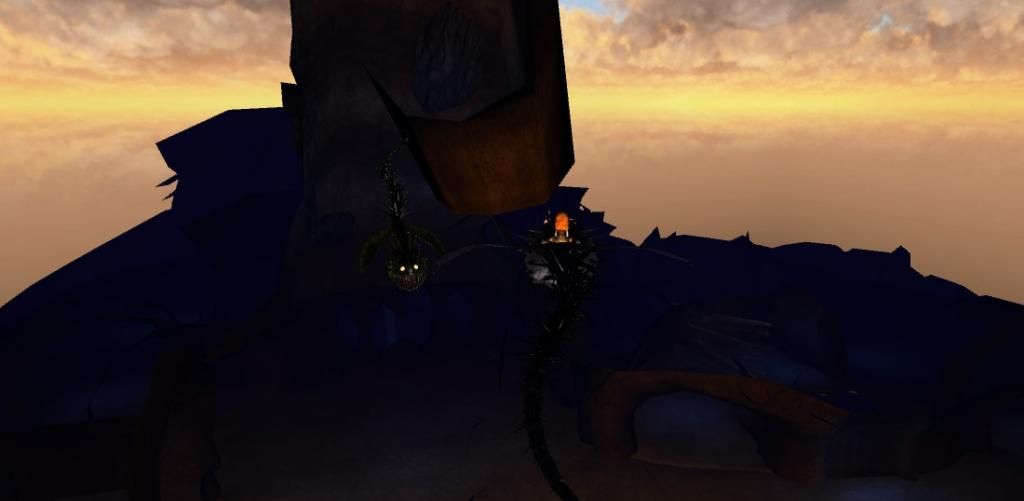 Now we know where that sneaky wild Whispering Death went! I'm sorry for the people and dragons she injured, but I hope we're not making her angry by stealing her babies :(
Ellen must have told my other girls about the caves, because when I took them out they each made a beeline for the boat! They all had pretty different opinions on the caves, though...
Kaylee loved them almost as much as Ellen. She was fascinated by the spiders, the fish and especially the green pool: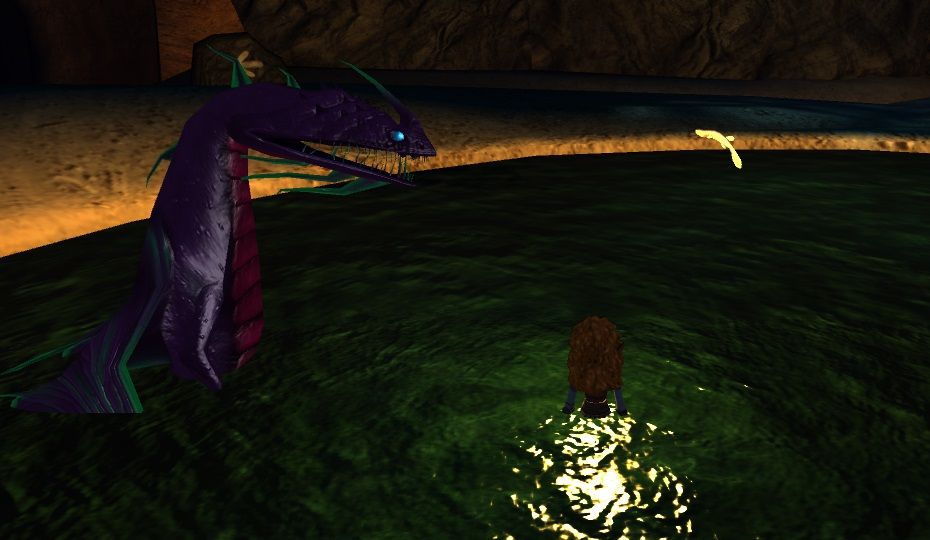 Amelia hated them. This was as far as we got before she threw herself down and said NOPE.
Martha declared them BORING. I don't think she wanted to admit she was scared of the spiders:
Molly - poor Molly, if it's going to go wrong it happens to her. The lights went out and she never got over it, even when we went fishing, which she usually loves:
Everyone is now back safe and sound. Ellen and Kaylee still like to chill out in the caves. Molly seems to be over the trauma (chances are, she's forgotten it even happened): I don't think I'd take her back, but she's partial to a blindfish every now and then. (Mind you, food is Molly's favourite thing ever!) All the girls are excited about getting a new stablemate! I was a bit concerned that Ellen would be jealous, but she seems as happy about the new egg as the others. What a reward!
Keep the screenshots coming, guys!
Tue, 09/23/2014 - 06:59
#89
So awesome!
Hopefully Ellen's motherly instincts will take over for the new baby... That would be cute. Let's also hope a certain somebody gets over the trauma of the scary tunnels... And gathers up enough courage to go back!
Tue, 09/23/2014 - 11:37
#90
Thankyou!
Ellen is the most patient and sensible of my girls. She's a good big sister - Kaylee and Amelia will vouch for that! Molly... Molly is special, in an "I think I dropped her on her head as an egg" kind of a way. She doesn't pick things up quickly. She is happy in her comfort zone and not happy outside of it and new things have to be introduced gently, with lots of breaks for food and playing. It might be unkind to take her back when she doesn't get it and it scares her. Maybe when MMO is working down there I can go with one of my clan members - being down there with another dragon who can show her it's not scary might help!
Tue, 09/23/2014 - 16:42
#91
Np!
I also can't wait for MMO in the tunnels. I wanted it since the adventure can out XD
if it does, I would love to come with!