Serious childhood nostalgia right now!
Many of you may not be old enough to remember, but who knows, you might be. A while ago, I noticed three boxes on the very top shelf of my family's game closet. With me being only 5 feet tall, I asked my dad to get them down for me, because I had a feeling what was in there. Well, I was pleasantly right! Inside all three boxes were some of our old VHS tapes, including some Disney ones like Lion King and Mulan, some of them part of the Walt Disney Masterpiece Collection. In our house, we still have two VHS-DVD players. I decided to test one to see if it still worked, which I didn't expect it to. I popped a tape in- Great Mouse Detective- and it actually worked! The quality was just as good as it was when it was last used, around 12-13 years ago, back when I was only 9-10 years old. Here's a picture of our Lion King VHS tape: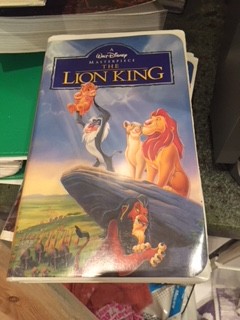 Anyone else remember the time of VHS?
Sun, 06/24/2018 - 12:55
#2
Thu, 06/28/2018 - 05:02
#3
subject? where we're going we don't need subjects
When I was 6 years old, 18 years ago, it was still considered an common technology, I remember that they recorded school events with that in school, and with those huge cameras, which only adults could carry, they are still used, I suppose, in many places I do not know how to do maintenance, or how they get blank cassettes...
Thu, 06/28/2018 - 09:43
#4
<>
It does depend on where you live, I guess. Where I live, cassettes or even CDs aren't popular anymore but I noticed LPs are being sold more and more. As far as I know only blank cassettes are available anymore (unfortunately, cassettes are my favorite object for playing music). I don't know any person my age who has ever touched a cassette (only in school) except me and my sister.
Sun, 07/01/2018 - 04:58
#5
errata
I wrote blank cassettes instead of blank video tapes, the technology was similar, based on magnetic tape, I'm sorry.

I have not played a cassette for years xd, but some time I recorded in them, ironically to play, I took a recorder from my father, the piezoelectric microphone make the voice sound different, so we had fun playing with that device.
I was talking about more than 15 years ago, I honestly do not know if still can be found blank video tapes here, I guess that somewhere can be buyed, those devices despite being fragile lasted a little longer than actual tec xd
U still can buy blank (audio) cassettes?, wow, lucky.
Sun, 07/01/2018 - 06:27
#6
<>
Ik, I just don't really watch movies that often so audio cassettes are more included in my daily life XD
Yes, I'm lucky XD cassettes are my favorite way to play music so I certainly am. I think I can only buy blank ones in shops. (not talking about online shops)