Selfie time :D
Sooo, today, out of boredom, I decided to make some selfies :D here they are! :D
My first target was Toothless xD
I love how we´re looking at each other in this pic :) (the background is edited)
With Fishlegs :)
Hiccup :)
Stoick :)
Gobber :)
And the last one :)
It was fun making them :3
__________________

Welcome to my siggy!
Once a Leopard, always a Leopard...

°°°°°°°°°°°°°°°°°°°°°°°°°°°°°°°°°°°°°°°°°°°°°°°°°°°°°°°°°°°°°°°°°°°°°°°°°°°°°°°°°°°°°°°°°°°°°°°°°°°°
My buddies :)

°°°°°°
Adoptables :)
°°°°°°°°°°°°°°°°°°°°°°
My OCs :)
Original lineart here: http://cypeo.deviantart.com/art/Free-Nightfury-Lineart-317176628?offset=20
It was a rainy night. Me and my Stormcutter were searching for a strange looking ship which was reported to be seen by Hiccup way too close to Berk. Without knowing whether it´s an enemy or not, I volunteered to explore it from a shorter distance . But the ship was nowhere to be found and the weather went really bad.
As it was harder and harder to see due to the heavy rain, we found a smaller cave. "Nice!" I said to my Stormcutter. "We can stay here for a while, at least until the heavy rain will stop."
We entered the cave. But as soon as we did, I realized there was something wrong there. The cave was glowing a little! Without any fear, I started to come closer and closer, deeper and deeper into the cave, to find the source of the neon light. I was so surprised when I found it was the Neon Furry! She was badly injured on her wing. Without any hesitation, I decided to help her. I tossed her some fish I had left. She gladly accepted it. I reached out my hand to pet her. She was a little hesitant, but eventually, we became buddies. Later, I discovered she was all alone in the cave. For some reason, her parents abandoned her and never came back for her. Up until now, no one knows what happend - wheather they were killed, or something else happend to them.
Lineart and colourng were all made by me :)
Backstory
Recently, there´s been a new trend here in Berk. Everyone owns a Terrible Terrors. Everywhere I go, I can see those small little guys. I was curious what´s this comotion about, so I asked Hiccup. He answered that they are great for training and that their purpose is to use them as an air mail! Now I started to be even more curious, and also wanted to have my own little Terror. SO, the first thing I did was mount my Sand Wraith Pluto and went to the search for Terrors. It wasn´t that hard to find them, but the question was, how to choose from that amount of differently coloured Terrors.
I didn´t know what to do. They were all so adorable I couldn´t chose just one! I gave up on this idea and returned to Berk. But the thoughts about those Terrors didn´t leave me.
The next day, I decided to go with Pluto for some fresh air. We were just flying freely in the clouds, but Pluto started to be thirsty, so we landed near a river. ,,Take your time Pluto, we´ll have a little break, so you can catch some fresh fish if you´re hungry." In the meantime, I took a walk past the river. Suddenly, I found an abandoned egg! I hurried to save the egg, because it looked like it´ll be drowned in the river if I don´t catch it! ,,Oh my, I´m glad I found you! It would have ended badly for you if you´d rolled all the way down to the river! Why are you here? And all alone?! I´ll take care of you from now on...But wait, I need to show you to Hiccup! I´m not sure, your color is a bit strange, but..can you be...?" I whistled to Pluto and we returned to Berk. I found Hiccup and showed him the egg. It really was a Terrible Terror egg! I couldn´t believe it. I decided to raise him. I had some struggles with it, but Hiccup helped me.
At last, the egg hatched. But it wasn´t him - it was her! Her colors were just like the egg - orange and pink. I named her Ribbon. She´s a little sweet angel. I feel like our encounter was kind of like a fate. I could feel the bond between us. ,,Come on Ribbon! Let´s begin our training! :)"
Sat, 09/20/2014 - 06:20
#2
Lol! Awesome selfies,
Lol! Awesome selfies, Hachi20! I really like the ones with Toothless ;)
__________________
Kidogo (you can call me "Kid") ;)- Proud Elder of Plasma Furies and proud member of Loki's Girls! (forum clan)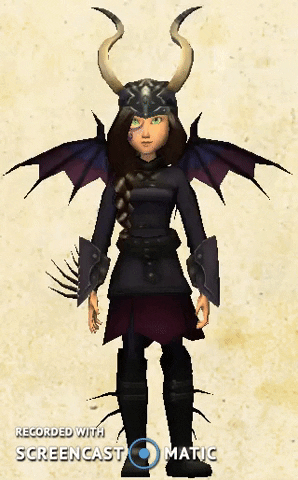 BoltStrike, Sahara, and Kidogo drawings by BoomBox74!
_________________________________________________________________
Other Vikings:
Princess Nala- Clan: Loki Girls
SunnySahara- Clan: Plasma Furies
_________________________________________________
Forest by Hattori, Mara by Rae, Sahara by greenleaf123, Captain by Hattori ;) Scroll down for more bouncies!
Not gonna lie, my favorite Avenger and Marvel hero is Bruce Banner/the Hulk!
If you love Marvel, feel free to check out my tumblr! I'm always posting Marvel things ;)
Credit to Kevinbrandon for the amazing Loki's Girl banner!
Forest- Monstrous Nightmare, Mara- Deadly Nadder
Zanzibar- Thunderdrum, Tembisa- Thunderdrum
BoltStrike- Skrill, Shira- Skrill
Sleek and Streak- Hideous Zippleback, Kalahari- Scauldron
Ceros- Rumblehorn, Canary- Flightmare
Spinose- Whispering Death, Rose Thorn- Whispering Death
Kibo- Gronckle, Scar- Hobblegrunt
Mischief- Smothering Smokebreath, Captain- Typhoomerang
Mjolnir- Raincutter, Shadow- Boneknapper
Uhuru- Hotburple, Sierra Leone- Stormcutter
Banner- Stormcutter. Widow- Changewing
Marvel- Fireworm Queen, Elsa- Tide Glider
Karoo- Sand Wraith, Flare- Sliquifier
Nguvu- Woolly Howl, Zambezi- Shockjaw, Chavuma- Shockjaw
Echo- Speed Stinger, Paka- Moldruffle
Atlas- Groncicle, Baridi- Groncicle
Kupoza- Prickleboggle, Nyasa- Slithersong
Nobillis- Deathsong, Njeri- Deathsong
Mamba- Grapple Grounder, Nile- Singetail
Ngozi- Eruptodon, Igneous- Snafflefang
Mawenzi- Silver Phantom, Chura- Flame Whipper
Sumaku- Armorwing, Vibrania- Razorwhip, Vibranium- Razorwhip
Mekali- Windwalker, Rwenzori- Snow Wraith
Bushveld- Buffalord, Groudon- Thunderpede
Kibo by catiedragons, Scar by Ren Roar, Mischief by Hattori , Kalahari by chakuu, Ceros by LidieChap,
Shadow, Sierra Leone, and Banner by Defy ;)
I'm a total Disney freak!
*Photo above courtesy of Disney Photo Snapper
Forest banner made by the wonderfully talented Ellie, and Forest edit by toothless572!
Make your own Night Fury here! http://www.dolldivine.com/night-fury-maker.php
Picture above by AniuRavenwolf!
Picture by slurpie!
Above 2 pictures by kelcyk123!
Picture and bouncie above by MidnightMare!
Left picture by x-HaZey-o, right picture by toothless572!
Picture above by Sunny Visionari (SunnyVisions)! :D
Adoptables and other dragon requests!
<--by Scoubidous, Elsa the Snow Glider ;) A friendly and happy girl!
by Scoubidous, Flare the Sliquifier ;) A fiery and feisty boy!-->
<-- by Scoubidous, the Snoggletog Wraith! ;)
"I have an army."- Loki, "We have a Hulk."- Tony Stark (The Avengers)
"That's my secret, Cap. I'm always angry." -Bruce Banner (The Avengers)
"There is only one God ma'am, and I'm pretty sure He doesn't dress like that."- Captain America/Steve Rogers
(The Avengers)
"My God's not dead, He's surely alive! He's living on the inside, roaring like a lion!" - Newsboys ("God's Not Dead")
"Seek justice, love mercy, walk on, be with your God!" - Casting Crowns ("Courageous")
"You never know what's around the corner. It could be everything or it could be nothing. You keep putting one foot in front of the other. And then one day you look back and you've climbed a mountain." - Tom Hiddleston
"All our dreams can come true, if we have the courage to pursue them." - Walt Disney
Who's online
There are currently 13 users and 534 guests online.