Roblox Players Beware
I have a warning for all of you Roblox players out there. I have been hacked. You may be asking "Lady how did you hacked?" the answer is concerning. I had wanted to do a trade with someone in "Adopt Me" (a Roblox game that has gained popularity through pets) and I had listed Legendary pets. There was a site to find people with pets you wanted to offer for. However, this wasn't how they got my password. I had been requested to click a link to their Roblox profile. It needed me to log in "Lady, why would do something like that?! That wasn't smart!" the link was a fake Roblox website. The only reason and I mean the only reason I would ever put my password anywhere is on the Roblox site and game. The website looked exactly like the official website. The person took my password while I was offline and took my most valuable pets out of my inventory. Just went right in and stole everything I worked and spent money on. Be very very careful. This site is so real that you almost couldn't tell the difference. You might not believe me but I have evidence. Pictures of in-game and the website. It's important to note that I know who did it. "It obviously was the person that accepted that the offer and gave you the fake link, right?" Well, Adopt Me keeps track of trades and allows you to view them. The person went in with their real "noob" account and stole everything. You may be wondering about the site I used to contact the person right? I will warn you not to go there. The person didn't show signs of being a hacker. All I knew from the reviews (after the person stopped responding) was she was a scammer. Little did I know the link she sent was a fake. So I fell right into this person's trap. After the person had my password, I changed all my passwords without question. Had I read the reviews and looked at all the details I would probably be able to have my pets still and be able to change my password. "Didn't you say that you changed all your passwords?" I did... Except for one. The hacker put a pin on my security settings. Lucky for me that I can still get in my account with 2 step verification. I can't change my password because of the hacker putting a pin on my settings. Today has not been great as I'm sure you can tell. Don't do what I did. I was gullible and fell for it.
Real website-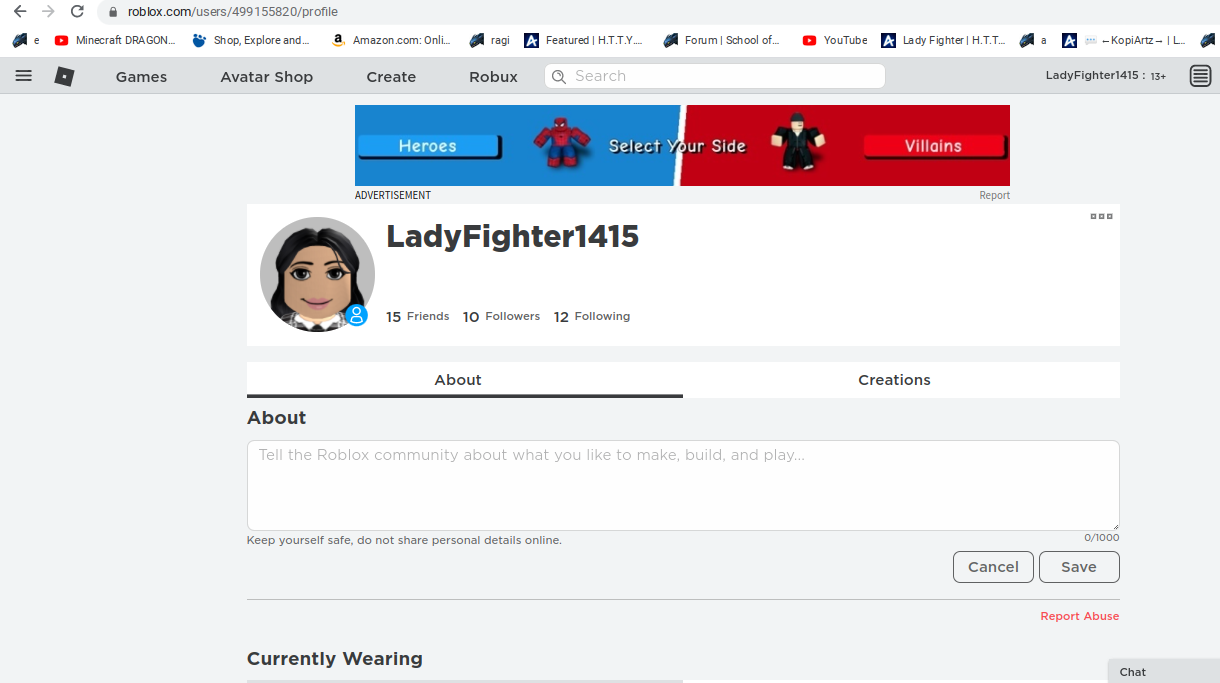 VS.
Fake Website-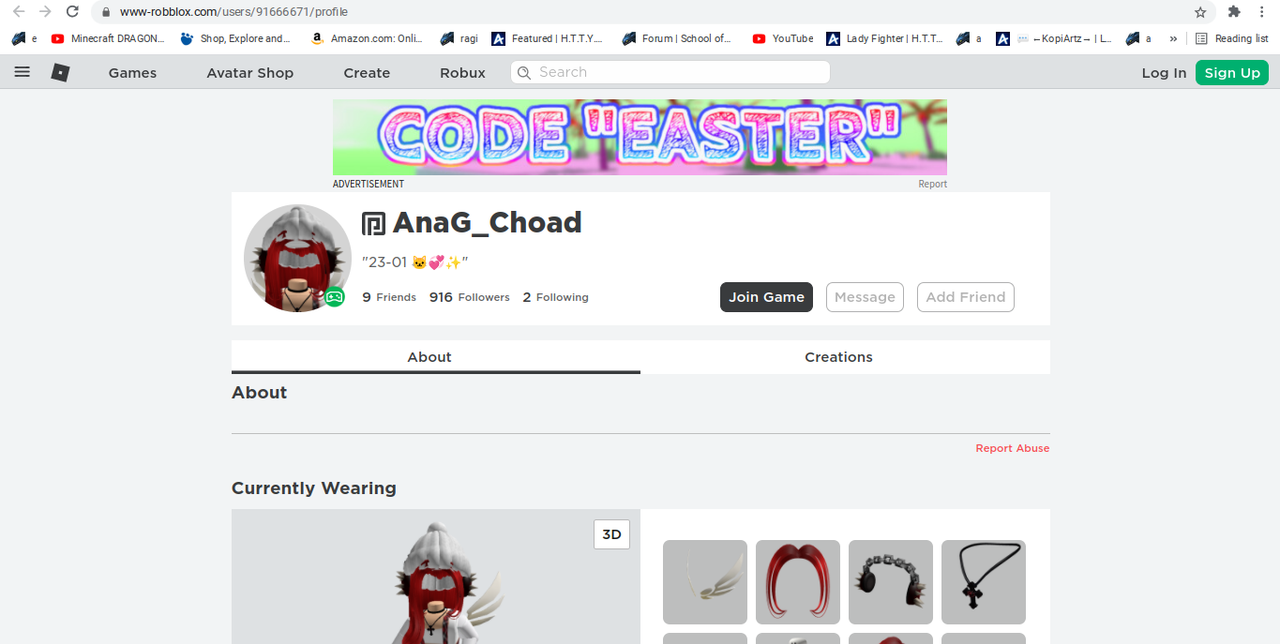 Pets and items that were stolen: My Fly Ride Bat Dragon (Hypnos/robux/Limited time), My Diamond Ladybug (Robux), My Frost Fury (Helios,robux/limted time), My Golden Dragon (Nyx/Nameless/ hard to get), My Fly Ride Peacock (Multi/robux), my Ice Cream truck (robux), Magic Door (robux), Phoenix plush (rare/limited time), and a heart plush.
Proof person went into my account and stole only my legendary pets and items- No one is stupid enough to trade 5 legendary (mostly robux/limited time pets) and limited time items for a sandwhich. A SANDWHICH. The only reason I would do that is if it was my siblings- The only ones I trust to return my pets. This person wasn't a relative or a sibling. To make sure we know which sibling is which we have certain names and numbers that are our favorite. That is how I know it wasn't my siblings. My siblings don't even know my Roblox password. It's not on my friend's list either. I checked the account and it is real. But it's dressed like a "noob bacon haired" lady. Which is what most scammers and hackers wear in the game. It could've been a second account but I doubt it. They wanted to fit in with the "noobs" so I wouldn't find them suspicious I'm sure. They seem to forget that I can find them through the trade system. I hope I can get my stuff back.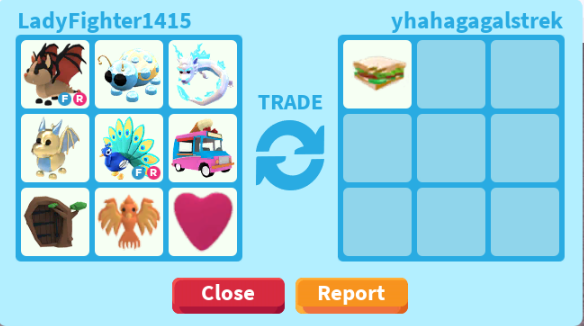 The site I used to offer for the hackers stuff called "traderie"-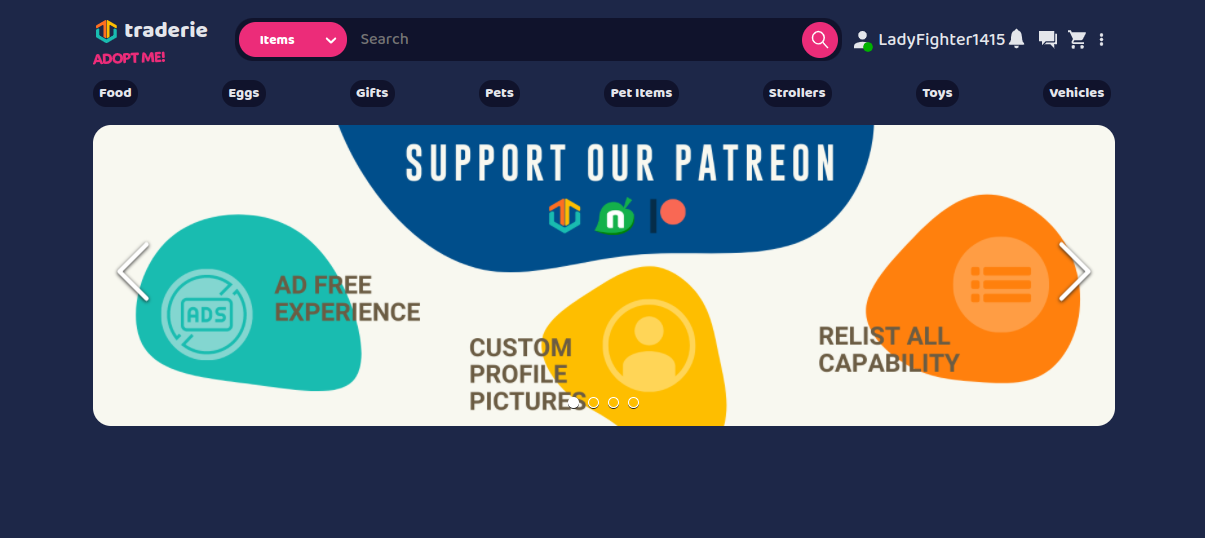 The person who hacked me and gave me the fake link-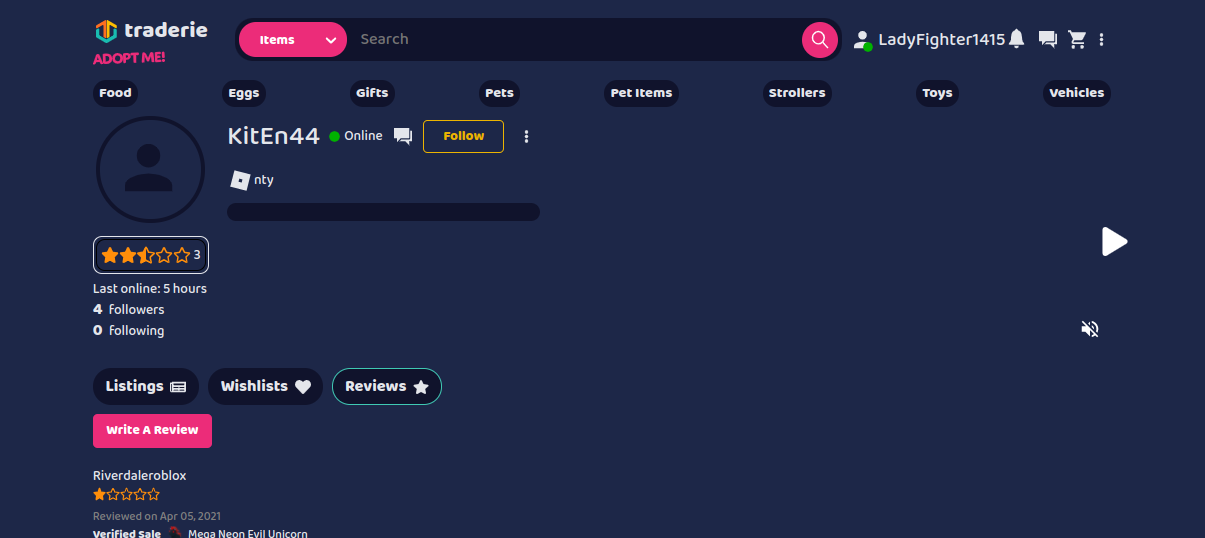 The reviews... I should've read the reviews but I just found the website today and I didn't know how to check reviews. I didn't understand the second review but now I know what the warning was.. Too bad I didn't read it soon enough-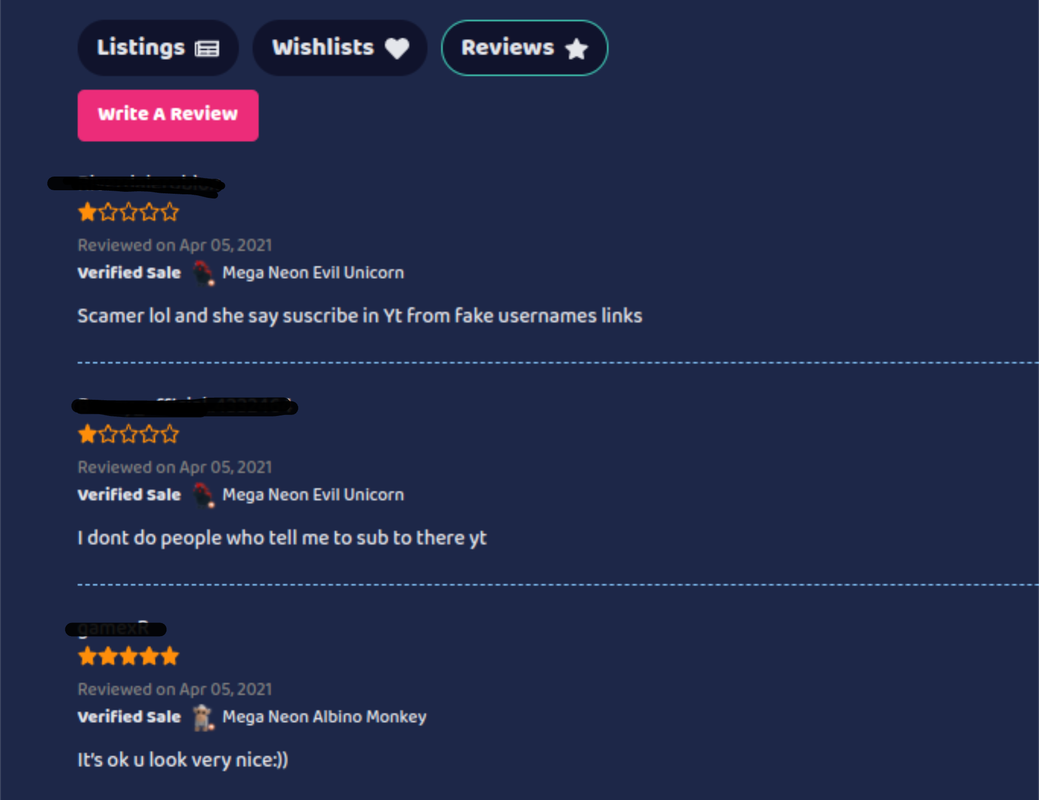 I apologize for the very very long post but I wanted to warn ya'll so you don't lose your valuables either. I also wanted to prove my innocence and not make it look like it was a troll. Stay safe and thanks for reading.
Tue, 04/06/2021 - 01:03
#1
Sammy Spirit destroyed the subject while fighting Sammy Power
I'm so sorry that happened to you Lady. This is probably why it's best to never go to a link given to you by another person online mostly due to this site being a fake site. I'm normally never going to any site given to me online so I'm pretty safe while my sister hardly ever plays Roblox but if she does, she is usually in whichever game I am staying close to me. She is also quite aware about fake sites never going to a site someone gave to her online. Everyone we know told us to never and I mean never go to a link someone gave to us so we're quite aware and careful. Again I'm so sorry this happened to you and I hope you get your items back.
(Sorry for any spelling errors or grammer mistakes it's like 1 in the morning where I live so I'm typing with almost no brain here)