Post your Dreadfall Screenshots here!
With the many, many glitches happening in game, I thought it would be nice to share Dreadfall screenshots and see something besides glitches. So post all of you spooky Dreadfall screenshots here!
Mon, 10/14/2019 - 09:05
#2
SpooOOoOooKy!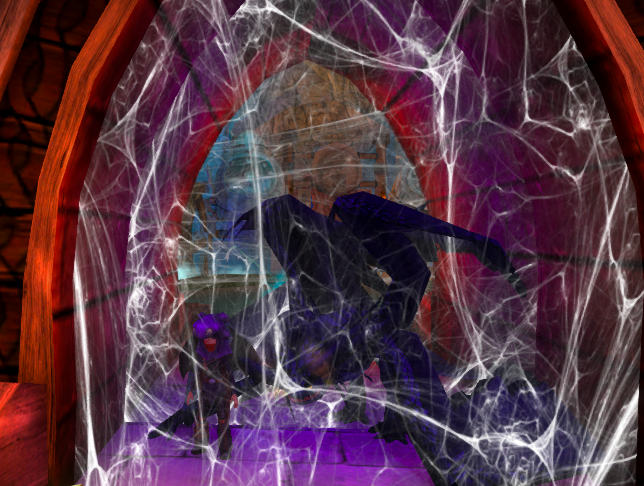 Help! We got trapped!
Mon, 10/14/2019 - 15:54
#4
I would post a screenshot but
Sam, Dean, and Castiel just spotted a demon so I have to go get them back. Wait never mind it was just Crowley.

My older sister is a Supernatural fan so she got me to name some of my dragons after characters from the show. And she has approved of the Blue glow on Cas, the golden Deadly Nadder, to make him look like an angel. I'll get a picture of that soon.

I now have a screenshot to share. Spot the spoopy Sand Wraith, or she'll haunt your dreams forever. She's there I promise.
Mon, 10/14/2019 - 15:55
#5
She's there lurking in the
She's there lurking in the background.
Mon, 10/14/2019 - 10:23
#6
COBRA-LALALALALALALALALALALALALALALALALALALALALALALALALALALALALA
Tue, 10/15/2019 - 06:49
#8
"That man hasss the consstitution of a VENDING MACHINE..."
Heheheh. I bought mine long ago, when they were still in stores. When you get yours, it's always super fun to wear a rage skull mask underneath it so it looks like you've got a flaming jack-o-lantern on your head x')
Mon, 10/14/2019 - 19:56
#10
Huh. There's somethin ya don't see every day.
So with the update (when I could do quests :'3) Discovered if you fly really close to Hiccup when he's on Toothy he'll rise out of the saddle and start waving at you!
Tue, 10/15/2019 - 06:48
#11
COBRA-LALALALALALALALALALALALALALALALALALALALALALALALALALALALALA
Outside of that being an adorable attention to detail, why does it just look like he's waving goodbye as he's being abducted by aliens right out of Toothless' saddle? x'DDDDDDDD
"My people need me."
*ASCENDS*
Wed, 10/16/2019 - 19:33
#12
Wed, 10/16/2019 - 19:34
#14
Eerrrrmmmm
Hope not D: Lol imaging Stoick doing that. He'd look like a ballon xD
Wed, 10/16/2019 - 19:26
#17
Spicy Subject
It's the Headless Horseman! Or rather, the Headless Dragon Rider of Dreadfall!