Please Reply....
Hi I just wanted to know which programes to use to edit dragon pictures and to make art on the dragon.
__________________
If you want send me a friend request.
Friend Code: AZTP72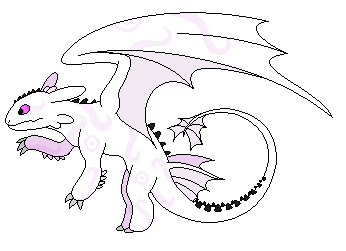 Swirl
Peppermint and Shimmer was created by Spy.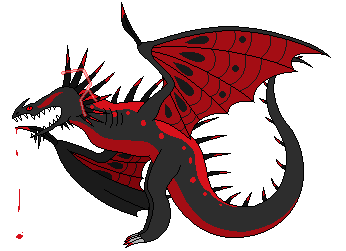 Spitfire
Dripping red venom from her claws, she has red lightning and a burst of speed.
Don't be fooled by her looks though she's very playfull and very protective.
Shadow
Stormshadow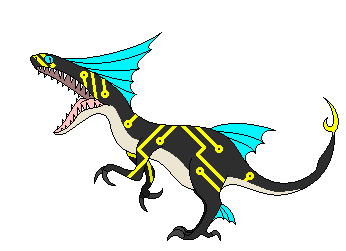 Cyber
Ryuu
He can witstand alot of heat and loves to hang out by volcanoes. He's also lazy *sleeps alot.*
Aqua
Loves to swim and she's also likes to play alot.
Leo
Razor

Wed, 12/10/2014 - 17:04
#1
i use corel paint shop pro x2
i use corel paint shop pro x2
__________________

Viking: Lunar Vixen
Clan: None
Main Dragon: Echo

(Stormcutter/Male)
Secondary Dragon:

Toxic (Deadly Nadder/Female)
Alt. main: Eclipse
(Nightstinger/Male)
My Website:

https://beacons.page/lunarvixen

do not steal anything from this signature!!!
MyDragons:
1. Echo = A large stormcutter, slightly bigger then Cloudjumper. He is very strong and fast for his species. He is very loyal to his rider. He has a bit of an attitude, and doesnt show much emotion. He is a big sweetheart but finds showing it off to be embarassing. He is only goofy acting and silly when alone with his rider or Toxic.
2. Toxic = my oldest and longest owning dragon. She is more playful than even stormfly...and thats saying a lot. She is just about as competitive and trains hard. She is quite smart and very quick on her feet. She is a great tracker and loves to take long, nighttime flights.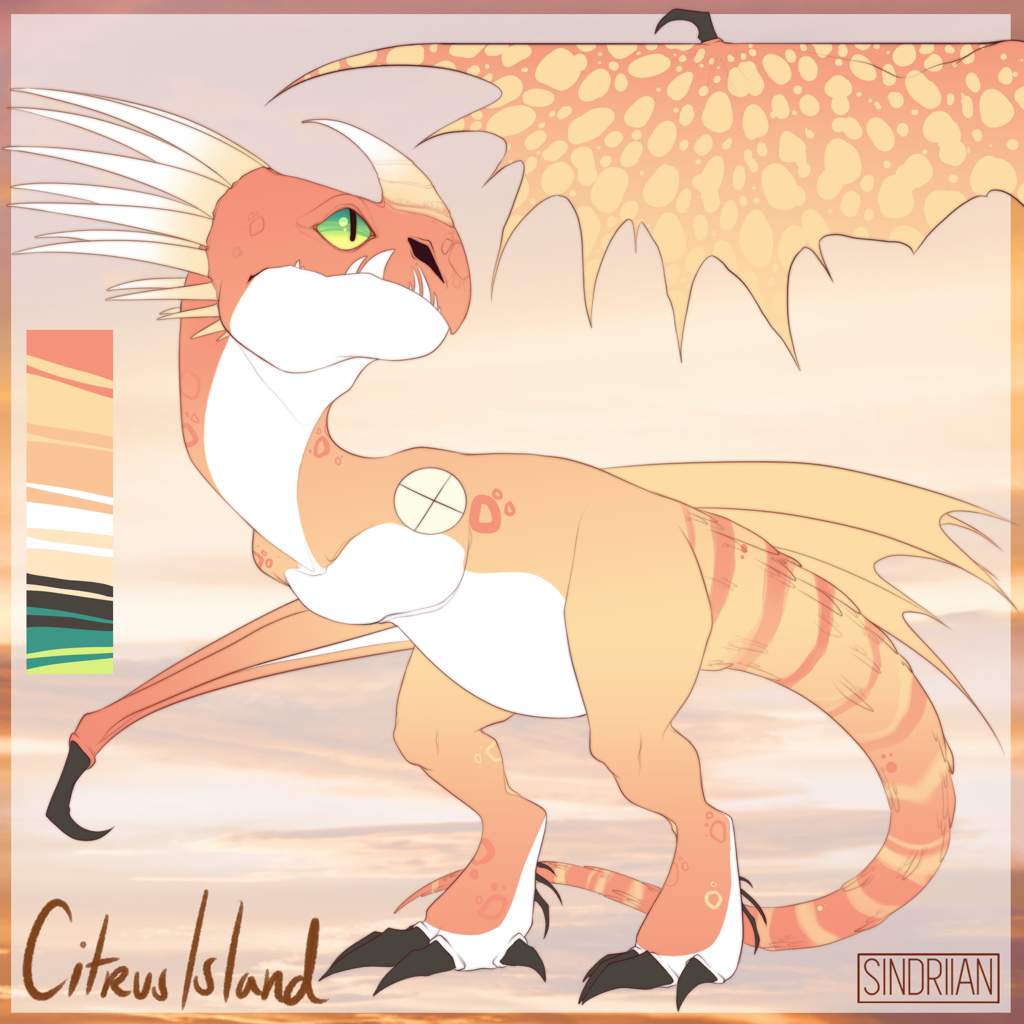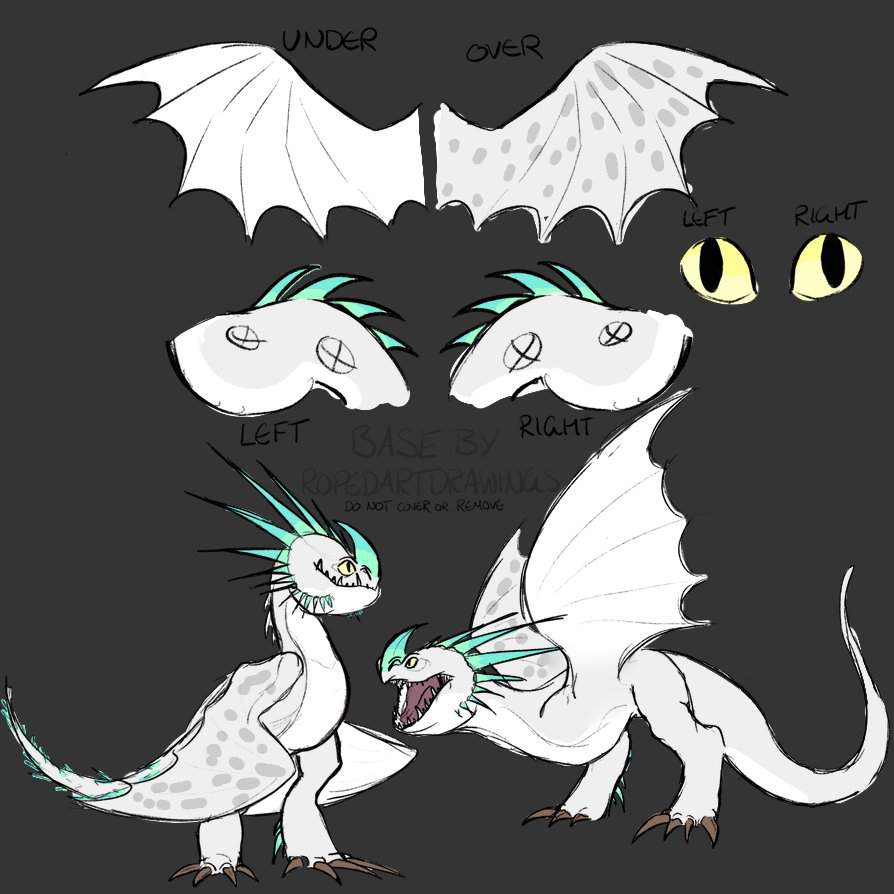 3. Blackout = a rather bad boy character... well he tries to be. He is really quite lovable, but tries to be tough and brutal. He is very standoffish and doesn't trust people easily. He mostly runs from them and will attack if they follow. He is wild at heart, but sometimes let's his rider take him for a spin... but be careful of being zapped.
4. Eclipse = (a nightfury/speed stinger mix). despite being a fearsome dragon species, he is extremely playful and loves to be petted. His personality has two sides to it, the playful friendly side for his friends and children, then the deadly protective side when anyone is in danger. He has a slight fear of thunderstorms and prefers to be inside during them. He loves the rain, but not during thunder. He has all of the abilities of a nightfury and a speed stinger.
6. Nightwhisper = a female nightlight whom performs medical opperations in battle. She saves injured animals and gets them to safety. She is very intellegent, wild, and creative. She loves to draw on the ground and will get mad at you if you step on them. If you try to get on her back she will buck you off, she hates being ridden by most people. She loves to fly alone and do tricks in the sky. Whisper is mostly nocturnal, but will go out at daytime. She is the second generation daughter of Toothless and the Lightfury. She is very rebellious, but loves her family dearly. She is very cat like but is as loyal as a dog.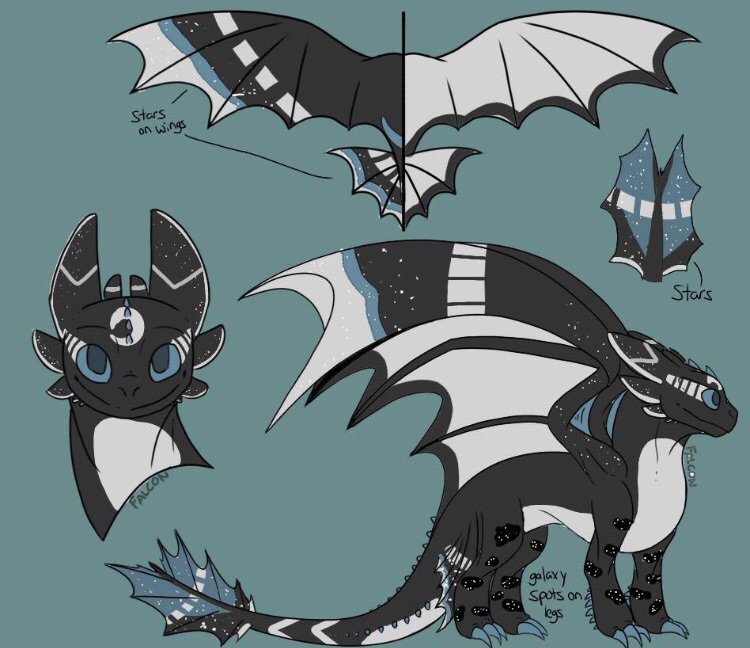 7. Lucian = he is a lightfury/sandwraith/changewing hybrid. His main firepower is a strong acid that can even go through metal. He also has very weak plasma blasts. He can turn invisible, swim well, and buries under the sand. He is overall very lazy and loves to just lay around and soak up the sun. He will only attack if provoked. He is overall quite friendly with humans, but can be a bit territorial. He does often shed his skin to keep himself fresh and new. He is a bit of a prankster when he wants to be. He loves to also float in the water. If you wish to find him, walk along a beach during the day and you will prob find him there!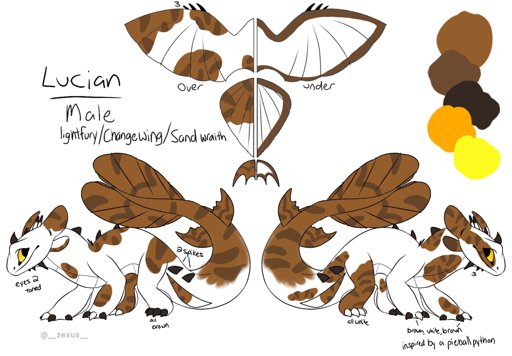 8. Caspian = night whisper's mate. He is an aquatic lightfury whom prefers swimming over flying. He is large for his breed and brave. He is also a bit wreckless and silly.
9. Whirlpool = a scauldron whom loves to swim and help fisherman catch fish. He is very friendly and outgoing for his species.
10. Frostflight = a very lonely lightfury. she lives a life of solitude and is too skeptical to let anyone into her life. Everyone she loved either died or abandoned her. She gets lonely often and spends her time drawing in the dirty, hanging out with animals, or climbing.
11. Scorpio = a stubborn hard headed dragon made after the Scorpio astrology sign. He is everything that they are.
12. Ghost = the son of Caspian and Nightwhisper. He is moreso a lightfury then a nightfury. He has all of the abilities of a lightfury and can swim well like his father.
13. Adler = Toxic's mate. He is very hot headed, but kind and tempered around Toxic. He likes to always be in charge, and gets grumpy if he isnt. However, he makes a great leader when in charge.
Wed, 12/10/2014 - 17:25
#3
Free, good softwares you can
Free, good softwares you can use:
Gimp
Painttool Sai
FireAlplaca
Sketchbook Express
Professional but not free software:
Photoshop
__________________
___________________________________________________________________________________________________________
Thanks Pixel!
My Adopts <3
Banshee. Despite her dark look, she's a fun loving dragon who likes rainbows and skittles. My represensitive dragon (me if I was a dragon :D). Drawn by Changeling. Blinkie by Mightnightmare and editted by me. Amazing egg animation by Rasvim1313. Toothless gif made by the awesome Reiraku (what would the OCs do without you). Blinkie by me (I forgot to change her eyecolour)
Catalyst, the Chemical Magician <3 Spicy and unpredictable, this nightfury creates a backstory of his own. Not that he'd share it. My OC drawn by Reiraku
Banshee and Catalyst adorably playing together <3 Drawn by toothless572
Drawn by me. Description by the amazing Reiraku.
A sreech. A howl in the dark. A keening cry in the depths of the night. This was all that could be said about the destruction he left in his wake. A name? He had none. Was it important? A strong opponent. This was what he desired. Perhaps somewhere deep down inside, he simple longed to be stopped. But he yearned, and he fought. For what, it didn't matter. Alone as he had always been, he didn't care what became of those he defeated, only that they ended up dead after his passing. If they could not best him, they did not deserve to live. Even now, he stalked through darkness, tracking his next prey. The blood on his claws would not wash off, but he did not want it to. His soul was a cacophony of chaos, and his body an instrument of death.
Was it the result of some twisted past? Nay. He enjoyed the killing. He found sport in the shedding of blood. It was he that was twisted, cleaving a path of darkness into the future. He twisted his own past to justify his future. His mother, father, and the rest of the clutch into which he was born had been very caring. As he had grown, he found that, so too, did his resentment of them. When he grew large enough, he attacked his brothers and sisters, tasting their blood for the first time. And he relished the taste. His parents he made quick work of as well. It wasn't enough. He belonged to nothing and no one. He was beholden to none. He was free and he was dangerous.
No dragon was safe from his urges. He took no interest in the lives of others; only in their deaths. In this way he lived, fought, and grew, fighting and killing anything that appeared before him. Growing strong feasting on the thrill of each kill.
Storm Chasers are highly energetic speed-loving dragons. They love to swim in fast currents and fly with strong wind of the highlands. Storms are no problem to them. They follow the storm until it subsides, taking any food left from the destruction, which is sometimes from viking villages. Storm Chasers have incredible sensor that they could predict a storm coming and its path.
Gender: Male
Personality: Naturally curious, likes to flick his tongue out when he's unsure of something. Gentle soul, loves belly rubs
Backstory: While out on a hunt with my dragons for wild forest animals, Catalyst and Banshee was playing as usual, and this time it seems they were play fighting each other. They look like a giant rolling ball of tumbleweed in the distance, if you ignore their playful dragon growls and nips. Shaking my head, I spent the next few hours collecting all the animal feathers and designs I needed, and on the way I caught a rabbit for dinner too. Just as I began walking back to my dragons, I heard a loud, angry growl in the distance that sounded nothing a small animal can make. I quickly rushed to where the sound was coming from, horrified to find that it was in the direction of where I last saw Banshee and Catalyst biting each other's ears (which was kind of cute, and made me stop for a while to watch them). Just as i got to the clearing, I saw Banshee and Catalyst in defensive stance, both growling at a male dragon that's semi-hidden in the bushes with what seem to be a bruised nostrel. They must've rolled into the bushes sometime during their fight and fell onto the dragon's nostrel, waking him up and surprising him! Approaching the dragon slowly, with my hands in front of me, I told my dragons to backdown as I tried to calm him down. After what seems like hours, the male dragon seemed to be calm enough to approach me with curiosity instead. I realized with a start that it was actually a Stormchaser, who seemed to have hurt it's legs somehow as it was slowly limping out of the bush. Carefully taking the shark pieces of rock from his foot (i wonder how he got hurt), the Stormchaser sniffed it's foot and tested it, before happily nudging my hand with it's head. I gave him a good scratch under his chin, and packed everything up ready to move back home when it seemed to follow us and didn't want to leave. Even as i rode Catalyst in the skies, the Stormchaser wasn't far behind, and I ended up adding him into out dragon family, and named him Peach. Design by ScarfyWings
Carnage, the Symbiote Night Fury. One of the rare nightfury species, he serves no one and nothing. Though I suspect he holds a much kinder side...
Drawn by Kyore. PIxel arts by Wutend Bonfire :D
This fiery night fury can summon and control all types of weather. Storm is from the deep south and will submit to no dragon or human. As she can control whether the skies are safe, even the alphas are afraid of her. Drawn by skypeoplephoenix732
"If you get any of what this skrill is dripping on you, you'll start seeing all kinds of things that aren't there." Toxin, the goofball that doesn't realize everybody knows she's stealing food from the pantry because there's pink goo everywhere she goes. Drawn by Reiraku
Tigger, the speed stinger. Not much for brains, but what he lacks in brains he makes it up with a large stomach. Drawn by Reiraku
Cinnamon Swirl, my MLP OC drawn by FireFlash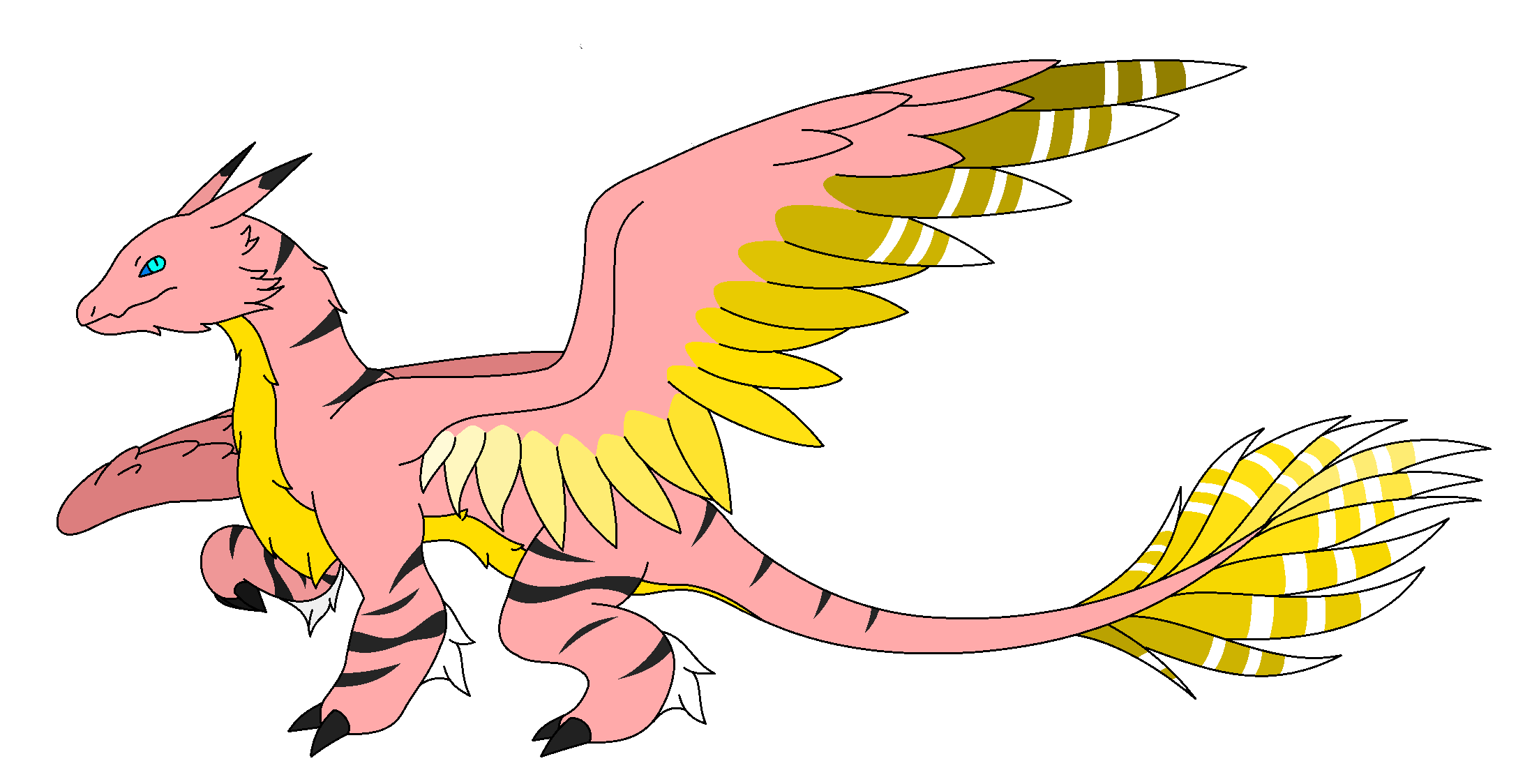 Ellie likes to enjoy the time she has. A very softhearted Banded Featherlure. Mdae by Amberleaf7
Hong Cha (or Red tea in chinese), the chinese dragon. Drawn by Glacecia
Todachi was only a hatchling when his clan was destroyed and killed by humans in front of his eyes. The only survivor of a clan of forest dwellers, he has to fend for himself since a young age. He's nothing special, but he has a desire to survive which drives him forward. When a viking found him in a cave while wounded in an aereal fight, Todachi helped the human tend to their wounds even though he still harbors hatered for them, because on the inside he has a gentle heart. The human was forced away the day after, and he still refuses to let anyone inside his cave save for the wounded. You would be lucky to see this him with your very eyes, as his natural camuflage makes him blend perfectly to his surrondings. He says he's not currently interested in any SPAM at the moment. Drawn by Reiraku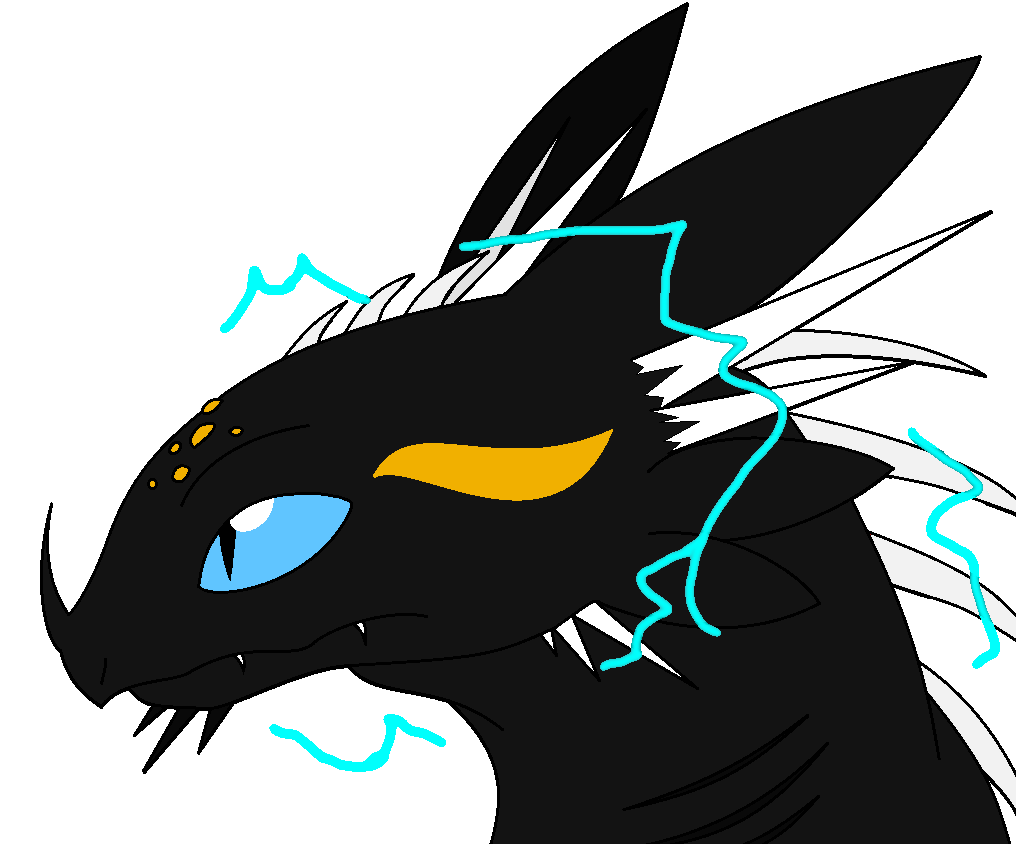 Carna, the hybid offspring of the Nightfury and Skrill. Likes to eat smores and snuggles in the fireplace. Only appears occationally when hungry, so no one knows where she is most of the time. Drawn by Reiraku
Adopted from Siren-Spirit
Morvan, the Dark Dragon. No one knows where he came from, and not many wants to know in fear of being brutally mutilated. The crimson blood on his scales is enough to tell even the blind to not mess with him. He never shows weakness no matter the enemy, but they know that he has some extensive history before he became known and the Dark Dragon. The wings along already hold a much more heavier burden to tell...
Crystalis, the rare white nightfury. She had a warm and kindhearted personality, and loves to collect jewels of all kind. Her scars are a mystery that she never tells. Drawn by skrillfan
Skylar, the nightfury born with the lightning mark. Drawn by Scoubidous
Gender: Male
Personality: Brave, Serious, Loyal, Strong Fighter
Special Notes: Scar, Take with care
Name: Kenshin (do you get the reference? :D)
Bio: Once known as one of the deadly assassins of the old age, now Kenshin is a recluse on the journey to live a peaceful life. However, he encounters a lot of old enemies and rivals that haven't forgotten of his bloody past, but he will not give up the simple life.
Drawn by goldenfury360
Vintage, the classy as fudge skrill. Somebody give him a tophat! Drawn by Wutend Bonfire
Santalina, santa's little helper (or reindeer,
whatever floats your teaset). Drawn by Rasvim1313
Spyro, the baby dragon. Drawn by wutendbonfire
Cute baby dragon Toothy. Designed by Hjonard32
Abyss, the Lazy
Foresworn, the Firstborn
Zeus, the Enforcer
By Aeral :D Christmas-themed edit by Ellie. Bouncie by Reiraku
Kidagakash, the Fierce Leader
Rounin Kenshin!
IF YOU DO NOT LIKE LOOKING AT BLOOD OR FIGHTING, DO NOT SCROLL DOWN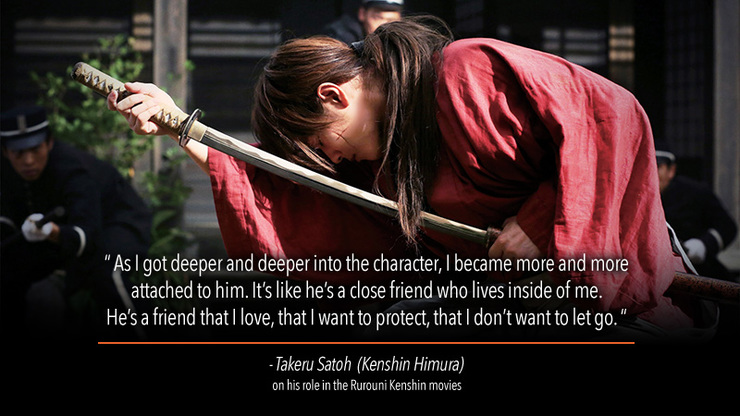 Wed, 12/10/2014 - 17:55
#5
Are there any good apps? Are
Are there any good apps? Are those for the computer or for devices?
__________________
Going to update this eventually,
in the meantime, you can also find me on:
Who's online
There are currently 6 users and 527 guests online.