Otherside (An Unlimited Spot Fantasy RP) Registration Thread
Otherside
Unlimited Spots
Genre: Fantasy
Plot:
The Reverse Side of the World has been home to various mythological creatures since they had all migrated there when the Age of Gods ended. As the Age of Man began and flourished, humans forgot about living alongside the mythical beings and instead remembered them in the form of myths. However, at the end of the Age of Gods, one human who was extremely close friends with the mythological creatures promised that regardless of how far into the future, there will always be a place on Earth where they could return. This place came to be known as the Vivaria.
Life has been peaceful for the most part on Earth and the Reverse Side until recently, small tears in space were seen forming in the Reverse Side. The Elders of the Reverse Side conducted an investigation on the rifts and determined that they lead to Void Space. With this information, the Elders decided to send several beings to Earth to watch for rifts on that side and fend off void creatures if they appeared while a solution is found.
These days, the Vivaria is nothing more than a vast plot of land nestled in the Olympic mountains away from the eyes of bustling urban landscapes and curious people. This land remained private property due to persistent resistance by the descendants of the man who first established the Vivaria. However, mythical creatures haven't visited in a long time, leaving the descendants dubious of their family history. Now, the current owner is on the brink of ending her recluse life and selling the land so she can move out. That is, until one day, she wakes up to see various creatures she has never seen before outside her house.
Your PoV:
You are a mythological creature that was assigned to keep watch on Earth for rifts. You and the others with the same assignment take a portal across to Earth, landing in the Vivaria. Since Earth changed greatly since the Age of Gods ended, you spend your days in the Vivaria learning about the current Earth or patrolling Earth for rifts. You will fight void creatures that have managed to escape the void and banish them back to the void.
Terms and Notes:
Age of Gods: A time when gods and other beings of mythology roamed Earth. It is estimated that this age started around 4.5 billion years ago and ended around 1 AD.
Age of Man: A time when humans dominated Earth. This happened around 1 AD and continues until current time.
Reverse Side of the World: The inner layer of Earth where the mythological creatures from the Age of Gods reside in and where humans never set foot. This world has its own laws that allows things that the you could never accomplish or imagine under the laws of physics.
Void Space: Dark, empty space that connects Earth to the Reverse Side. Normally, this space is sealed shut and only opened briefly when portals are made to travel between these two worlds. The Void negates all power within it.
Void Creatures: Beings that have broken the laws of the world or attempted to break the laws and have been banished to Void Space where they are powerless.
Rifts: Gaps that connect the world to the void. Rifts take the appearance of spheres that look like the night sky. The reason for their formation is not known yet, but it appears that rifts sap small amounts of energy from the world.
Elders: Powerful beings in the Reverse Side that are greatly respected. They make important decisions regarding the world.
The Vivaria: A large plot of land in the Olympic Mountains, located in Washington State of the US. There are mountains and lots of vegetation which can hide large creatures and provide lots of space for play. There are magical items hidden away that can change the land or produce anything needed to meet a creature's needs.

The roleplay will mainly take place in present day Earth. I don't have any plans currently of including plot in the Reverse Side so the world isn't very developed in my mind.
In the case you want to develop a background for your character, the Reverse Side more or less can have whatever fantasy landscape you can imagine. Species can be spread out across the world, but generally hang out with members of their own species. There isn't really a government or hierarchy but generally the more powerful you are, the more respect you command, with the Elders at the top.
All characters are required to have a human form they can shift into due to the world being populated with humans that don't believe in the existence of mythological creatures. Human forms can retain small features from their creature form as long as they can be passed off as cosplay (how wonderful this world is).
Mythological creatures can be very old.
While Earth is currently under the laws of physics, it still retains some traces of the old laws from when the mythological creatures roamed Earth. This allows creatures to use their abilities and magic.
Because the old laws are weaker on Earth, the mythological creatures are weaker too. This should not be affect character creation but should just be a thematic thing to keep in mind.
Clarification about how powers work in Otherside:
The Old Laws: The former laws of the world during the Age of Gods that allows supernatural phenomena. The Old Laws use mana as a form of energy to enable creatures to produce the supernatural occurrences.

Mana: A form of energy found in nature that allows supernatural occurrences. Mana exists where the Old Laws exists. The stronger the influence of the Old Laws, the higher the density of mana is.

Mana circuits: A network in the body, like the nervous system, that stores and carries mana through the body. Mana is drawn from the atmosphere into the body like oxygen. Everyone is born with mana circuits.

Disappearance of the Old Laws on Earth: As humans began to progress in science, more concepts and occurrences that could not be explained were explained. This weakens the influence of the Old Laws and created New Laws (Physics). As science progressed, the New Laws gained greater influence and the Old Laws lost influence.

Leyline: An area on Earth with significantly higher concentration of mana.
Clarification about the relation between Earth, Reverse Side, and Void Space:
Earth: Sometimes referred to as the Surface. Earth as we know it is the outer layer of the planet. It acts as an outer shell. However, in the same plane as the Reverse Side. If you continued digging down to the center of the planet, you would not run into the Reverse Side. The best way to imagine this is like the Overworld in Minecraft.
Reverse Side: It is the inner layer of the planet hidden beneath the Surface. It still has a sky like the Surface and its geography shares similarities to that of the Surface. And like how you can't dig down from the surface to the reverse side, you can't fly up from the reverse side to the surface. The best way to imagine this is like the Nether in Minecraft.
Void Space: Exists between Earth and Reverse Side. The best way to imagine Void Space is on an imaginary number graph. Reality exists on the real axis and Void space exists on the imaginary axis. As you leave the real axis, you enter void space. Because time, space, and reality is different in Void Space, you can easily get lost if you don't have an anchor in the real world. An anchor is something you can track/form a bond with in the real world that will allow you to resurface/reach a definite destination.
Rules:
You may not godmod/powerplay/control other characters without permission from the character's roleplayer and me.
Communication is key so if there is anything you are uncomfortable with, do bring it up.
Do not fight other roleplayers outside of the roleplay. If there is a conflict, settle it in a civilized manner privately. If you don't come to an agreement, feel free to ask me to help resolve the issue.
You may not reply directly to other's posts (especially if they are labeled DNR), unless they are out of character (OOC), in the case changes need to be made.
Multiple characters are allowed as long as you can handle the load. They can join later on too.
If you skipped reading on some stuff above, I highly suggest you go back and read what you skipped.
Have fun!
Form:
Name:
Age (optional):
Gender:
Species:
Creature Appearance (please indicate size in comparison to a human):
Human Appearance:
Personality:
Abilities/Skills:
Extra:
Fri, 07/01/2022 - 00:10
#6
COBRA-LALALALALALALALALALALALALALALALALLALALALALAALALALALALALALA
Oooh save me a spot! I do have a couple of questions ahead of time, those being:
1. is there a size cap on characters? I mean like.. obviously I don't expect mountain-sized mythical beings to really be okay but as in- I plan to use a Basilisk character so... bloody great snake. I'd say his head is about as big as an average sized man. Would that be okay?
2. Are the human forms expected to fight, thus have weapons/shtuff going on for them, or is it purely for blending into modern settings?
Edit: Last editted: Further described the way the Gaseous Poison works, Added 'Human Shape-Shifting Spell' and 'Undead Enchantment' to Abilities list, tweaked the flavor text under 'extra' regarding the language section and name now knowing how language barrier stuff is addressed so.. the wiggle room added a more logical tweaking.
Name: Mors

Age (optional): 352, but mentally.. he's essentially a young adult...? ...Sometimes.

Gender: Male

Species: Basilisk (Serpentine)

Creature Appearance:
(Drag either images into a seperate tab to get a better look at 'em.)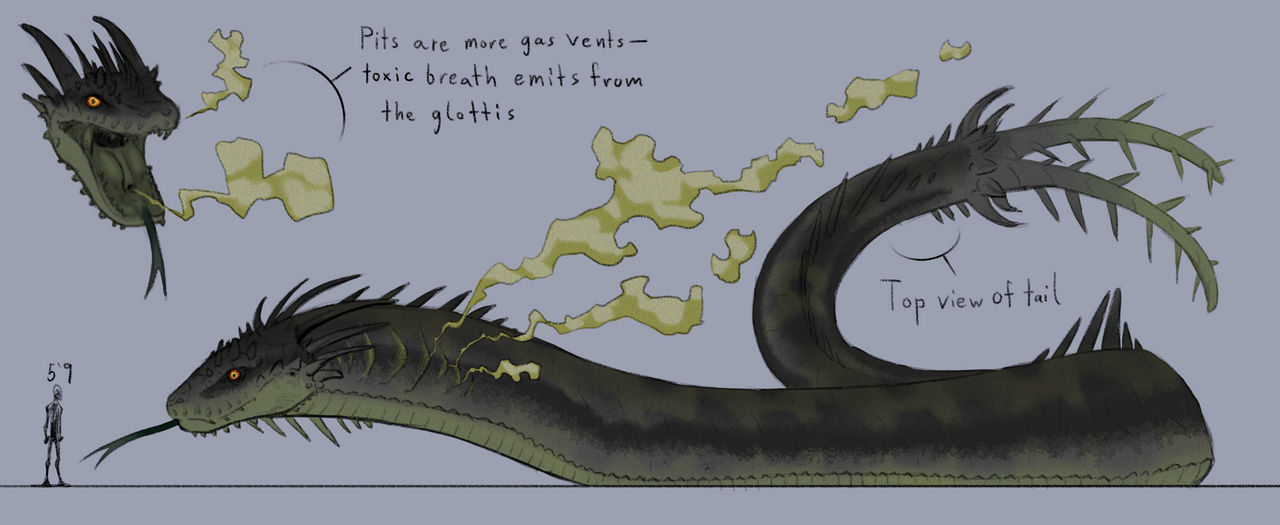 (
Short written description in case someone can't see the pictures:
Large, primarily grey snake with an olive green underbelly, bright orange eyes and a black tongue. Has a short crest of spikes adorning its head and a forked tail covered in spikes. The body is very faintly mottled with olive-green. A black stripe forms a mask over the eyes that then goes down the rest of the length of the body.)
In Basilisk form, he doesn't really move nor open his mouth to speak, but his throat puffs slightly as he forms the words down in there like a bird.

Human Appearance: Height: 5'9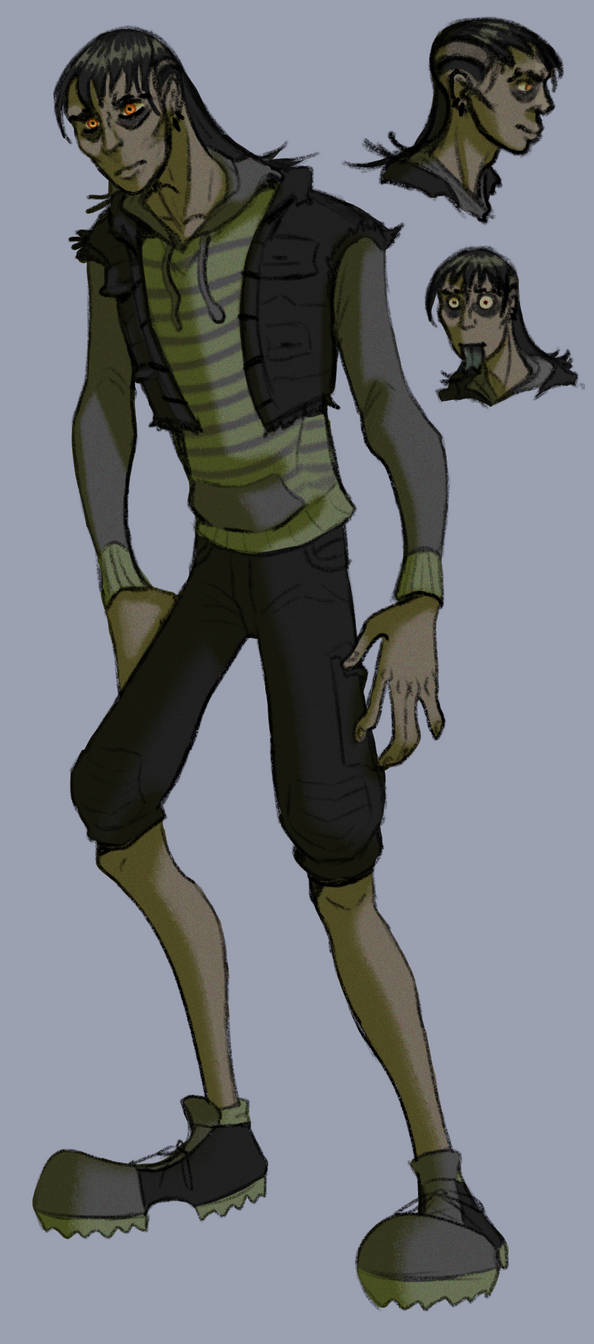 (
Short written description in case someone can't see the pictures:
Gangly fellow with slightly washed-out olive-toned skin and greasy black hair. Rockin' a mullet with shaved sides. Irises are still orange. Has very dark under-eyes. Wears a grey-and-green striped hood.ie with grey sleeves, a black denim vest overtop of it, and black jean shorts. Looks like he's just barely capable of standing upright.)
In human form, he retains a forked tongue it's just.. more human shaped !! The inside of his mouth is still a green color. While he keeps his Intense Gaze, they could pass as just high-brown colored irises in a well-lit environment.

Personality: You could say he's a.... simple creature. Heavily goal-oriented, not exactly in a 'rigidly dutiful' sense but more of a 'what else would I be doing?' sense. Basilisks are solitary by nature- he is no exception- so social skills haven't really been a large part of his life until now, and as such... he's a bit unsure of them. While not exactly 'unfriendly', he largely doesn't think about pleasantries and simple conversation, so he can be a bit blunt or seem impatient as a result. There's a sort of 'logic' to him in that things like nuance or.. really any sort of indirect social confrontation (Sarcasm, sparing feelings, even empathy to an extent) are entirely lost on him.
While not consciously 'violent', he will make somewhat drastic decisions if he feels threatened or... simply thinks he's looking at a prey item at the moment (And prey item is and always has been a rather broad term..). Can be a little over-cautious and over-reactionary, particularly while in human form. ...He's either calm or being threatened, basically. There is little in-between. Asking for help from others is a new concept to him as well so.. he would rather quietly deal with a difficulty than mention it to anyone unless directly asked.. And even then there IS a certain amount of pride that dictates he be able to settle things himself.
He is not rigidly set in his ways, though, and does his best to adapt toward not thinking only of himself now. ....He's just not great at doing that.
Abilities/Skills:
Toxic: Unlike what some legends say of his kind, he cannot just look at something and it drops dead. The heavily-associated-with-death reputation comes from the highly toxic fumes that emit from the vents on the sides of his neck, as well as the pits along his mouth. In very high concentrations, the gas is acidic in nature and can start to eat away at thick armor or organic matter. Such conentrations usually are only produced as a poison-breath attack... basically like dragonfire only Gaseous Substance version.
In less concentrated amounts- which is the more common situation- the gas is noxious if inhaled for an extended period of time and has a paralyzing effect over time. It will still try to eat away at those within the cloud but to a far less severe extent (i.e. may cause minor burns if stood in for too long.) typically affects lower life-forms (plants, regular small animals) far quicker than sentient beings.
The best way to describe it is as a sort of rot or disease. It has a withering effect on those exposed, wilting plantlife and the whatnot. Just sorta nasty ! Cureable with healing magic, but ill advised to remain exposed to it for too long as eventually the rot can become very tricky to undo.
He can control his gas output so.. he isn't just emitting it all the time. Tends to accidentally do so if spooked, though. Just a little !!
Burrowing: Naturally just.. a burrowing species. So he can tunnel very well. Typically used for stealth and sneak-attack reasons. ...But also just because he likes to dig.
Scent: He has a very keen sense of smell, and can use this to track down friends or enemies he has gotten the scent of. ....Mostly friends though. He gets lost very easily. . .
Tanky: A combination of size, armor and just.. the fact that he is a noodle of muscle makes him a very tanky opponent. Even a bluff strike can send a man flying if it makes contact. While his scales aren't the toughest of all the beasts out there, they serve as adequate armorment and he can wrap himself or others in a 'defense curl' if necessary. This does however mean that neither sustained speed nor maneuverability are his strong suits, especially in tight quarters.
Tail-whip: The duelling spiky 'whips' at the end of his tail are his most lethal melee weapon, working effectively as giant maces with little risk to himself on the battlefield (preferring to bite only when absolutely without a choice, as his teeth are not very big and his jaw is relatively weak for a creature his size. And just the.. 'getting that close to something trying to kill you is always a risk' factor.
Piercing Gaze:
His eyes glow in the dark. Hee hee hoo hoo. ...Aside from that, he has quite good vision and even better low-light vision. There's a certain eerie-factor to it, too. Completely harmless though.
Human Form Spell: Self explanatory ! Shapeshifting is not inherent to his species, so a spell had to be learned to do that for him.
Undead Enchantmant: While not a magic he has utilized much, with a bit of extra kick from his gaseous poison, he can enchant the bodies of creatures that have given up the ghost to do his bidding. Lasts for a limited time, especially depending on the size of the creature and the state of decay it was in beforehand- for the poison will gradually eat away the body overtime. Doing so takes a large chunk of mental power, (also affected by size of the creature being controlled and/or the number of them) to multitask and do it while currently in battle would be risky.

Extra:
He is not very used to his human form..... at all. Actively despises it as a result just.. isn't one to openly complain about it. Very clumsy and just sort of constantly looks unhinged as a human because of this. Little rusty on language in general, so he tends to forget specific words or use..... just sort of off phrases sometimes. He did not originally have a name and.. in his mind still doesn't -really- but, since other beings are so insistent on names.. he chose one a traveller he met once had called him several times. ...
Very
solitary individual before being put on a team.
Just perpetual bad breath. In either forms...