NO MORE CHAT BAN
Developers of school of dragons.
We are SICK AND TIRED of chat bans. We want to talk and we don't want to be muted anymore. STOP IT NOW!!!!
Tue, 06/07/2022 - 14:05
#2
Hey there!
Hi there!
I'd like to help, but I unfortunately don't have a lot to work with here. Could I trouble you for some more details about your chat ban? Were you banned recently? What were you saying when you were banned? Could you give me a rough time frame of when you were banned? Those details will help narrow down what went wrong so we can fix it.
I know we rolled out the new chat system recently, so even with the new filters in place there may be a chance you might have been banned on accident from the automated system. If the system banned you on accident, please give some information about it here, and also let us know by sending a ticket to us via our support portal. I don't personally have access to them, but the Customer Support team will check the chat logs based on your report, rectify the mistake, and adjust the chat filter so you and other players are less likely to be affected by it again.
Anyway, no one deserves to be unfairly banned from chat. Automated systems just aren't perfect though, so I want to work with you and any other player experiencing trouble with it so we can improve it for you all. Let us know and we'll work it out.
Thank you!
Tue, 06/07/2022 - 16:20
#3
Problematic Chat ban
Hello, I just wanted to add my opinion about the chat ban:
The chat is meant to censor innapropriate language to create a safe environment for everyone to play the game, right? But it is in fact doing the opposite.
This is what I mean:
A player started an innaproppriate conversation in the chat, and I tried to stop it, but I GOT BANNED INSTEAD!!!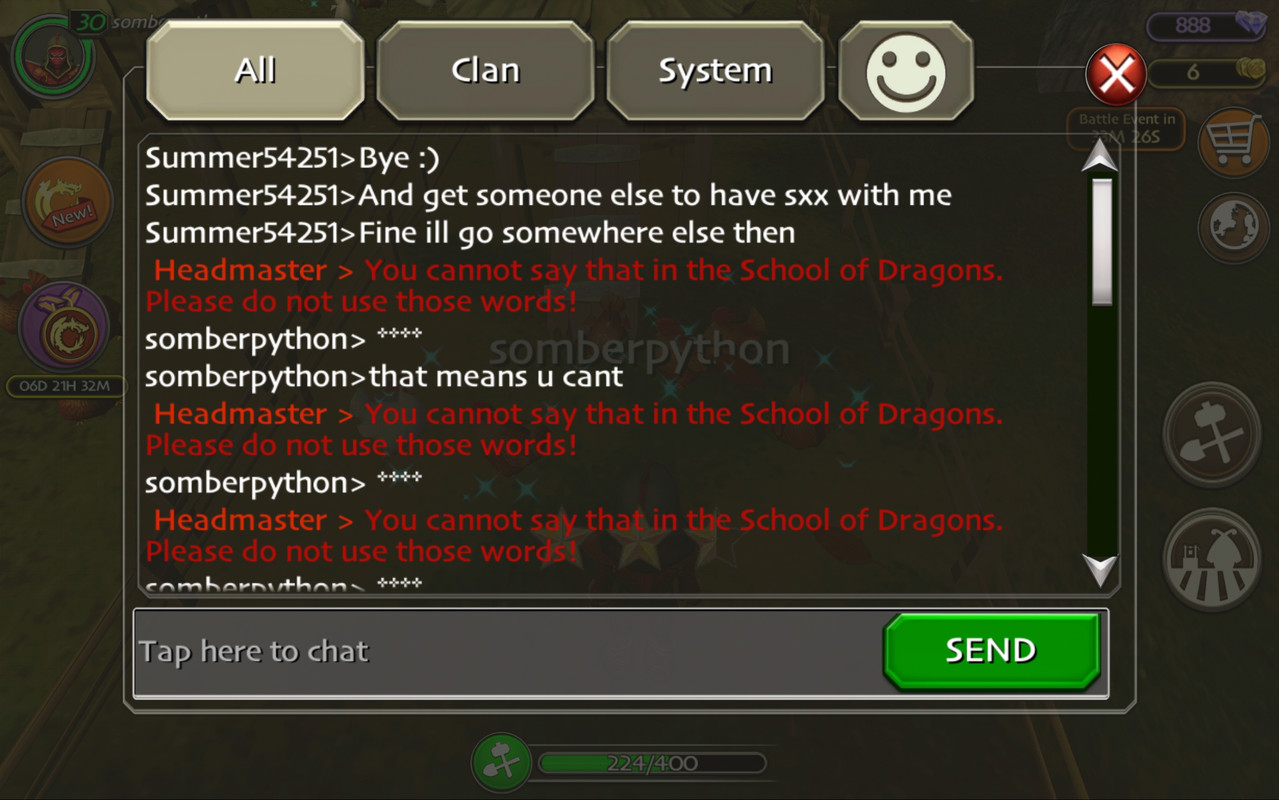 Summer54251 was trying to find someone to do "shrexy things" with and I tried saying "you can't do it here" and ended up getting BANNED by the Headmaster MYSELF -_- ...
PLEASE EITHER FIX IT OR REMOVE IT!
Wed, 06/08/2022 - 09:13
#4
Tue, 06/07/2022 - 22:52
#5
.....
Chat doesn't support my language. So if I want to write in my native language, I have to use a space after each letter, and the text in my language somehow didn't encourage drama or anything else. I understand that the chat language is mainly English and then languages ​​that support Cyrillic. But for my language, I then received a chat warning that I should not write these words until what was forbidden meant (how are you ? ) in my native language (Czech). Therefore, I would like to ask whether the rules for foreign languages ​​can be relaxed.
Thu, 06/09/2022 - 18:29
#7
True
Yes exactly. SoD should remove the chat ban filter unless if its censors words like " snexy " or " fquck ". The fact people can swear in the chat without chat bans is absolutely something that should be fixed same to normal word bans.. it makes it really hard to roleplay which for most players is a BAD outcome.