Musical Doodles for Your Characters - Music Requests
Sat, 12/11/2021 - 02:20
#23
(I'mma) Treble Maker (Not a double-taker, doin things my own wa-
YOOOOOOOOOOOOOOOOOOOOOOO!! This is super cool! :O dude you're amazing for doing these- gahhh this is really neat! Alright hang on lemme get my ducks in a row because I'd love one of these for one of my favorite ocs, I hope I'm not too late? O', (Apologies if I am- tried to check as well as I could to see if it seemed closed yet?)
Name: Zeke (but his full name is Zhaarkzekke Yzaarch Kaarzziek.. Just that no one has time to say all of that. :'D)
Age: 26 (but he claims he's older than that.. which is true, but, not in the way he says.),
Gender: Male
Personality: Abrasive, Snappish, Childish, Egotistical, Show-Offy, very obssessed with his image and coming off as 'honorable'. Very cowardly, and really is only ever brave in order to spite someone who doubted him. Prone to tantrums and flying into blind rages. Requires a patient hand... very loyal to those who took the time to make him their friend. He thinks he's a genius. He isn't. ..Actually a bit of an airhead when he isn't working on something/busy being offended... it does not take much to occupy his attention. Just a total dork tryin' to be a cool guy.

Appearence:
(The first one is a big ol' expression sheet I did for him to help you get a better feel for him, but the second one is probably the one I'd want for the video. Drag either into a new tab to view them better cuz, y'know, forum is g o o f y)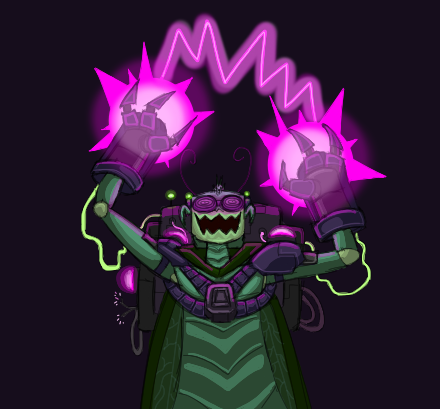 Song(s) that best describes them:
Fight Against Smithy, Who Likes Transforming has a lotta good sounds for him in it methinks..!
I'd say like.. until 1:10 of 'I AM NOT A M.ORON!' fits him well too- and the name. The name is perfect. The sinister, dramatic edge of the rest of the song is fine, but it's the opening that really makes me think of him.
'Cars' by Gary Numan also comes to mind.
Probably the most goofy, light-hearted one of the line-up. Ignoring the mario-themeness of it, I love the sounds in this one. Makes me think of a theme that would play while casually chatting with him rather than a boss-fight theme. Encapsulates his harmless-moments perfectly.
Additional Facts: He often calls humans 'mammals' like that's a derogatory thing. Technically, he's actively trying to take over the world and enslave all of humanity. However, his logic on the matter is to attempt to 'subdue' all of the Violent threat-level humans and THEN claim power over the general populace... not realizing that there will always be a new bad guy to replace the one you just caught. He doesn't like to admit it but.... he does have human friends that he cares about. This conflicts with his motivations later on down the line, obviously.

Hobbies: Tinkering/Engineering/Jury-Rigging in general, he's incredible at making technological contraptions out of random junk.. They just don't always work as expected. And, surprisingly, Cooking. He's actually a really good cook.
Colour that fits them best: ..It may be a bit on the nose, but, green seems to be his theme.

Heroic, Villainy, Humble, Adventurous, Other(Specify): Anti-Hero/Bumbling Villain. He's an anti-hero who could be dangerous if he tried, but that is a rare occasion that takes much prompting. He would fight you on a dime if challenged, though. Not afraid to bite people he doesn't like.

Backstory: Found buried deep in the earth in a state of suspended animation by more-or-less shady people, he doesn't remember how long they studied him before he escaped their lab. Spent 4 years mindlessly living in the wilderness, as the lab's improper way of waking him caused the intelligent part of his mind to remain dormant so.. he was left on instinct auto-pilot all that time. Getting hit by a semi-truck jogged his memory of who he was and what his mission is. He claims that he is a member of a race of subterranean insect-people called 'Insectoids', and (while he leaves this part out from the humans he talks to,) his sole duty is to claim the terrestrial-lands for the Insectoids. However... being just one bug-man on a world of hu-mans, things are going quite slowly. For the last 2 years, he's squatted in abandoned buildings and stolen whatever he could find from convenience stores and local dumps. He has been wary of interacting with any humans much, especially since his 'homes' have been seiged by human operatives of unknown nature many times before.
Recently, however, a human corporation known as Steele Security approached him in a 'less-capturing-more-hiring' kind of way. While wary of their intentions, the nice facility to live in and the Far Greater Budget for death-machines and just... nice things in general is his sole reason for being there. The whole.... 'It's a Private-Secruity Super-Hero team and there's 5 other members' aspect of it is rather a chore for him. But he supposes that in the meantime it is technically dealing with problems he would've had to deal with in the future anyway...

Mini Story about them:
In his element, he was. Welding some.... thing... to something else. Frankly he wasn't bothered in figuring out the logistics of the thing until he'd built it. Nothing could beat this sense of calm purpose... It was a serenity he hadn't known during the whirlwind of existence the last few years had been- Always running, in flight mode. Terrified of capture by The Enemy. Tickling the edge of disasterous discovery. But now.. he was in it. He could taste his plan slowly coming together, yes... Domination. Things would be smooth riding from here on-
"Geez, you really settled in down here.. I mean, I'd heard you'd comandeered a spare parking garage for yourself and Steele just allowed it but.... didn't think she'd let you have a place this big."
AGONY. HATRED. LOATHING. BAD BAD BAD. THIS FACILITY IS H.ELL WORLD !!!!
Zeke was rudely shaken from his daydreaming by the voice of his Least Favorite Team Member. ..In fact, the unexpectedness had made him jump and drop his welding tool. He narrowly avoided getting his foot 'welded' to the ladder he was perched on as the tool clattered a good 13 feet to the ground.
"Eyyy, didn't think you could be a butterfingers when you've got sticky bug hands!" The Despised Team Member snorted at this Clearly very dangerous interruption of important tinkering..!!
"WHY are you IN HERE G.G. if not only to break my possessions AND my concentration!!!" Zeke angrily barked at the man.
"Relax! I just wanted to see the place- what're you working on, anyway?"
"NONE of your BUSINESS!! I do not recall ever stating that I give you permission to enter this place, did I?!" Zeke huffed, pivoting on the ladder and leering toward G.G. like an angry vulture.
G.G. crossed his arms and responded "Aight... well... first of all, I've got just as much permission to be here as you do- Steele's the one that owns this whole building."
....A grin then crossed his face as he added "...And second of all.. shouldn't you have said 'none of your beeswax'?"
"I AM VERY CLEARLY NOT A BEE, NOR AM I BEE-ADJACENT!!! YOU KNOW THIS!!" Zeke irately snapped at this Insult to his people.
A small female voice echoed from somewhere in the large, cluttered-with-tech-junk room "He's just teasing you Zeke BECAUSE he knows bug puns make you mad."
G.G. quizzically glanced around before the speaker stepped into plain view- she was sipping from a juice-box. "Mara! What're you doing down here?"
Mara responded "Hangin' out. ..Duh."
G.G. then turned to Zeke and asked "Well how come SHE'S allowed down here?"
Zeke snapped "Because she respects me AND I don't hate her as much as I hate you!!!"
"She teases you JUST as much as I do." G.G. argued.
"THAT IS CATEGORICALLY FALSE!! YOU are the main perpetrator of all the disrespectful humor and... disrespect in general aimed at me!" The bugman hissed.
G.G. muttered something that he was certain was about him 'doing plenty to cause that for himself', however Mara butt-in before Zeke demanded this Wretched Man to repeat that for him.
"Technically I do tease him too...... buuut I also balance it out with not teasing him." Mara weighed-in.
G.G. shrugged "Oh, like I'm ALWAYS picking on him! He's just easy to rile up. Have you gotten him to take a joke yet, or what?"
Mara replied "He doesn't get that kind of humor, I don't think."
Zeke glanced between the two of them, disliking this...... knowledge-transfer of sorts. "What IS THIS!? Have you been a SPY this WHOLE TIME??"
Mara simply responded "Nah. I wouldn't have done it if somebody ASKED me to do it." and he was content with that answer.
"Alright. ...Now make him leave." Zeke huffed.
G.G. blurted "Wait.... you're just gonna leave it at that? ......Neurotic suspicious bug guy?? You're just okay with a Nah?"
Zeke, tiring of this conversation, barked "YES!! NOW LEAVE!!"
G.G. stood there staring at him with an exaggeratedly-quizzical look on his face, until Zeke finally decided to leap down from the ladder and threat-stance with his wings up at the man to finally shoo him away. G.G. left with an "Alright, alright- I'm going, I'm going."
Zeke finally retrieved the welding gun, grumbling as he skittered back up the ladder. Still, that spy-business had troubled him and now he doubted the most tolerable human on this team..
"..Why are you here, Mara Withers?" he questioned.
Mara responded "Cuz I have nothing better to do. And I like to watch you."
Zeke hissed "Spyish behavior."
"Noooooo, if it were SPYISH then I'd go and tell people about what I'm watching, right? And I don't do that cuz nobody would care to hear about it anyway." the girl huffed.
Zeke still suspected her of Evil and did a bad job of hiding it.
...So Mara continued "I like to watch you cuz you're an Insectoid Warrior and I think it's cool..!"
This caused Zeke to pause and glance back over at her. "Truthfully?"
Mara gave an exaggerated nod, of which he was accustomed to her... very un-serious mannerisims. "Yeah! I've never met one before! I think it's fascinating."
"Is this the kind of 'fascination' like that picture of a Water Fowl you showed me on your Rectangular Hand Computer the other day, and how you obssessively described the entire traits of its species to me for an hour." Zeke dryly huffed.
"Sorta... I'd be lying if that wasn't part of it. But also because I find you as a person fascinating."
Perhaps anyone else he would've doubted the word of, but he trusted his assumption that this simple little creature couldn't have any alterior motives.
"..........Anyway. Got a sec for me to tell you about this cool type of weevil I looked up the other day?"
"Fine."
And so he listened, for no reason, to her lecture on about Bamboo Weevils for the ensuing hour. He did not know why. But he did. Perhaps, while he didn't like to admit it, it was nice having someone to talk to for once. Even if that talking was about nothing important at all. Even if it was from a creature he did not fully respect yet. Even if he knew someday he would undoubtedly need to betray her, and the rest of the 'team' of humans, he was on. What damage could one hour do to the Grand Plan, after all?
((That got really long. I am very sorry. You don't need to read the whole thing :'D))
((I also don't know what's up with the formatting... Forum's a lot jankier about that than I remember. I hope it's still readable.))
Please let me know if I've done anything wrong! Rest assured, I will not take it personally!