Miraculous:Tales of ladybug, season 2- your spoilers? Ideas? Info?
Mon, 06/18/2018 - 15:25
#66
Wow hello
I just saw this thread and I literally freaked out! I'm so stoked to know that there are other MLB fans!
But...
NO!
WHY?
SEASON 3? 2019?
NO!
This cannot be happening to me :(
Tue, 06/19/2018 - 05:16
#68
Rule of thumb: '?!' Not '!?'
I FInd this post just now?! Tracking!
Tue, 06/19/2018 - 07:48
#69
So, guys, I thought this was
So, guys, I thought this was cool, so I decided to share it.
You know in the 'Umbrella Scene' with Marinette and Adrien in Orgins; part 2?
Read below (<3)
Isn't that cool??? (I'm sorry, I'm an Adrienette fan :))
Thu, 06/21/2018 - 12:31
#74
Okay, so I have to admit,
Okay, so I have to admit, when I first joined this fandom my initial thought was that it would be nice for a change (compared to race to the edge) to have the episodes come out one at a time so you could enjoy them more slowly. Within the first few days after I finished catching up on all the episodes found on Netflix, I realized that I was wrong. Like, August, serioulsly?? I was really looking forward to it coming out on the 29th of June, and yeah I get that in order to perfect an episode and make it good you have to have time, and might even need a little extra, but this is really starting to tick me off for many reasons.
One, this is a professional company. A professional company that creates deadlines and is expected to stick with them. If Star Wars or Marvel tried to swicth their release dates as much as Zagtoons does, it definatley would not be easily tolerated. Now, granted, there are major differences, given the size of its fanbase and company, and that they're movies not TV shows, but still, its not okay. People count on these release dates, epsecially the hardcore fans, and if they keep changing them like this and postponing them months after they are originally, then they're going to find that they'll loose a lot of fans.
Two, they need to learn from their mistakes. Even in my short time as a fan I have come to realize that almost no episode can come without being postponed and the "oh by the way late notice but the episodes aren't coming for another month sorry about that" is now just accepted as normal part of the fandom. So if you know that, time and time agian, you can't finish animating an episode and have to postpone the date, then push back the release date to give you that added time so you don't crush the hopes of the million something fans you have waiting to watch the episode. Either that, or just pick up the slack a bit so you can get the episodes out at the time you said you would. It seems like they don't really care that the episodes are being released that late anymore, its going to come back to bite them soone than they expect with the fans quitting the show. I wouldn't personally (I just want to see that reveal and where the heck Adrien's mom went off to) but I know that sooner or later more casual fans are just going to give up entireley on waiting and waiting for the postponed dates
And Three, its how much they're moving these episodes back. If it were to be a few days, a week, or maybe, maybe even two weeks, I could tolerate it, but to consistantley move back a highly anticipated trilogy of episodes with a new miraculous almost two months away is definatley not something that should be happening.
They did give us the new episode Reverser, but I would much rather have an arc that actually matters and answers some pressing questions we have about Chloe's mom and involves a new miraculous than one with some random akumitization that probably won't matter
And I think I'll be okay with Season Three coming in
I read somewhere that they are always fifty something epsiodes ahead of the fans (tweet from Astruc I think) and if that's really true then they must be taking their sweet time with the animation, I believe its a fairly sucessful company so there should be no need for all these delays if they are so far ahead storywise, just hire some more animators for crying out loud! And even still, I personally would rather have an episode on time, even if it means there are minor animation issues like Alya's hair being a shade off or objects appearing/re-appearing out of nowhere.
Sun, 06/24/2018 - 18:07
#78
"There will always be a Hiccup and Astrid. Always."
Yay! But August seems so far away... Ughhhhhhhhhhhhhh At least we'll have four weeks in a row of Miraculous Ladybug, but then again I highly doubt they'll be able to stick to this schedule
actually well I'm here I might as well write the rest of what I wanted to talk about earlier but didn't have time...
OK, so I've been thinking about it, and Le Paon is 98% not Mrs. Agreste, though that would be cool. We all know what Le Paon looks like, and that is the problem: she could very well be either Nathalie or Mrs. Agreste based on the face shape and pointed chin. However, I think that based on the way Le Paon has her hair in a similar ish style to Nathalie it points more to her being Le Paon than Emile. Appearence aside, we've seen that Nathalie is a good person for the most part, sympathizing with Adrien and trying to get his father to spend more time with him. It's reasonabley safe to assume that she knows about him being Hawk Moth, but then again people in this show are kind of idiots when it comes to realizing the obvious so you never know. Assuming that she does know, why would she not tell anyone "hey by the way my boss is the one that's been causing all the trouble, Gabriel is Hawk Moth!!", as established above shes a relativley good person so why would she not tell anyone when so many people are getting hurt? It makes a lot of sense that its because she is just biding her time, appearing to be nice, while waiting for a chance to grab the Peacock Miraculous (possible reason why she has not told anyone/began working for him in the first place) and become Le Paon, allowing her to gain significant power over her old boss, though it will be intersting to see how this power struggle plays out and to learn more about Nathalie. She's also a pretty big charecter, and for her not to have already been Akumitized shows something about how important her akumitizaztion will be later (maybe HM will even akumitize her and thats the reason why she gets mad and becomes Le Paon?) The whole struggle for the miraculous' is based around HM wanting Mrs. Agreste back, so it would be strange if she suddenly shows up as the villan (thus kind of making the struggle for the miraculous pointless, unless she herself wants a wish),unless she is working against HM, which would change the whole dynamic of the show completley. Also, Le Paon and the fact that Emile is missing are two very important parts in the story, so to kind of combine them together would not be chareceteristic of a show that likes to strech everything out.
The other miraculous: A lot of people think that each of the miraculous are going to go to a different person in Marrinette/Adrien's class, plus one or two others. (it works based on the number and everything, and off of the picture the girls took in the beggining of season two, everyons personalities, etc.) I really, really hope that that's not the case, and here's why. Rena Rouge is special that its Alya, and she is nesscary on certain missions. Chloe is special because its part of her charecter redemption arc. Nino, and how he may or not also be the gaurdian (though that doesn't really fit with his personality imo unless he changes a lot) is also important because of he and Alya and how he and adrien are best friends, (he's kinda the mirror situation of rena rouge, sidenote: I also think that Adrien will be the one to give him the miraculous now that he's met master fu). All these heros will probably be nesscary when Le Paon takes over becasue she's been confriemd to be so much more powerful than HM. So all these people amount to a lot of reveals, which will all lead up to the big Ladybug and Chat Noir reveal. But to have twelve more miraculous holders not only would not be super nesscary, but would feel really forced, would make the miraculous less cool, and would be way way way way way too many reveals. Could you imagine? Ivan's Reveal to Alex episode. Kim's reveal to Max episode. Chloes reveal to Milene episode. No, that would just be annoying and repetetive. Plus, could you imagine when an Akuma comes during class or when they're hanging out? Like all of a sudden everyone just gets up and leave and transforms, that would push it to the point where I would have to walk away honestly that's just not believeable. Don't get me wrong, I want to see these in action, but maybe only for the climactic final battle/reveal episode and not so much as a regular thing, as regular as Rena Rouge even.
Also, this has been bothering me for a while now, what would you say for A. deactivating the fox miraculous (trixx lets unpounce??) and B. Activating/deactivating the dragon miraculous? Talons up? Flame out? Wings out?
Mon, 07/23/2018 - 14:47
#90
"There will always be a Hiccup and Astrid. Always."
Hey! Thank's for all of your regular updates by the way they've really helped. I've been busy with two little MLB projects of my own. One is a fan-fiction that I hopefully will have done by the end of the month (I'm in a pretty active RP right now and also am doing a story at someone elses' request) and the second is that I finally drew and finished my dragon-miraculous holder OC! I'll post a picture that I drew of her and some infomration later on today or tommorow after I complete the finsihing touches.
Does anyone have the link for Reverser? It premiered in Canada already and I really want to watch it! :3
Also, if anyone wanted to do an RP for MLB where we each have our own Miraculous holder I'd be totally down!
Sat, 07/28/2018 - 12:25
#92
"There will always be a Hiccup and Astrid. Always."
Okay, just got the chance to really sit down and read this for the first time-sorry about that, sports practice is really picking up.
Awww, I'm glad that I could make you so happy! I'm always reading whatever you post, even if I don't get the chance to respond to it, and it's all really helpful for me to be able to discuss theories, know when new epiosodes are coming out, and all of that.
And I defintaley will, sadly there aren't any RP's going on right now for MLB but if one were to start I would definatley join in. My fanfiction, while still a WIP, is going to hopefully be worked on a bit today so I should have that done soon-fish. (garunteed faster than Zag can get their act together and start actually premiering episodes on time)
Mon, 07/23/2018 - 17:00
#94
"There will always be a Hiccup and Astrid. Always."
Thank you so much!! We can talk about it when I finish watching it which will be soon hopefully!
Not to sound totally impatient, but does anyone know when the next episode will be coming out, and what that one is?
Tue, 07/24/2018 - 21:37
#96
"There will always be a Hiccup and Astrid. Always."
Storytime.
Okay, so I was really really really looking forward to having like, what was it, five episodes come out in one month? One every week for a whole month, just like a normal functioning TV series or maybe even better. But, knowing the fact that the odds of an episode not being delayed were more slim than the odds of navigating an asteroid field (which, if you haven't watched star wars, just know that it is very slim), I tried not to get my hopes up too much that this would actually happen. But as the days went by, there was none of the familar "Lol haha sorry guys pushing it back a month love Zagtoon" so I couldn't help but start to think that they would actually have them out on time and we would not only have five episodes, but five really good episodes, coming soon.
How naiive I was.
https://www.reddit.com/r/miraculousladybug/comments/91i7oi/what_a_surprise/
Basically, if the link doesn't work or if you just don't want to copy it and see what it says, the release dates for august have changed, and they haven't said yet till when.
Now of course, there's always the hope that they're just gonna change them to be a few more days later, or maybe even a week or two, but sadly my gut is telling me that its gonna be closer to a month. Don't want to get my hopes up. Fingers crossed though!
Anyways, back to the reschedueling. Honestly, I've said it before and I have nothing new to say other than that its "ridiculous. Utterly ridiculous." But in all serious, its getting to the point where im not even mad, im just... over it. (Insert previous rant here) Like weren't they supposed to come out in June or something a long time ago? I would rather they tell us a week before like oh by the way new episode this week than have it be confirmed and then delayed months a few days before the original release date. I can't have been the only one that really wanted to see Aayla's sister, or Nino become the holder of the Turtle Miraculous, and with going back to school that was kind of a bright spot. Idk, maybe I'l write a letter or something but I doubt it'll do any good, just join the thousands that have probably already been written.
Since I can think of no productive way to go about this, I just made some memes to make our struggles a bit more enjoyable.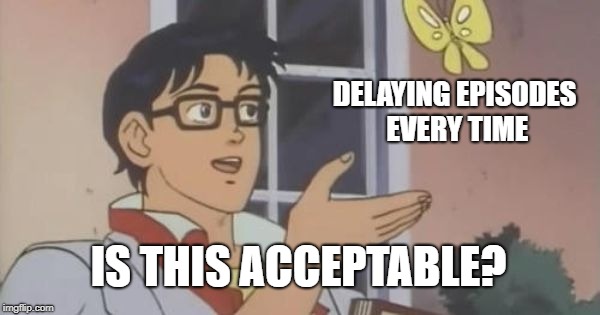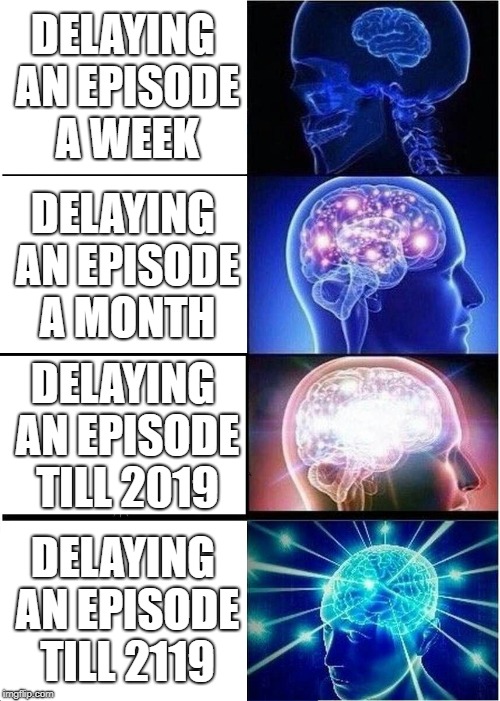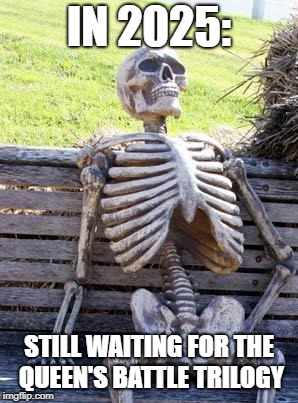 They better up their game or this bug is out...for good
Sat, 07/28/2018 - 12:56
#100
What I thought about Reverser...
Okay, so I would definatley give this episode a 4.5/10. I agree, it really just seemed like it was from season one, and honestly a bit of a let down after we've been getting so many episodes recentley that at least advanced the plot in some sort of way... However, I am a big fan of Alix so I'm glad that we did get to see more of her, I feel like she l wilmake a great superhero if she ever gets a kwamii, which she probably will, so we have that to look forward too I suppose. (Most likeley the rabbit from the animal selfie that they take together in one of the episodes)
I don't like how they don't premier the episodes in order (you saw Nathaniel with a sketch of Queen Bee/Queen Wasp fighting against Ladybug and Chat Noir) because then it can potentially give unwanted spoilers and can just be downright confusing. Like now we know that Chloe isn;t going to change how she acts at all even after she becomes a miraculous holder, which is kind of the only reason I wanted her to become one, because Chloe isn't all that likeable otherwise. The art room was really cool, minus me kind of wondering why Adrien was not in it at all, but was it just me or was there something that looked a bit off about the art teacher. Like maybe the style of animation they used for him was a bit different than for the rest of the show?
The reason for the akumitization seemed really forced, really an over-reaction. Why would you just tear that up if your unrealistic hopes for meeting your celebrity/superhero crush didn't come true, especially if those hopes had like zero basis in the first place? And why would you not want to work with someone to make a comic book, like that was never really explained. Personally unless I had a good reason, ie. having some past negative histroy with Marc or not wanting to share my work, I would love to have someone illustrate my stories.
Clumsy Ladybug was kind of funny, Sacred chat noir was meh imo, him telling off the taxi drivers was kind of funny too.
The actual fighting sequence was just meh, except for Alix as I mentioned above. Marc as Reverser was still kind of meh, he came a bit closer to getting their miraculous' than most of the other villians but regardless I think he could have used his power a bit more wisley-doing things like making someone fall off of a bike or be attacked by pigeons is really minor compared to what could have been done.
Also, when did Nathaneil stop crushing on Marinette and start crushing on Ladybug?
Questions that I have:
How did Nathaniel and Marc both have the same exact ideas, charecters, and plotlines without ever having talked about it in the first place? Seems like either one of them is a stalker, or its just poor writing.
Why would Marc be the one that was akumitized instead of Nathaniel? it seemed that the latter was a lot more upset.
Why would Nathaniel assume that it was Ladybug's diary in the first place?\
Why would Marc think that his ideas were stupid for having with Nathaniel's comics if they were like the exact same thing?
Why would Hawk Moth allow or be fine with Reverser trying to get Marrinette and Nathaniel first before going after their miraculous'? Like has that ever worked before for you?