mewtwo
OK so whoever at least heard of pokemon knows what mewtwo is. am I the only one who hates what they did to his voice in extreme speed genesect? also I hate it how everyone says its a female and that mega mewtwo y is a girl and all that. I actually think mega mewtwo x is more like a girl. what are your thoughts?
Sun, 09/21/2014 - 12:18
#1
I agree
I agree that mewtwo x is more like a girl and i don't like what they did to his voice either
Sun, 09/21/2014 - 12:22
#3
its not the same mewtwo
its a differant mewtwo thats why. it was even stated in an interview. im not too upset since its a differant one
Thu, 10/23/2014 - 22:08
#4
I'm still a bit upset
I'm still a bit upset because, considering how the first mewtwo was born, how did this new mewtwo get created? If it was just another group trying to make a mew clone how did they get the exact same results? It can't be the same people who made the first mewtwo, none of them survived. As for mewtwo x and y, I think that x looks alot more masculine and y looks more feminine
Sun, 09/21/2014 - 13:22
#5
these are the legandaries i
these are the legandaries i think are female:
Resheram
Suicune
Articuno
Celebi
mew (regular)
Lugia (this is obvious because she had a baby)
victini
verision
creselia (dont know how to spell that one)
Jirachi
Latias
Mesprit
This.....thing something like melody?
might be some others but that is all i can think of.........if i spelt anything wrong, NOT MY FAULT! I gave up pokemon a few years ago.......but i still want to try out Black and White 2 :( oh well, it will just haunt me forever
Sun, 09/21/2014 - 13:10
#8
YES! I FOUND MEWTWO! ......... dang it i knocked it out -.-
i found it annoying too......
i mean there should only be ONE mewtwo
Giovanni made it with his scientists, watch the first movie. and plus, does anyone else wonder how it transforms since it has to hold an item, and where it got it. anyway i hate how theres so many legendaries now and almost all of them talk... listing those that i dont think ive seen talk YET: mew, moltres, zapdos, articuno, oh-oh (cuz it hasnt been in a movie yet), victini, giratina, regigigas, regice, regirock, registeel, reshiram, zekrom, palkia, dialga, and im not including the newest legendaries since the new movie hasnt reached america that i know of. i know lugia talks in the second movie.
correct me if im wrong on some legendaries, and BEAR! BE QUIT! T_T
plus the pokemon that i probably miss the most..... Pikachu. it joined weight watchers, now its skinny not aborable and chubby >.<
Sun, 09/21/2014 - 13:20
#9
Totally agree with weight watchers XD
Totally agree with weight watchers XD. i liked Pikachu better chubby and adorable too
Sun, 09/21/2014 - 13:43
#10
XD yea, i was messing with
XD yea, i was messing with youtube and saw a video about original pokemon sprites by The JWittz and it was awesome XD original mew
XD
and anyway, isnt this cuter?
Mon, 09/22/2014 - 13:36
#11
Oh and Mew actually looked
Oh and Mew actually looked like this in Red, Blue, and Yellow Version - I only know for a fact, because I owned one on my Red version and traded it from Red - Blue - Yellow. (never traded it to Silver or Gold Version, so I don't know if it looked the same, but I assume so.)
Mon, 09/22/2014 - 14:30
#12
no this is like the first
no this is like the first japanese version, was soon changed (game freak realized what a horrible design it was XD)
Mon, 09/22/2014 - 18:44
#13
I have the American red,
Ah ok, I thought you meant in Red and Blue Version (english version)
Yeah that thing was hideous for Red and Green version (japanese) I'm glad they changed it!
I just checked for Silver and Gold version and they actually looked differently.
Silver was -
Gold was -
and yellow - which I could have sworn was the same, actually differed and looked like this -
Mon, 09/22/2014 - 19:02
#14
Mew is so much better now.
Mew is so much better now. Fat pikachu was cute, but I actually like him better now. I'm not the only am I?
Mon, 09/22/2014 - 21:55
#15
i personally loved him when
i personally loved him when he was fat XD
i think this
looks cuter then this
it took me forever to find a gif for the new one that at least kinda matched the cuteness of the other
yes thats ketchup
but some of the old pikachu things look wierd, like this
pika-abuse!!!!!
anyway lets just agree on this: pikachu is super adorable anyway <3
lol tho its like just imagin 10 years l8r...... XD
XD adorable and wierd
Mon, 09/22/2014 - 13:33
#16
Incoming - Long Message (sorry) >.<
Most of them are not physically speaking, but rather, are using telepathy, which makes sense for most of the legendaries, especially those that are pyshic type. (Lugia, Lucario, Mewtwo, etc)
Really, none of the legendaries having the ability to speak bothered me... they are extremely powerful intelligent beings - thus telepathy shouldn't be all that un-natural to us. I mean some, like Diagala and Palkia, can control literal time and space - if they can do that, then telepathy should not be that difficult for them. The only issue I have, is when a Pokemon is actually able to verbally speak - and there are a few instances where this does occur.
For Pokemon who have spoken, here is the list (Not in order):
Movies/Films
1. Meowth - Team Rocket (duh lol - still had to include)
2. Mewtwo - Mewtwo Strikes Back, Returns, and various other films/episodes.
3. Lugia - Pokemon the Movie 2000: The Power of One
4. Slowking - Pokemon the Movie 2000: The Power of One
5. Entei - The Spell of the Unknown
6. Jirachi - Jirachi: The Wish Maker
7. Manaphy - Pokemon Ranger and the Temple of the Sea
8. Darkrai - The Rise of Darkrai
9. Shaymin - Giratina and the Sky Warrior
10. Arceus - Arceus and the Jewel of Life
11. Zorua - Zoroark: Master of Ilusions
12. Zekrom & Reshiram - In both versions of Black/White Victini movies.
13. Kyrurem & Swords of Justice (Keldeo, Cobalion, Terrakion, and Virizion) - Kyrurem VS. The Swords of Justice
14. Genesect (army) - Genesect and the Legend Awakened
In the Series
1. Tentacruel - Tentacool and Tentacruel (use Meowth to speak telepathically - ref. to Independance Day Movie)
2. Gastly - The Ghost of Maiden's Peak
3. Lapras - (belongs to Santa Clause) Holiday Hi-Jynx
4. Gastly & Haunter - A Shipful of Shivers (also use Meowth to speak telepathically)
5. Ash's Larvitar - Address Unknown (speaks when Ash & friends enter its mind)
6. Max's Ralts - Do I Hear a Ralts?
7. Deoxys - Pokemon Ranger: Dexoys' Crisis (Part 1 & 2 ; and once again uses poor Meowth to speak)
8. Yamask - A Night in the Nacerene City Museum (possesses Cilan to speak with its mask)
9. Snover - Pikachu's Ice Adventure (it can somehow mysteriously speak)
There are also the Pokemon Mystery Dungeon specials - but I am not going to consider that speaking, since no humans are present. I feel they really are just speaking Pokemon and its translated to our language so we did not have to read subtitles for the entire eipode(s).
-----------------------------------
On a different note, I do too hate that there are now multiple Mewtwos - this should not be possible...Mewtwo was a cloned experiment from the DNA of Mew. Unless there is a Mewtwo factory we are unaware of, there should only be ONE in existence - and it should be the same one that Ash first encountered.
For other legendaries - I can understand multiples for obvious biological reasons and methods.
We see Pokemon babies in a couple of the movies and in episodes of the series: examples being Lugia and Latios/as.
Mon, 09/22/2014 - 14:24
#18
Ah I see - still, I don't
Ah I see - still, I don't like the fact he can take on a more female form, thats a little dumb to me.
Definitely agree with you hands down on his voice as well - it was EPIC in the earlier movies; now its just a joke. His voice was meant to be powerful and intimidating...now its just a poor excuse.
Mon, 09/22/2014 - 18:59
#19
Lugia is my favorite pokemon,
Lugia is my favorite pokemon, but I don't really like how it sounded in the movie, I didn't like arceus voice either. Shaymins was okay though.
Mon, 09/22/2014 - 21:11
#20
Yeah Lugia is also my
Yeah Lugia is also my all-time favorite Pokemon (has been, always will be)
I actually liked his voice...it has a powerful/yet caring tone to it, when I saw it in theatres it was epic when he first spoke to Ash. Though every aspect of him was epic to me - even the sound of his song is mystifying. I wish he was in 2000 more and not just appearing at the end. They teased us with him stirring the deep too much through out the film XD
To me personally, 2000 was one of the most epic movies - aside from the first ever Pokemon movie with Mewtwo. I mean it had a clash of the three legendary birds and the guardian of the sea!
Best legend text ever in Pokemon history came from this movie also:
"Disturb not the harmony of fire, ice or lightning, lest these titans wreak destruction upon the world in which they clash. Though the water's great guardian shall arise to quell the fighting, alone its song will fail, and thus the earth shall turn to ash. O Chosen One, into thine hands bring together all three. Their treasures combined tame the Beast of the Sea."
And that one scene at the end (photo)... O.o that was memorable!
Tue, 09/23/2014 - 15:34
#21
i love lugia too, his voice
i love lugia too, his voice was cool, but now theres so many legendaries and most of them talk :/ now its just not the same, theres gotta be around 100 legendaries now. the way they talk too tho, its just not as mystifying
still think this was one fo the most epic scenes:
anyway (lol i keep saying anyway) i still love how lugia barely talks, but i think adding Silver in teh anime was wierd
i mean, this proves that theres several legendaries, it just is like.. whos the daddy? O_o
Wed, 09/24/2014 - 15:37
#22
Some legendaries there are
Some legendaries there are multiple...which really doesn't bother me, as some have shorter lifespans.
Latios and Latias are good examples - in the movie there are babies (I don't want to spoil the movie) But that makes sense seeing as how Latios is a male and Latias is a female.
Lugia is another example, there was obviously a male Lugia to have Silver appear in the series. (not to mention his mother, which is not the same Lugia from the Orange Islands - one from the Orange islands could have been the father XD)
Other exceptions include the three legendary birds (Moltres, Articuno, and Zapdos)
Obviously there are three that live permenantly in the Orange Islands, but there are others that appear in other episodes. An Articuno is even owned by a trainer and battles Ash's Charizard - actually there are two trainers that own one and both challenge Ash.
As for them talking, it doesn't bother me because they are actually using telepathy to communicate. I do have issues though when Pokemon just flat out speaking out loud - thats just not natural...
I don't like when they talk a lot though...and agree its better when they keep it brief...Zekrom and Reshiram only say a couple lines in the Black and White movies, and their voices are intimidating and very epic - as they should be.
Here is a link to full movie (YouTube) for the Reshiram edition (fast forward to 1 hr if you don't want to watch the whole thing to see the awakening scene) http://www.youtube.com/watch?v=0i1i53NHX04
I can find you the Zekrom edition as well if you are interested - its the exact same movie except Zekrom fights for Ash and Reshiram is the opponent.
Thu, 10/23/2014 - 22:15
#23
Lugia has and always will be
Lugia has and always will be my favorite too. I loved the song and Lugia looked awesome the way his eyes glowed underwater. I just wish we could have seen him more in the movie too. Pokemon 2000, the first movie, and the rise of darkrai are my favorites. And jirachi wishmaker because jirachi is so adorable. I don't know who drew this, but it is beautiful.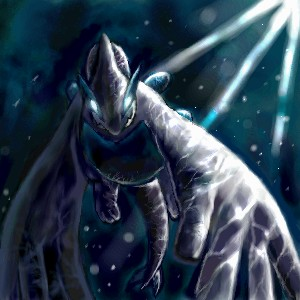 Wed, 09/24/2014 - 16:01
#24
..D-Does anyone want to hear an interesting science fact?
Pikachu was much better before he joined Weight Watchers.
Remember when he was a mouse?
Thu, 09/25/2014 - 17:10
#25
Yeah agreed! I loved the
Yeah agreed!
I loved the Pikachu from the first seasons when he was chunkier and more mouse like!
Sun, 09/21/2014 - 17:44
#26
Pokemon and dragons
Hey all! Rialynh here!
My dragons are:
Darksteel - newly hatched whispering death, named for the Predacon from Transformers Prime because of his yellow, orange and blue coloring,
Elsa - Monsterous Nightmare with blue, green and gold markings,
Garenth - Deadly Nadder who has blue scales and copper-bronze spikes
Favorite Pokemon (in order from top ten favorites list from 1 to 10 with 1 being my all time favorite):
1. Charizard - I call mine Charlie for short (I like to nickname my Pokemon)
2. Dragonite - I love how it evolves from a beautiful serpent like Dragonair into such a powerhouse!
3. All the Evee evolutions (they all tied for this place with Sylveon just a couple points ahead of the others)
4. Gyarados - especially the red Shiny Gyarados from Jhoto
5. Pikachu - who doesn't love Ash's favorite partner?
6. Fenniken - gotta love the fire-type starters (especially such a cute little fox-like Pokemon!)
7. Cyndaquil - what can i say? i got a soft spot for fire and dragon types :)
8. Palkia, Dialga and Giratina - all three Sinnoh dragons tie for this slot of course!
9. Archeus - i love how it changes color in the games with whatever plate you give it!
10. Last but certianly not least: Blastoise - gotta love the TMNT (Teenage Mutant Ninja Turtle) vibe from this Pokemon!
Just thought I should also mention that I am a HUGE Transforemrs fan - especially of Optimus Prime since I grew up with the big bot since the Armada generation and he was sort of a childhood hero for me. Wonder if they have a thread here on the forums for Transformers (FYI new game out for those who don't know called Transformers Universe; if you check it out when I play, ask for Wingstar since that's my character name over there and all my bots have blue paint jobs)
Also, I've written a fan fiction called Diary of a Dragonrider that talks about my character's life at the school. Please check it out and let me know what you think of it! If everyone likes it, I'll post more from my "journal" about me and my dragons!

Mon, 09/22/2014 - 18:56
#28
I hate its voice to and mega
I hate its voice to and mega mewtwo x is ugly to me and not very effective, plus it does look like a girl.
Mon, 09/22/2014 - 22:01
#29
couldnt agree more, mewtwo
couldnt agree more, mewtwo used to sound INTIMIDATING
but now its just not the same......
and i do think mega mewtwo Y looks kinda like a girl :/
but the funny part about that is ash is voiced by girls/women so XD
and i bet ur guys' faces r like this, but look it up, he is a she XD

anyway im totally wasting my life finding pikachu gifs when i should've done my math already XD stupid advanced math, WHY U GOTTA GIMME HOMEWORK?! XD
and plus i love it when pikachu does this
Mon, 09/22/2014 - 22:02
#30
BUT ANYWAY I BET WE CAN ALL
BUT ANYWAY I BET WE CAN ALL AGREE, PIKACHU IS ADORABLE AND ROCKS LIKE BASH!
Wed, 09/24/2014 - 16:03
#31
..D-Does anyone want to hear an interesting science fact?
I love when Vaporeon does this
BLARAGARRGAGAGAH WATER
Thu, 10/23/2014 - 22:19
#32
I know, why in the world is
I know, why in the world is he voiced by a girl. Are there not enough guy voice actors in this world. XD
Tue, 09/23/2014 - 14:42
#33
Mega Mewtwo (Y Verison) aka
Mega Mewtwo (Y Verison)
aka this one:
Bothers me because his butt literally moved to the back of his head - its like a Mega Evo gone wrong...
I would have rather had the design this way:
Or something along this effect...I just don't like the tail on the back of his head...its just weird.
I don't know...I just personally think Mega Mewtwo had better potential then this, but that is my opinion.
Thu, 09/25/2014 - 22:18
#34
I dont mind the female mewtwo
I dont mind the female mewtwo since its not the same mewtwo as the original. I dont like That it can mega evolve since 1) as a created pokemon mewtwonite would not naturally occur like the other stones 2) mega evolution requires a keystone and a mega stone neither of witch it had.
All Pokemon Are capable of speach since they can communicate with one another freely it just a laguage/species Gap few exeption being the ubers. Psychic types/ Special pokemon.
Thu, 09/25/2014 - 23:10
#35
Yeah but only one Mewtwo
Yeah but only one Mewtwo exists and was created in a labratory...so multiples don't make sense. :-/
Unless there were others made that we were unaware about, but that is kinda a long shot..
Thu, 09/25/2014 - 23:33
#36
Ha ha The pokemon anime never
Ha ha The pokemon anime never makes sence. The diractor of the genesect movie said it was differant. (who knows how another one was made. I call shananigans since noone remember the original mewtwo except the handfull from the seccond mewtwo movie. I think thats also the one they put in the X and Y game as well
Fri, 09/26/2014 - 23:40
#37
Yeah there are A LOT of
Yeah there are A LOT of mistakes made in the games, and especially in the anime - people have entire YouTUBE channels dedicated to rooting all the plot holes out of all the episodes...
They seem to keep getting worse to, especially with the older generation Pokemon, such as Mewtwo. I think they figure that the majority of the current viewers will not have seen the older episodes, therefore will not notice the issues in some of the plots. But for people who have stayed with the franchise since the start, these holes are just sometimes too easy to spot, and quite annoying.
Sun, 10/19/2014 - 07:58
#38
I've cried at this scene lol.
I've cried at this scene lol.