"Magic and Mythies"
So Jump Start has another game that has about every feature SoD has, and maybe a little more. Also it's just so similiar. Like the avatar models, hairs, clothes, story, characters, "pets", ect. are different, though the pets are those of the actual Jump Start game. The pets are also called Mythies just like in Jump Start. There are four mythies:
A pegausus one
A dog with ram horns and bird/pegasus wings
A gryphon
A dragon
All of them look like the ones in Jump Start as well, and you can colour them & grow them just like you can in SoD. In general, it's a LOT like SoD just with some differences and I never see ANYONE on.. Okay well if anyone has tried/tries this game tell me what you think about it. I think it's pretty cool.. like the pets are extremely cute and they remain pretty cute as adults too: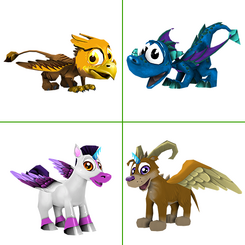 Sat, 04/09/2016 - 17:37
#2
(Not replying to the person above me)
You're not the first. I've actually posted something about Magic & Mythies a while back. And to be honest, I have to say. If the two games have a baby, SoD and Magic and Mythies, we would have an impressive game to behold.