Introducing the Oriental Serpentfang
Today, I bring forth a hybrid or sorts. It's a rather appealing mix between a Chinese style dragon and a Japanese style dragon. (If the term "oriental" happens to offend anyone, I sincerely apologize. The term is used only the the sense of the definition: of, from, or characteristic of East Asia.)
Anyway, these are my two Serpentfangs, Fei Lan, and Feng Shen.
(No, I do not know exactly what the names mean. I can only guess with rough translation software, unfortunately, so if anyone can tell me the meaning, that would be beyond awesome.)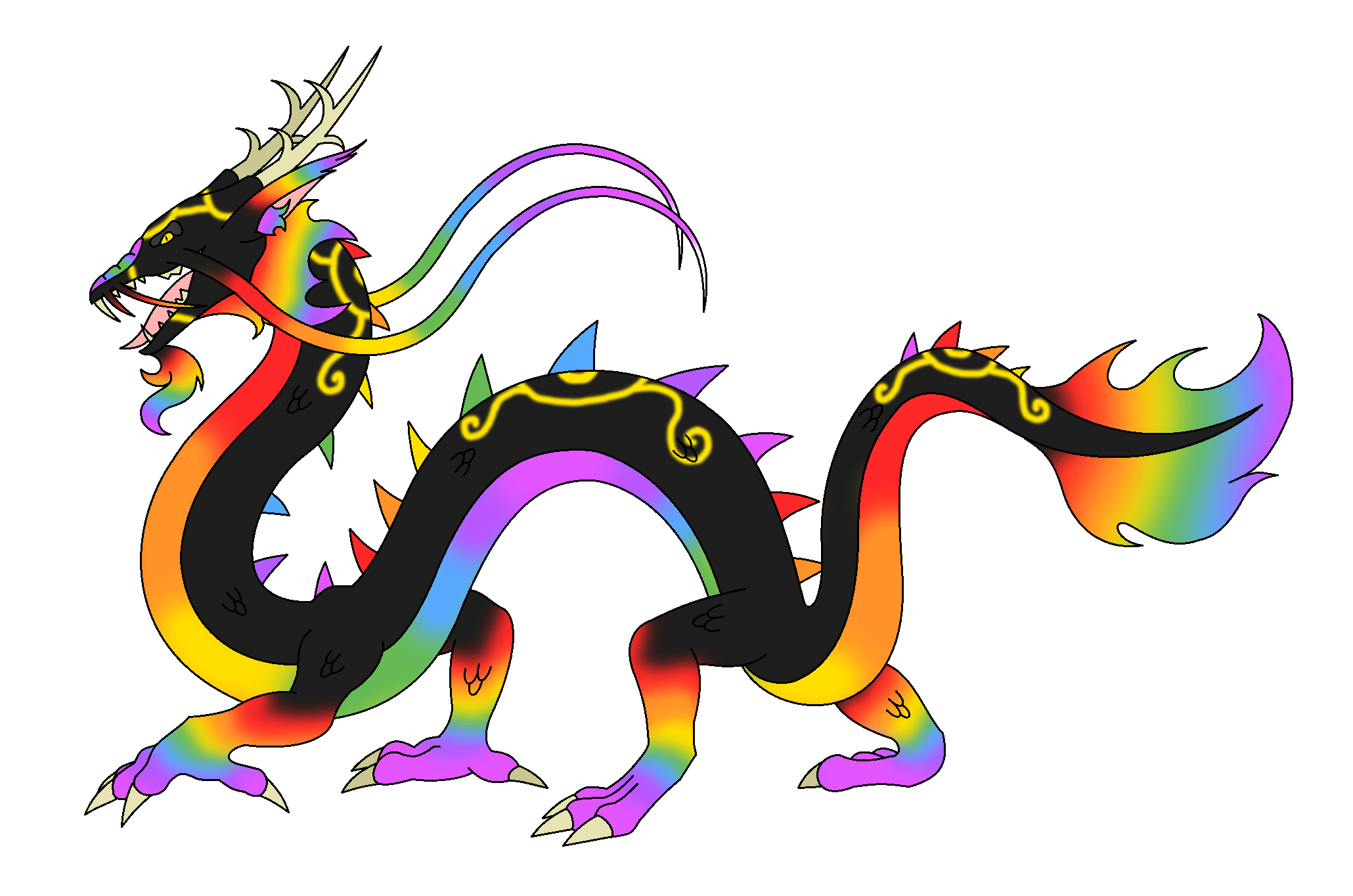 Stats:
Class: Tidal
Attack: 15

Ground Speed: 10
Flight Speed: 12

Armor: 17

Firepower: 12

Shot Limit: 8

Venom: 0

Jaw Strength: 8

Stealth: 10
These tidal class dragons hail from the far east, many days journey on dragonback away from Berk. Their long bodies are filled with muscular ribs, making them extremely flexible. Their preferred method of attack is to coil themselves around their enemy until it asphyxiates or submits, and their full length allows them to encircle all but exceptionally large dragons. When facing a foe too large or too quick to entangle, these dragons can expell large gushes of a special mucous from their midgut, which ensnares and slows their prey. While harmless, this mucous is extremely viscous and difficult to remove. By contracting their long throats, they are able to regurgitate large amounts of swallowed water at high pressure to jettison at their foes. The force of this expulsion is sufficient to dent a thick iron plate. Their bites are quick and sharp, and their teeth are quite long, with fangs at the forefront of their jaws, and chewing molars toward the back.
This dragon's method of flight is extremely bizzare. Like birds, their bones are extremely light, but durable. A special organ dominates as much as 3/4ths of this dragon's body on both sides of its lungs. These organs appear to be adapted swim bladders. During flight, these modified swim bladders fill with a potent combination of lighter than air gases, including helium, methane, and hydrogen. These gases appear to be produced naturally as a result of their digestion process, and are then diverted to the swim bladders. Because so much of their body weight can be supplemented with these gases, the Serpentfang is capable of flight in the same way that a blimp is. Their bodies undulate from side to side like a snake, and these movements provide the propulsion needed to move while in the air. These traits allow them to fly without need for wings, but truth be told, they would much rather swim or bask in the afternoon sun.
The Seprentfang is an omnivorous dragon, but they have shown distaste for certain types of fish, (like pike, salmon, and tuna), and some types of grass. Bizzarely, this dragon will actively eat venomous fish and reptiles, and will chew on poisonous plants. It is unknown exactly why they do this, but after doing so, they can be observed thoroughly grooming their scales, sometimes for hours at a time. Their temperaments can range from relatively docile to extremely fierce.
Of course, this is an adoption.
Rules:
1. These will most likely be a rather limited dragon. I don't anticipate much popularity (considering that they bear no resemblance at all to a night fury, and most of my non-night fury like adoptions have met with rather limited appeal). They cannot be bred, and they cannot be readopted. If you wish to give up your dragon, notify me in this thread, and it will be put back up for adoption.
2. You may only adopt ONE. This is because I will probably not make many of these, if, indeed, I do make more than these initial seven.
3. You must submit a backstory, personality, and name in your adoption applications. You WILL be critiqued, and possibly even rejected. You have been warned, so try not to get offended.
4: You may not alter the design. Again, be very sure you want the dragon you adopt.
5: You must display your adopted dragon in your signature. If it is not displayed within 72 hours (3 days), the dragon will go back up for adoption. Special exceptions can be made for people who are in the process of organizing their signatures.
6. If you reply to the DO NOT REPLY post, your adoption request will be rejected, and further requests made on this thread will be ignored.
That said, I'd love to see all of these dragons go to a good home.
Also, a note: the body was inspired by a chinese dragon incense holder that I ended up buying. I borrowed the incense holder's pose while making this dragon. If you have complaints... I'm sorry I guess?
This dragon was inspired by goldenfury360, who asked me to draw a Chinese dragon. After that was finished, I ended up liking how the dragon came out, and decided to finish them a little more and turn them into adoptables.