Images in messages and signatures
Hi, I have a problem, when I put an image in a comment or on my signature, it doesn't appear, it's just blank, i wanted to put pictures of my dragons in my signature but it won't let me, can anyone help me with this?
Sun, 07/17/2022 - 11:25
#1
...
You need to upload your images to an image hosting site and then get the direct url for the image. In the toolbar of the siggy editor or your post, click the picture that has a house in it, and then paste the url in the url box. Resize the image if you want(max height that the forum allows is 400 otherwise your image will be squished; also make sure the lock is always closed otherwise your image will squish)and then press ok. I've also seen people say that they use Google slides to post pictures. They have their pictures on Google slides and then copy and paste their pictures into their siggy and posts.
Sun, 07/17/2022 - 11:29
#3
Sun, 07/17/2022 - 11:54
#5
...
Did you use the direct url for the image? You have to use the direct url or it won't work.
Sun, 07/17/2022 - 11:54
#6
Hope this helps!
Ok, so on each comment/post/anything you put in there's bar along the top you use to change the font (bold, italicize, etc.) In that same bar, there is an icon to add an image: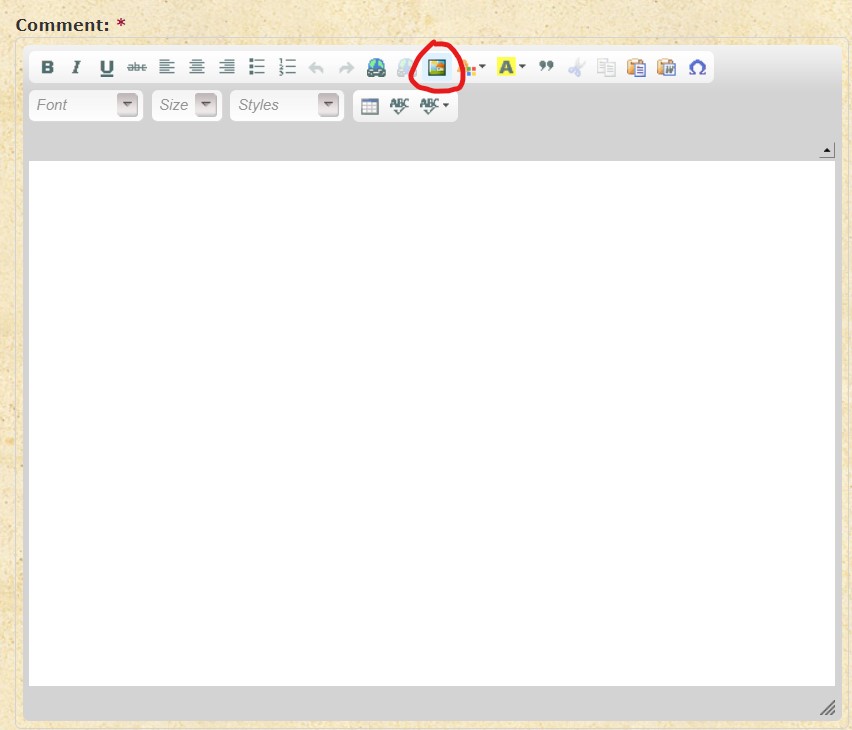 Once you click on it, you get this: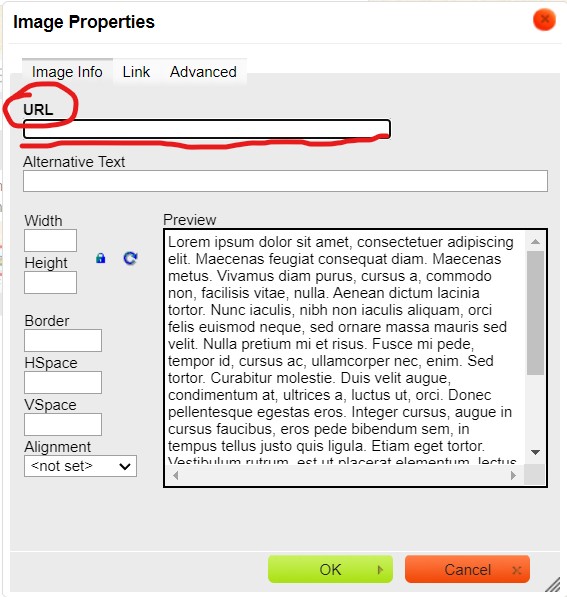 Put in the link from the hosting site into the spot for the URL, and that's it! It should appear in the text box. One note: for the sake of the length of the page, you may want to resize the image using the width and height boxes. I've found that a width of 400-ish (which automatically resizes the height as well) works nicely. However, with banners and such, a wider width would be acceptable since it would likely be not as tall.
Hope this helps!
Mon, 07/18/2022 - 08:23
#9
~
There's not many sites that don't require sign-ups. You can try using the forum's file browser since you already have a forum account (My Account > File Browser).
Mon, 07/18/2022 - 09:41
#10
...
I use Postimage(postimage.org). You don't have to make an account with them to upload your pictures so you can have a url for them, however, if you don't have an account I don't think there's a way to access the pictures you've uploaded there. It's free to make an account with them so you don't have to worry about paying them. The only downside to postimage is that some people here on the forum can't see pictures people have posted using postimage. Idk why that is. The good thing is that you can always provide them with a link to the picture if they can't see it.