Ikran thoughts (Gifs present)
So I found a bunch of avatar gifs and decided to make a gif comic subtitleing Ikran commentary. Enjoy....or cringe. Whatever you prefer.
Ikran; "Wait...rider...who is this weirdo?"
"I can't understand your weird mouth noises. Here. Do the thing."
"That's better. Now who's this weirdo?"
"Jake Sully?"
"What kind of a name is that?"
"What's wrong with his hands? Why does he have extra fingers?"
"He smells funny too! I don't like him!"
"Oh all right. I won't do anything to him."
"Unless of course HE does something! She's mine! You hear me weirdo?!"
"Mess with her, you mess with me! I'm watching you!"
Later...
"So how's this Jake guy?"
"He's a freaking sky demon dude!"
"No way!"
"Yes way!"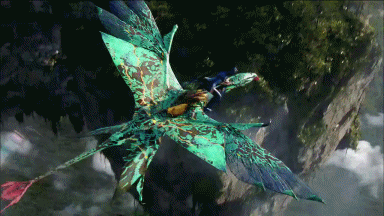 "No wonder he smelled funny."
"I actually kinda like him though."
"Pttt."
"That's just Tsaheylu talkin."
"No, really! I know so much weird stuff now!"
"Guess I'll have to take your word for it. My Na'vi vouches for him too. And she's not s.tupid."
"Thanks! I didn't need us to start arguing about this when we have to be near each other because our Na'vi like each other."
"Tally hoooo!"
"Tally hooo?"
"It's a sky people thing. I thought it was funny."
Fri, 03/11/2022 - 02:36
#1
-
I like this a lot, like a real lot XD it may have been ages since I last saw that film but just watched it again. My favorite: "He's a freaking sky demon dude!"
Fri, 03/11/2022 - 10:01
#2
Ahahaha, rant ahead...
The gifs are great, I love the translations because Ikran really does seem to think that LOL
Now, rant...
THIS MOVIE IS ONE OF MY FAVORITES OF ALL TIME. Seriously!! I don't really understand all the backlash behind it. I've been WAITING SO IMPATIENTLY for the second movie since it was announced years ago, and I actually cried when a trailer was released but it ended up being the video game instead of the movie (it was like the worst way to the Rick Rolled, I can't even-)
For kids who didn't exist when this was a thing, this movie on Blu-Ray is PHENOMENAL. The colors, the graphics, THE MUSIC AHSDKAJSFALJSF. A friend of mine actually sang 'I See You' and it was enough to make a grown man cry, lemme tell ya'll. Plus 'Jake's First Flight' still stands as one of my favorite original songs for Hollywood movies since I heard it.
Mkay, rant over. Sorry for the inconvenience, lol.
Fri, 03/11/2022 - 10:50
#3
Very nice!  I'm not much of
Very nice! I'm not much of an Avatar fan, but I really enjoyed this. Specifically like your comment about them needing to fly close because their riders like one another.