HollyWEIRD Claims a new victim...
Warner Bros. just yesterday it seems bought the rights to make a live action film.... of Attack on Titan...
*deep breaths*
So help me God... if they cast Tom Cruise... to play Levi.... God help us all...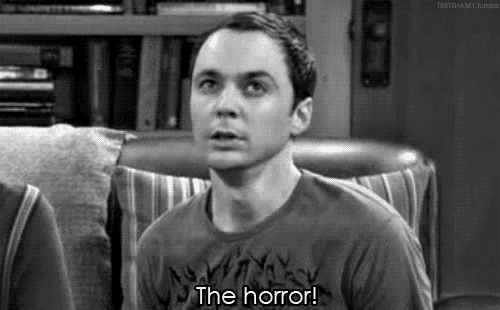 Okay okay, I get it... there were already two relatively low budget AoT/SnK films in Japan that didn't do too well, though they didn't actually flop because they made back more than they cost and this one would have a much larger budget but nevertheless.... Do we dare hope for anything even semi-decent...
We still haven't forgoten what HollyWEIRD did to Dragon Ball Z and Death Note... just because the directors and producers from IT and Harry Potter are involved in this project doesn't make me optimistic... the only thing they seem to do well here lately is take our beloved anime and cartoons we loved as children and remake them into bad live-action films with less than sub par casting and stupid unnecessary changes to the original stories... Give me a break... is there NOTHING sacred to you people... I shudder to think what changes they'll make to Attack on Titan... we're talking about a very complex, deep story here... how much can they expect to flesh out in a 2-2.5hr film? Live action show with a big budget company would be one thing, and even that is quite a stretch, but a movie..? No... Just... just no...
Fri, 11/02/2018 - 02:51
#4
~
"since seemingly every other anime out there has magic, witches, wizards, or adult content, or all four'
That just means you haven't looked at all :þ
Fri, 11/02/2018 - 09:41
#5
Bravo
Apologies. I should have phrased that differently, you're right. I live in a good home with my Christian family, and our parents raised us to understand that certain things are not appropriate viewing content. Therefore, I should have said 'seemingly every other anime contains things that I do not approve of'. Such things include not only the four I mentioned in my original post, but also mature humor, over-emphasized romantic relationships, or anything demonic. I have made some exceptions (like with the anime Black Bullet, which includes some mild rude humor), but typically I make a point of doing a substantial amount of research before I watch any given anime. It's not that I haven't looked for anime, it's that rarely do I find any that I find acceptable according to my beliefs. For example, the ever popular Naruto contains a demon fox, or Pokemon, which literally means 'pocket monster' (which also translates to 'demon'), or even Fairy Tail, which contains the majority of what I have listed as being objectionable.
On the flip side, I was inspired to become a surgical technician by the anime Black Jack, of which there are several series, including Black Jack 21 and Young Black Jack. The stories cumulatively cover the life and excursions of a surgeon named Hazama Kuro with miraculous medical skill and abilities. The character was created by Osamu Tezuka, a man many people refer to as 'The God of Anime'. While I don't consider him a god, I do appreciate the anime, and would recommend it to anyone with an interest in medicine or anime, or both :)
But, back to the original topic. Yes, you are right in saying that I don't typically look for anime (although I do have my moments where I will spend hours at a time on the weekends looking for and researching them), but I do have a cursory knowledge of anime itself and even aspire to write one myself someday (although I may not do the artwork for it all myself, as I have not the patience :)).
Fri, 11/02/2018 - 10:43
#6
~
Most things you mentioned are shounen or seinen, you're bound to find shounen/seinen content if you're only looking for that. Just like someone who doesn't like horror, for example, would only find things they don't like when they're looking for horror. It kind of sucks because most popular top 10 anime are shounen, and admittedly a lot of them are sorta... bad.
I've watched hundreds of shows, there's a LOT of stuff for everyone out there, for all kinds of people. Have you tried looking for different genres? Depending on what kind of stuff you'd like, I could maybe recommend some things? I really like slice-of-life, personally, and that one of the least offensive genres I could think of atm.
Pokémon is a weird one, though. It's a kodomosuke anime generally, so you won't find anything offensive but the name 'pocket monster'. It has a decent moral code to it, too. (be kind, be helpful, etc) However the old series' haven't aged very well so I wouldn't recommend them.
I'll check Black Jack out, btw! I sorta remember the manga but it must have been a decade since I've read it at least asjfhgsafj