Dragons that could be added in Titans Uprising
yea, i know this is a school of dragons forum but i just wanna throw this out there, give suggestions please!
1. death song
2. sand wraith
3. woolly howl
4. slitherwing(would be sooo powerfull >:D)
5. scauldron
6. silver phantom
7. dramillion
Tue, 04/27/2021 - 09:08
#1
Out of the list you've
Out of the list you've mention. The one that's confirm to be coming are Dramillion and Scauldron (as well as Sentinel but it is not on your list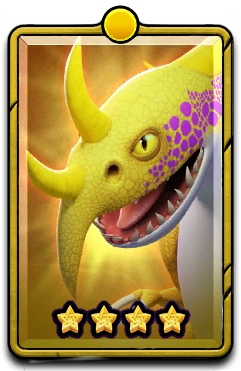 I doubt the dragon like Sand wraith, Wooly howl and Silver Phantom would be add to titan uprising...I mean yeah they're both Ludia and TU has been creating new original dragon via Hybrids yeah but I don't know I just couldn't see these game exclusive dragon being add to this game that's been strictly movie and series bind with movie-quality model so far. but who nows maybe once after all these 7 known dragons and hybrids add maybe they'll expand their rosters.
I'm legitimately surprise something like Death song, Slitherwing, Hobblegrunt, Raincutter and Flightmare is not on titan uprising though. there should be no issue in adding them as far as I can see. Speed stinger I can see, because they can't fly.
and what about small dragons like Smokebreath, Terrible Terror, Night terror and Hobgobbler. This game isn't about riding dragons so side shouldn't be an issue. The criteria of dragons being put in game I see so far being that they can fly and they can shoot stuff ><
Tue, 04/27/2021 - 09:46
#2
Wiggles the Whispering D.eath ate my subject
The silver phantom is technickally a book dragon though the version we see in-game is different from the book one.
I think either way the issue is still an issue but for spesifics I figured I'd add.
Tue, 04/27/2021 - 18:08
#3
Yep!
Last year Titan Uprising focused on adding already-known dragons with seasonal skins. This year, their focus is on adding brand-new dragons. All confirmed so far:
-Sentinel
-Scauldron
-Dramillion
-Shadow Wing (As Alpha / Boss)
-Cylcarion (Hybrid of Rumblehorn X Typhoomerang)
-Deathburple (Hybrid of Nadder X Hotburple)
-Slumberjack (Hybrid of M. Nightmare X Timberjack)
-Zipplewraith (Hybrid of Zippleback X Snow Wraith)
Tue, 04/27/2021 - 17:59
#4
Yep!
Dramillions and Scauldrons are already scheduled to debut this year ...
What I really wanted in the game would be Flightmare. In addition to the game being able to adapt the dragons very well, it would be a wonderful strategic addition, since most likely it would interfere with the opponent's attack turns and / or blind the opponents to reduce the chances of hitting allied dragons. It would be a beautiful and powerful dragon at the same time.
In addition, I would love to see Titan Uprising showing its version of Titan Flightmare. Because, even if it was the same design as SoD, they would probably add the neon spots on their body, and again show SoD how to really design a Titan-Wing Dragon XD