Dragon Training using Dragon tactics: player tips and tutorials

Hello There! happy dragon taming to all students of School of dragons!, So since I came into this game about three months ago, I have observed how difficult it is to train dragons after you run out of quests... and therefore, how complicated it would become to actually earn trophies and on. So I decided to explore and create my own routines for dragon training,
Have you ever wondered how long would it take to level up a dragon by racing or playing fireball frenzy?, well the truth is, the earnings on experience in such as flight club or any of these two mini-games is riddiculous compared to Dragon Tactics experience earned!
I have a wide experience training dragons using this mini-games, so I'd love to share with you my own tricks and tactics for winning your experience points!
for this tutorial. I will be using Dreadfall tactics level, lets start with...:
Requeriments:
Patience, Patience and more patience!: Training dragons is a hard task, as it would be in any other videogame, it takes time and effort, so you'll most likely have to repeat many times the same level, depending on your dragon's settings
Time: as mentioned before, you'll need plenty of time to repeat and re-repeat particular levels, specially the toughter ones, this may seem boring, but actually's a good way to sharpen your senses on it, take it like if you were playing chess...
Adult dragons: this should go without saying.. I bet you could have guessed,
Recommendations
​

If you can and have one, use a

titan

dragon, this will guarantee you, one chance to win in lower and average levels,

Keep your armor / weapons up to the best, use the strongest items you have on your inventory,
Now that we have checked a bit a few important points that should be kept in mind while playing this interesting minigame, we can start with the tutorial, for easy development, I will use the easiest and the hardest level of dreadfal tactics set, remember that we will be using these to level up dragons, so you can use dreadfall, or any tactics that allow you to use your own dragons, (If you have trouble with them and you want me to check them out and help you out with them, you can always ask, tell me your dragons settings and I'll try to work out a good tactic for you)
PART 1:
Make your choice of dragons, in my case, since I'm going to use level 1 of dreadfall, I will have only one spot for my own dragon, so I'll be using the one I'm most interested in leveling up, My speedstinger: Shark,
I'm particularly interested in this dragon (And some others) because it has a very long range of movement, and it can stun enemies, but, it has also a very annoying weak point, and this is, he cannot heal himself, or have any other kind of protection but the default shield hability,
after you chose your dragon, observe the battlefield, and ask yourself the following questions:
First off what are the obvjetives?, actually this may seem a basic question, but it's easy to skip it, (at least for me) this will make your work easier for winning the level, do you have to survive for 10 turns? or... you have to defeat a particular boss?, in this case, we'll have to defeat the skrillnapper within ten turns,
How many enemies are there in the field?
Where are they located? This question will help to decide the placement of your team, sometime sit is better to break your team into two (or more) divisions, and sometimes, it will be more recommendable to advance in block all together,
What kind of enemies are you facing? It is very different to fight against a dragon hunter, than to be facing a goreguter, or even a titan gronckle, so make sure you see their statistics when clicking on them
Now I'll be showing screenshots of my own walkthrough on this particular level and I'll explain my tactic, check it out: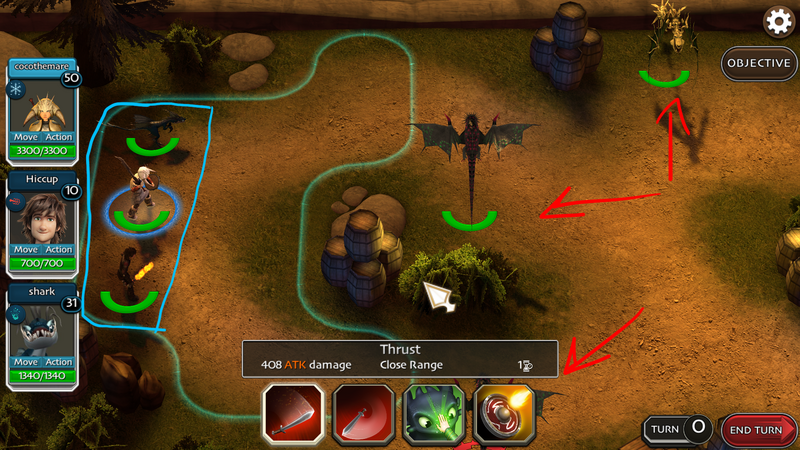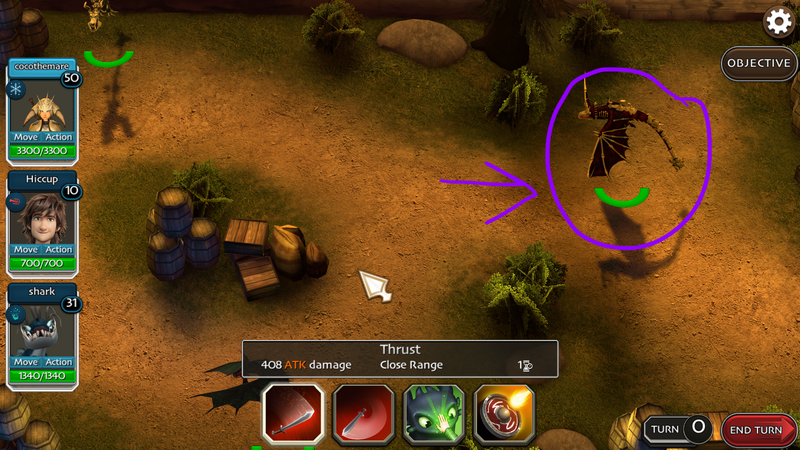 as you can see my team is formed by:
Cocothemare

: my viking, level 50
Hiccup: level 10 (

weakest character!

)

Shark

: level 31, titan speedstinge
My enemies are:
Skrills:

level 7 (there's 3 of them)
Boneknapper: level 7 (there is 1 of them)

Skrillnapper:

level 10 (this is the boss)
as you can appreciate in the image, they're divided in two different paths, in the upper one, I'll find a skrill and the boneknapper, in the lower one, I'll face two more skrills before getting to the skrillnapper,
My team are placed right on a line, so I'll send my viking over the lower pathway, because she can takeaway 408 of health to the skrills, who are 380 of health,
I will be sending my speed stinger over the boneknapper because he's 765 of health, (one of the strongest enemies) and my speedstinger's special hability can takeaway 930, I'll be also sending hiccup after shark, to get rid of the skrill in the pathway to the boneknapper and also to support Shark in case he gets wounded if my offensive doesn't come out as expected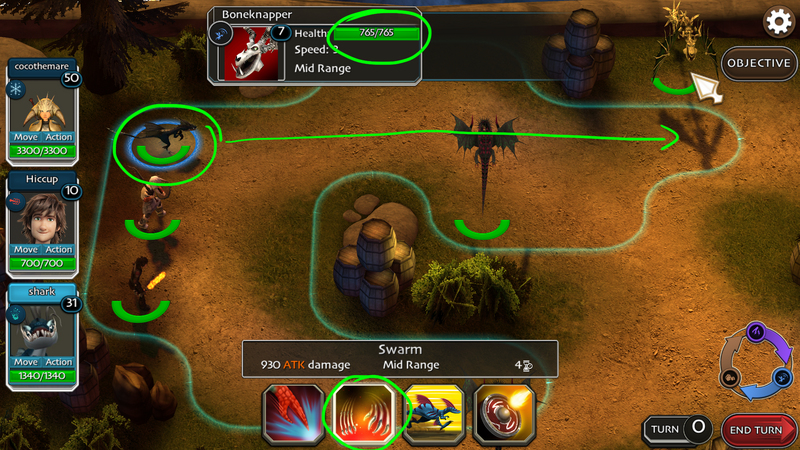 The attack went fine this time, but it can happen that the enemy dodges your attack, if it happens in a lower level, there would be no big deal... but if it's on thought levels... well, you'd have to deal with a problem
Adter that, since the only missing enemies were another skrill, and the skrillnapper, I switched positions with cocothemare and shark, because shark had just used his special attack, and i'd have to wait three turns to use it again, while cocothemare had her special attack intact, and it could be used against the skrillnapper inmediately
as you can see. after defeating the skrill, the skrillnapper managed to stun shark, so, as we I had decided before, I had to use cocothemare's special hability to defeat finally the skrillnapper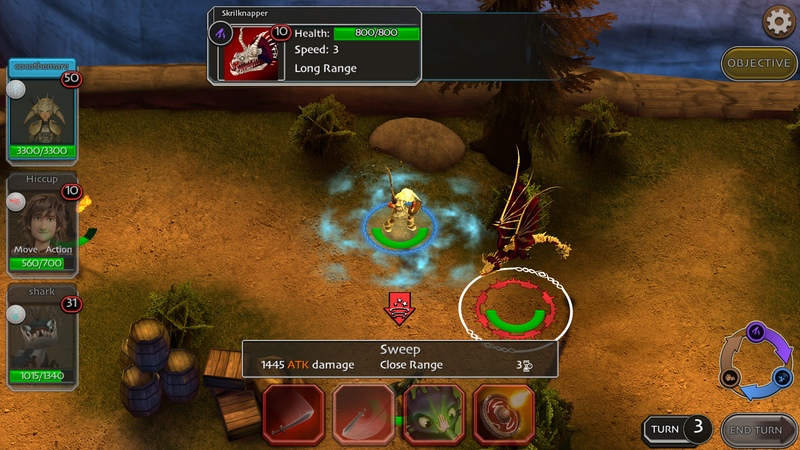 After the battle, now you can see, how in a very low level, my dragon has earned 200 points, while in fireball frenzy he would most likely have earned about 20 and same would have happened in flight club or racing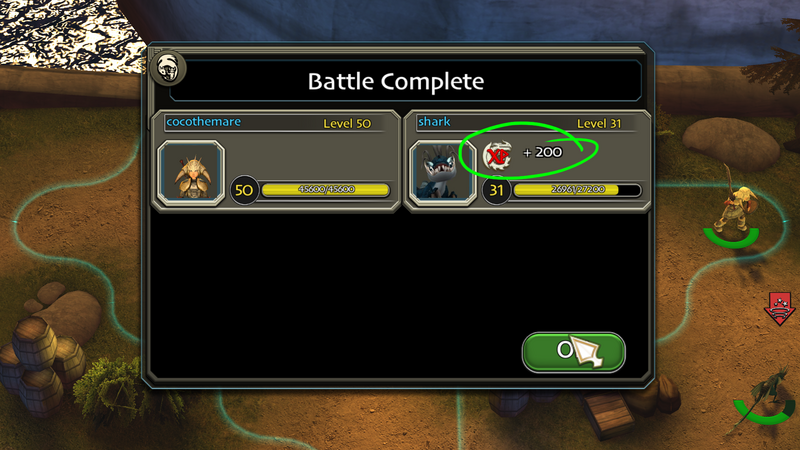 I hope you liked it, now, I'll be preparing the last level (50 level difficulty) so I can work out a good tutorial on it that can help you!
Fri, 11/01/2019 - 14:45
#1
Wow
I'll be tracking. I've beaten pretty much all the tactics levels except for the last one or two Icestorm island ones (but I haven't tried them in a few months. Hmmm....). I just want to add that maybe take the path of least resistance. Find positions where you won't alert any enemies and try to take out enemies in the same turn you've alerted them. If you're trying to decide the path of least resistance, just go with the one that has the least amount of dragons. Dragons are SO much harder to beat than dragon hunters.
Fri, 11/01/2019 - 15:28
#3
Retry
You can retry the last levels of the Icestorm island line. They have been made slightly easier by reducing the enemy levels. In the last one, I originally was facing enemies of level 50-55, now its level 45-50.
Other levels have been made easier as well. The last one in the first Stormheart quest line, for example, is now missing a few enemies compared to earlier versions.
Do not try to do the Dreadfall levels, even though they are much easier than the Icestorm levels, at least as long as you are absolutely sure that the leveling bug is gone. IMO, a few candy is not worth losing 30+ h.ard earned adventurer levels.
Fri, 11/01/2019 - 16:34
#5
answer
In any of the Dreadfall DT levels (with the possible exception of the first), there was a risk that your viking got reduced to level 8-12 after winning the level. It happened to a lot of players, there are many threads about that. I´m not sure that the bug is still around, but as I said, I´m not risking my viking levels until I´m sure.
Your viking has five different types of levels, btw. Farming level, fishing level, dragon bond level (= dragon level) for each dragon, school level (the "stars" you see in your viking list, current maximum 400.000 xp) and adventurer level, seen in the top left corner, current maximum 50. The latter is used for dragon tactics together with dragon level.
There is also a bug in the Dreadfall levels that if new enemies spawn, there is a risk that the game crashes and you have to shut down the game. I have never seen that bug appear outside of the Dreadfall levels, but I don´t guarantee it won´t appear there.
Your (and your dragons´) maximum level is indeed 50. The enemies had higher levels in the very last level, but not anymore.
Fri, 11/01/2019 - 17:52
#8
Useful
Your tutorial is useful, thank you.
Especially since you pointed out three important facts:
- Know your objectives
- Try to attack first and take out an enemy before it can counterattack
If you can´t, my best strategy is to put the tank (see below) on defense. That way, it will dodge most incoming attacks, hopefully including the enemy´s best attack that deals the most damage. If it gets hit, it can heal itself.
- You can win with dragons of lower level if you choose your tactics well
Two additional advices:
- Choose your dragons well. Pick one tank (i.e., a dragon with high hit points that can heal itself) and one striker (i.e., a dragon with two long range attacks that is not risking an enemy counterattack) plus the dragon you wish to level up. If I want to play safe, I choose two tanks plus the striker.
- Always keep the Healing ability on your viking. Do not fight with weapons that give other tertiary abilities, even if they have better stats. If you are unlucky and an enemy first dodges your main attack, then scores a critical hit against you or your dragon, possibly knocking out your striker, the Healing ability will be the only thing that can save such a bad situation.
My choice for dragons usually is:
Tank - Whispering Death, Timberjack, or Stormcutter
Striker - Snow Wraith, Skrill, or Wooly Howl
Also useful are dragons that can stun enemies or attack multiple enemies. The Flightmare does both, although the stun is unreliable.
Sat, 11/02/2019 - 07:52
#10
I also want to add some information about dragons
I've been playing Dragon's Tactics a lot, and as far as I've noticed, dragon's role and element don't increase your chance of wining battle. You'd bettet look at detailes of each dragon you have. I roughly devide all dragons in four groups:
1 Sniper-type
Let's take an example: the Snow Wraith. When this dragon achieve 50 levet his stats are superiorly!
- Frost (basic shot) - 940, long distance
- Far shot (special attack) - 1998, long distance
Not only both dragon's attack is long distance ones, he has an abbility "Camouflage", which increase dodge chance - this dragon is just a killing machine. Also the first attack always slows down tan enemy, so if you didn't kill it by first shot, next will be the last one. Unfortunatly, the Snow Wraith has a weak health stat, so you'd better keep him in the back line.
This group includes:
-Toothless (can charge up himself)
- Snow Wraith (camouflage)
- Wooly Howl (can charge up himself)
- Skrill (will be useful starting only by 40 level, in my opinion)
2 Unkillable
Class Dodger
This is my favorite class, actually. For the harders level, where suggested dragon's level is 50, I always pick a Sand Wraith - as far as I remember his level don't mean anything. Snow wraith is a killing machine, whereas a Sand Wraith a dodging machine, I swear. This dragon also has an ability "Camouflage", so a tactic is clear:
1 case : apply "Camouflage" and for next 3 turns you can attack everyone you want - dragon will dodge every enemy attack! 100% chance
2 case: during "Camouflage" cooldown you'd better not to attack at all and every turn use a shield - 90% chance to dodge. After cooldown - use Camouflage again
50 level stats:
- Sand Blast (basic shot) - 730, mid range, slows down for 2 turns
- Rock Blast (special attack) - 850, close range, 25% to stun
This group includes:
- Sand Wraith
- Changewing
- Light fury
Class Strudy dragon
In this class my favorite dragon is a Elder Sentinel - he is a gorgeous tank! Both his attack is mid range, and a special attack is a group one - so you can damage 2 or 3 or 4 enemy by one shot! He has a lot of health and recovers it by special ability.
40 level stats:
- Fireball (basic shot) - 648, mid range
- Wing clap (special attack) - 1020, mid range, 50% to stun
( I guess the same information is appropriate for a usual Sentinel, I don't know for sure, I don't have this dragon)
This group includes:
- Elder Sentinel ( + usual Sentinel)
- Stormcutter
- Crimson Goreguttter
3 Useful dragons
I personally like this dragons, but they cannot be added to Sniper or Unkillable type, so I've decided to mention them here.
This group includes:
- Razorwhip
50 level stats:
- Blast - 688, mid range
- Tail Slice - 1488, mid range
+ armor
- Monstrous Nightmare (3 of 4 ability is damaging)
- Deathgripper (poison and ignite target)
- Hobblegrunt (camouflage + good attack)
4 Hillers ( additional)
Maybe some of you didn't know that in game there is a few dragons, who can restore his ally's health.
This group includes:
- Prickleboggle (both dragon's ability can heal other dragons! - one mid range and one long range)
- Tide Glider ( one ability, close range )
(_This is only my opinion, also there can be some mistakes_)
Sun, 11/03/2019 - 14:07
#12
...
Sounds like you were looking at a post from about a year ago. About a year ago the Prickleboggle along with a few other dragons were added into Dragon Tactics and then removed from Dragon Tactics. They readded those dragons into Dragon Tactics about a month or so later. I figure they had accidentally added those dragons into Dragon Tactics early and so that's why they were removed for a while. The Prickleboggle has been available to play with in Dragon Tactics since December 2018.
Sun, 11/03/2019 - 18:36
#14
...
You're welcome. :)
If you want to know the date that something was posted, look at the red bar above a user's name. The date is in white letters/numbers.
Mon, 11/04/2019 - 05:17
#15
~
I guess that you've already understood, that healer-dragons exist, but I want to add this screen like an addition or confirmation of their existence for others )
Mon, 11/04/2019 - 11:34
#17
...
SoD doesn't have titan Prickleboggles and titan Tide Gliders yet.
Tue, 11/05/2019 - 01:14
#18
~
Wait O-o As far as I know titan form doesn't have any advantages over usual form. It doesn't affect on dragon's stats in DT. Or it has changed?
Tue, 11/05/2019 - 12:00
#20
...
Titans have more health and can do more damage than regular adult dragons in DT.
Sat, 11/09/2019 - 06:08
#21
~
Titan form do not make difference in health or doing damage in DT and never did. It took me some time to level up my dragons, however here is proofs.
Burlary - Ice skin dragon - Titan Deadly Nadder 20 level
Cmytyan - Skeleton skin dragon - Usual Deadly Nadder 20 level
They have a same level, so let's see their characteristics in DT
Cmytyan:
Burlary:
¯\_(ツ)_/¯
Sat, 11/09/2019 - 18:20
#22
...
I stand corrected. XD I checked my dragons because I couldn't see your pictures and you're right. Titans and regular adults have the same amount of health and do the same amount of damage. I could've sworn that titans used to have more health and do more damage. Oh well. You learn something new every day I guess. lol.
Sat, 11/09/2019 - 20:24
#23
~
You couldn't see my pictures? Oh, why? I've tried to find international image host. Anyway, you always can hold picture and place it to new tab
Sun, 11/10/2019 - 12:53
#24
...
I don't know why I couldn't see them. I'm just seeing blank spaces where your pictures should be.
Sat, 11/02/2019 - 17:52
#25
Ah yesh the dragons
I use a Titan Deadly Nadder (midnight), a Shockjaw (Bluetooth), and a Skrill (Stormstrike). Stormstrike is a level 40 something, I think. All the others are level 50s. I use Hyper on the DN and Shockjaw and they move ahead and obliterate everything in the way. My skrill and my viking hang back and take care of stragglers (or in my skrills case, take out enemies from afar). My viking is basically only there as a medic.