Dragon Training 101: The Windwalker
Dragon Training 101
{_______________________________}
THE WINDWALKER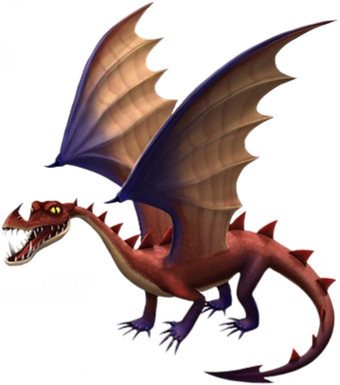 Class: Tidal
Length: 46 feet (average)
Weight: 1862 lbs (average)
Wingspan: 52 feet
Diet: Exclusively Fish
_____________________________________________________________________________
A dragon that lives and breathes the thrill of the hunt, the
Windwalker is definitely a dragon that is not only rare to find
but are very difficult to tame. They aren't as swift as say a
Fury, but they are definitely able to keep up with a Sand Wraith
as best with its long, wide wings. Furthermore, these dragons
are one of the very few that use electrokinesis, an ability
mainly seen in Strike Class dragons. So, are you ready to take
on such a unique and interesting dragon? My name is
Jyharri and I will explain the basis of dragon training, the
Windwalker.
Windwalkers are very kind dragons yet they know how to throw
their weight around when need be. They love to stay out of
sight of both prey and predator and love to gather in packs of
their own species, which if threatened in this pack would result
in your hide being roasted alive. Roasted, you say? But isn't
this a tidal class dragon? Well, these particular specimens are
able to shoot water turrent blasts as well as stemaing balls of
fire. Talk about an array of abilities! Training and taming is
technically the easy part, trying to find one... well, that's the
true challenge.
Disclaimer: A majority, but not all information on the Windwalker can
be summed up from my experience with Windwalker (raising them,
training, etc), so take these words with a grain of salt.
Step 1: Location
As I have said before, these dragons are relatively rare.
Searching the Unnamed Islands give little result to finding an
individual alone or in a group. The best place to search as I
have seen is old Berk and anywhere that has to do with the sea
- which is basically the same as the entire archipelago.
Step 2: Track and Map
When you do find a Windwalker, it will most likely be on the fly,
literally. These dragons make it very difficult to follow them,
even from a distance. So this sort of tracking would be best
done using one of your fastest dragons. As long as it's not
larger than the Windwalker, it will not try to engage unless you
get too close. Definitely follow it for a while and map out
wherever the Windwalker goes. These dragons, as I have seen,
genuinely stick to long, sweeping patterns when they travel.
Taking note or even memorizing this route is the best way to
beat this dragon at its own game. Its own little race if you will.
Step 3: Live and Let Fly
Once you've either memorized or mapped out the route the
Windwalker takes, it's time to meet at the starting line. Make
sure to gather an assortment of fish at the spot before waiting
for the dragon to show up. No matter if it takes minutes or
days, your competitor will show itself eventually. You'll know
the Windwalker has come when you are suddenly wind gusted
and covered by dirt. Now is the time for you and the
Windwalker to get into position. A friendly game of hide and
race is what many individuals love the most. Now you should
know the route as well as your new racing buddy does.
Step 4: The Chase Begins
The race is on! Both dragons will signal each other to start,
smacking their tails into the floor. It is then that you must
prove the bond you have with your current dragon to catch up
to the speedy Windwalker you want to tame. No matter how
the race goes, it's best to hop on the Windwalker's back when
you get the chance. This drgaon will make it very difficult to do
so, so remember to coordinate with your dragon to stay on
pace. Once your opportunity strikes, jump and hold on for dear
life! If all goes right, then by the end of the race you'll be knee
deep in smoked fish and a gentle touch to the snout to aid the
initial bond.
Step 5: Training and Racing
Training is very simple lest your Windwalker is the more playful
than playful type, simply commad what you want it to do and it
will do it, it is one of the more intelligent dragons, almost as
much so as a Fury or Skrill. As for racing, definitely train your
Windwalker to use its wide wings as an advantage in both
speed and turning sharp. Be careful of steep inclines, they don't
do as well with these dragons when tamed down. It may take a
little reassuring depending on how your specific dragon
responds, but it'll get the job done.
-----------------------------------------------------------------------
Dragon Suggestion Time
As of late, have been pretty distant from the forums and know
my 101 series does get feedback. SO I'd like to ask those who
love these to suggest different dragons I can do. It can be any
suggestion and if there's more than one vote for a dragon I'll be
leaning to doing that one within a few days time.
Tue, 01/14/2020 - 10:16
#1
thanks !!!!
i really appreciated u for all of the dragons information u have written in the past to this day its really interesting reading about ur dragons thanks u very much
Wed, 01/15/2020 - 04:34
#3
Magnificent arnt they?
:DDDDD
I love these!
May I recomend the flamewhipper?
I heard that they very difficult to train and I really need some tips! :D
Wed, 01/15/2020 - 08:53
#5
:D :D
Yaaaaaaaayyyy!!! :D :D :D Thank you so much for doing a Windwalker!!! The info was great!! :) I have a question for ya, though :3 Why do you think some Windwalkers have barbed tails (RoB version) while others have fin tails (SoD version)? What's the difference between the two? Are they subspecies or something? Just wanted to know your opinion--thanks! :)
Thu, 01/16/2020 - 05:43
#8
Swoopin' In!
Ah, Windwalkers! Such fantastic and elusive dragons. Great read as always my friend, maybe I'll roll up my sleeves and bond with another Windwalker; one came from the wild but isn't as friendly as the average Windwalker (no limbs were lost in the training of that dragon, thankfully) and the other was a rescue who, thanks to a near-death experience with hunters right after hatching, is as sheepish as a. . .sheep. Surrounded by a dozen hungry Goregutters. Maybe a third one will bring'em together! For a suggestion. . .hmm. . .I can't remember if it's been done already or not (and if it has, apologies) but what about the Thunderpede? They're not exactly the most liked dragons (from what I've seen at least) but it'd be nice to give them some love. Or the Hobgobbler; so cute yet so destructive!
Fri, 01/17/2020 - 05:26
#10
:)
This is incredible, Rider Jyharri :3
Maybe for the future:
Shovelheim
Groncicle
Prickerboogle (I'm not sure if it was already done, sounds like it)
Thanks! :D
Thu, 03/12/2020 - 13:49
#12
Hey there! I just wanna say I
Hey there! I just wanna say I think this is a really cool thing that you're doing. It's a lot of fun to make up information on dragons and play out your own fun ways on how to tame dragons. I don't mean to spoil the fun, but some of these actually raise concerns for me. I'm afraid you're going to spread false information when while some of these are actually facts that are confirmed..some of these also aren't. Some of the things you stated are things you made up that you think can be true (which I've done on a journal post a while back on my DA so I know how that is) which is fine, but a recent forum post has caused me to belief that if you're going to do things like this, you should let the readers know that some of the things you write aren't canon. I understand this is just for fun and I'm all for it, but Windwalkers are my favourite dragon and there was already a huge back and forth war about their electrokenesis and whether or not it was canon (it was recently confirmed to be true so that war can finally come to rest) that seemed to never end and it caused trouble for those who have been trying to remind everyone not to address this ability as a fact. I'm just afraid that this will give everyone the wrong idea about these guys, as your theories will come off as facts to some people (which again, it's fun to do this and I'm not here to tell you what you can and can't do, I just really felt the need to say this after someone posted a forum topic about the Windwalkers repeating something that you've told them). I just simply don't think it's fair to the readers to tell them all of these things without telling them these are your own ideas, because if you don't alert them, they're going to think these are true. I think it's wonderful that you're being so creative about dragons, but I also don't want people to think that the things stated in your training texts are canon because as proven, one of them already does when it simply isn't. It's important to be creative and I encourage you to keep doing these, I just wanted to say it's important to state what's canon and what's yours.
I wanted to point out that the Windwalkers in School of Dragons and Rise of Berk aren't subspecies at all. They're the same dragon, with two different takes. I don't know why these companies do this, but they do. They've done it with other dragons as well if you take a moment to compare some of them. As it stands, there are no subspecies of Windwalker. There are just two different renders. :)
I also wanted to say that while there are no canonical facts about how to train a Windwalker, the best way to go about this is to take a look at their temprament and think about how they would react in the situation. Windwalkers are factually gentle, calm, innocious, and serene dragons. They're pretty chill even as wild dragons and they're social. They won't show hostility unless they feel threatened, so I don't think it's a stretch to assume that training one would actually be easy, not difficult. Not to mention it's emphasized in their descriptions as being good dragons for young trainers and if a dragon is a good starting dragon, then they're typically easy to train. They have a docile temprament and they will show respect if given respect. Typically things that are already docile, friendly and calm by nature are easier to train than those who aren't. It's like trying to make a friend. It's much easier to make a friend that is actually okay with being your friend than it is with someone who is more resentful of the idea. While Windwalkers are intelligent, they aren't vicious or mean or aggressive unless provoked. So again, while there's no canon information about this subject, I personally believe training a Windwalker would actually be relatively easy rather than difficult. This is based off of what's already canon.
I really enjoyed your racing idea! Considering these are high flying dragons who spend most of their time with the clouds, I think this can be a really fun way to bond with a wild one. They're fast, agile and social dragons, so it wouldn't be surprising if they loved a good race with their pals. However, your training method is a little bit concerning to me. Jumping on the back of a Windwalker who is enjoying the thrill of the race can actually do more harm than good. The Windwalker considers you an ally at this point if it's accepted a race from you. To jump on it's back suddenly and hope for the best can be really frightening for it. You're essentially forcing it to bond and interact with you and it can actually cause it to lose faith in you. It's like trying to break a horse. You wouldn't meet a horse, race with it with your own horse then suddenly jump on it's back in attempts to bond with it. It's incredibly frightening for the horse and can be considered abusive even. I understand that all of this is just for fun and isn't even real, but I also can't sit by and read about training methods that are actually harmful. The best and surefire way to earn a dragon's trust always is patience and understanding. Spend time with the Windwalker doing it's favourite things (like racing ;) ) and allow it to come to you when ready. Jumping on it's back in the thrill of the race just raised a lot of concerns for me. All I can think about is how distressed it would feel and I don't think it would comply with this at all. You're essentially forcing yourself on the dragon instead of letting it come to you and that's just not right if you want me to be honest. You should never force yourself on the back of a dragon without it's permission, that's how it becomes resentful towards you. When trying to bond with a dragon, it's always best to enter it's personal space on its own terms, never your own. I believe the best way to train a Windwalker is to just spend time with it. Admire it from afar or up close if it lets you. Play with it, feed it, continue to teach it you aren't a threat and it will eventually trust you enough to stick with you in life.
I'm sorry to have said all of this, but some of the things you said just really bothered me. With posts like these, I think it's really important that others take it with a grain of salt. You just do these for fun and there's nothing wrong with that, but you should also tell people that these are your made up methods and facts. Otherwise you're just spreading false information which realistically is something you shouldn't ever do. Again, keep doing these! They're really interesting and I like to read what others have to say about dragons, but I believe it's incredibly important to just let the readers know what's canon and what isn't, so they don't take your own information and preach it as official. :)
Thu, 03/12/2020 - 17:14
#13
...
I've been following Jyharri's Dragon Training 101 series since he started posting them(I've never commented on any of them but I have read all of them) and he does put a disclaimer on all of them. It always looks like this:
Disclaimer: A majority, but not all information on the Windwalker can
be summed up from my experience with Windwalker (raising them,
training, etc), so take these words with a grain of salt.
(above disclaimer copy and posted from this thread)
While he doesn't specifically say "Hey, I made most of this stuff up using my imagination" he does say that the information comes from his experience with whichever dragon the thread is about and to take his words with a grain of salt so I've always felt the disclaimer was pretty much self-explanatory that he was using his imagination and making most of this stuff up.
(I'm not all trying to pick a fight with you about what you said or anything. I just wanted to point out that he does put a disclaimer on all his DT 101 posts. :))
Thu, 03/12/2020 - 23:23
#14
I can respect that! He does
I can respect that! He does put a disclaimer where he says to take it with a grain of salt so that part is my bad. However, I personally feel that when he says "a majority but not all information can be summed up from my experience (raising them, training them, etc), he's still speaking in character. It could just be me, but that was my first impression when I first read the post. I didn't read it as him implying some of the things came from him. I read it as "these are my own experiences from training and raising Windwalkers so your experience might be different". Again, it could just be me but when I read the disclaimer (and even now after I've read it again), I still get that same message.