Dragon Training 101: The Razorwhip
Dragon Training 101
{_______________________________}
THE RAZORWHIP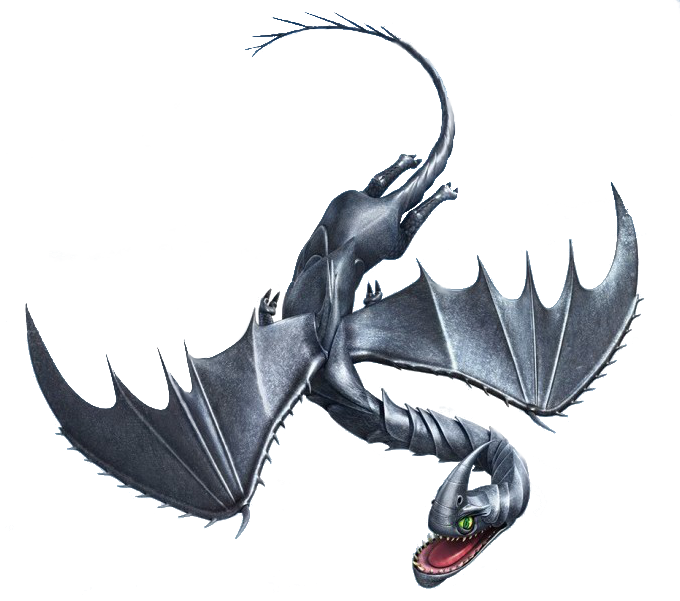 Class: Sharp
Length: 60 feet (average)
Weight: 900 lbs (average)
Wingspan: 48 feet
Diet: Fish, Sea Slugs, Young Razorwhips (males)
_________________________________________________________________________________
There is no better sight than seeing a fully grown Razorwhip
soar through the skies without a care in the world. As wild as
they are, razorwhips make for one of the most loyal
companions in the Archipelago. It may be hard to bond with
one of these dragons, at first, but with a little try-harding and a
lot of protection, you'll be able to tame yourself your very own
Razorwhip. My name is Jyharri and I will explain the basis of
dragon training, the Changewing.
Somewhat a cross between an armored swordsman and its
horse, the stocky yet powerful Razorwhip is one of the few
dragons that can produce bright fire that can appear either blue
or white. Not only that, they are able to fling their spines just
like the Deadly Nadder or Whispering Death with ease. I've
enjoyed training up all 5 of my Razorwhips because of their
accountability, loyalness to the rider, and much more.
Disclaimer: A majority, but not all information on the Razorwhip can
be summed up from my experience with Razorwhips (raising them,
training, etc), so take these words with a grain of salt.
Step 1: Location
A rare sight in Berk's Archipelago, Razorwhips are more
commonly seen in forests and woodlands rather than out for a
morning flight. However, they are still recoperating from their
near extinction within the last millennia so it takes a stroke of
luck to find a wild one raised by the Wingmaidens of
Wingmaiden Island.
Step 2: Preparations
Like many dragons, the Razorwhip is aggressive when it first
sets it sights on you, maybe even to the point of laceration
unlike the Deadly Nadder or Gronckle. The best way to
approached a fully grown Razorwhip is to slolwy speak to it
whilst holding a pair of sea slugs in each hand as an offering. If
the Razorwhip accepts, then you'll be able to aid in washing out
its armored scales. If not, then don't fret. It normally takes a
few days for the dragons to get used to human presences, and
it takes extreme luck to bond on the first try.
Step 3: Fair Flight
After a week or so for washing out and feeding the Razorwhip,
you'll finally be able to stroke its nose and introduce yourself as
a helpful friend. Once you position yourself on its neck or back,
make sure to lather the spot with your spit, similar to getting a
Deadly Nadder used to riding. There are some spots that are
especially sensitive to the dragon, this is why I recommend this
before flights. Once you are flying, both you and your dragon
must be able to predict what the other is thinking in order to
coordinately fly. This can be done by commands, or by lightly
tapping the Razorwhip in the direction you want to go with your
boot. I have faith that you'll be able to outflank even the most
persistent ships by this point!
Step 4: Combat Training
In comparison to a Deadly Nadder, the trianing process is about
the same. Whenever your dragon does a counter move or block
succesfully, feed it its favorite food right after to encourage it to
hone these skills. I recommend throwing shields into the air for
the Razorwhip to blast to bits - Note: Keep a sturdy shield with
you at all times lest you are in a position to be spiked. I've
found out that providing a gated sharpener for the Razorwhip to
keep its tail sharp will aid greatly in combat and in battlefield
bonding.
Step 5: Racing
The Razorwhip is a rather tricky dragon to race with, having not
the best responses to turning in the Archipelago. In order to
counteract this issue, use a sturdy pair of boots (metal
recommended) in order to make a sound that tunes the
Razorwhip to turn on time, similar to how once trains a Triple
Stryke. Also, make sure that your dragon is able to flow
through the race tracks first before going out into the
competition - practice always makes perfect. One final note is
to make sure your dragon is lightly hungry before racing,
meaning that there is no excess weight between both dragon
and riders. Feed well after each race, and you'll become best
friends with your dragon!
Extras: Titan Razorwhips
When any dragon becomes a titan, it does becomes twice as
strong and aggressive than its broad wing stage, which is much
more prevalent in a Razorwhip than with most dragons. I
recommend keeping your dragon close to you during the
transformation process in order to keep the bond between you
strong, then later try racing with your drgaon to keep the flow
of biochemical energy stable. It has worked so far with two of
my Razorwhips, Sprint and Azural, so I'm sure it will work for
yours too.
Thu, 05/09/2019 - 10:43
#1
Swoopin' In!
Wowie, I wish Peppermint and I had a bond that good; he's so vain and arrogant, I don't even think I can call him my dragon anymore! Still, something makes him come back to the stables. . .probably for the free food, shelter, and hoard of mirrors. I would've never bothered with a Razorwhip again if Midori hadn't come along and showed me they could be great dragons so maybe I'll use these tips to bond with another Razorwhip!
Thu, 05/09/2019 - 14:16
#3
*Grabs popcorns*
Thanks for the tip! I can now train better my razorwhips, they need some more training.
Thu, 05/09/2019 - 17:32
#5
Brilliant!
These are very nice tips, Rider Jyharri, thank you!
I do not have a Razorwhip sadly, but if I do happen to get an egg by chance someday, I will come back to this post and train my Razorwhip with these instructions.
Fri, 05/10/2019 - 17:48
#7
Yeah
Yep! I am already generating names and thinking about colors for it before hand.