Disney Afternoon and Fox Kids, anybody?
Does anybody remember these lineups before Dragons, My Little Pony, Star Wars Clone Wars/Rebels, Tangled the Series, and the Lion Guard were even a thing?
Well, to start up Saturday morning in quarantine, I want to know if you guys remember these Disney Afternoon Shows:
Disney Afternoon Intro: https://youtu.be/gNk6H6GAui8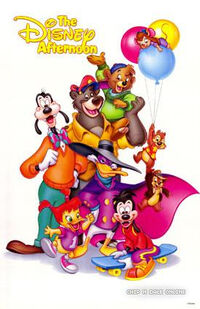 Which had shows like this:
Gummi Bears
DuckTales (Not the Reboot)
New Adventures of Winnie the Pooh:
Chip and Dale: Rescue Rangers
TaleSpin (Which has Jungle Book Characters in it)
DarkWing Duck
Goof Troop:
Little Mermaid The Series
Bonkers:
Gargoyles:
Aladdin: The Series (Not on Disney Plus, unfortunatley):
Shnookums and Meat?:
Lion King: Timon and Pumbaa the Series
Quack Pack:
Mighty Ducks Animated Series
Doug
I'll post a part 2 of the Disney Afternoon later on!
P.S. I'm currently trying to watch all these that are on Disney Plus already with the exception of Aladdin and Shnookums and Meat.
Sat, 04/11/2020 - 11:40
#1
~
Fox Kids was my jam back in the day.
Stuff like the Tick, Samurai Pizza Cats, Biker Mice from Mars, that one terrible Spider-Man show, Totally Spies, Braceface, Shin-chan, Eek, the X-men, Mighty Morphin', Mad Jack... Those horribly translated anime (that got me into anime so yeah thanks)... I think I could go on forever.
I also remember the Gummi Bears, Gargoyles (amazing show!), Goof Troop and Darkwing Duck from your list. Makes me want to revisit them. The Darkwing Duck episode on the new Ducktales was so good.