Different ~ Unlimited spot HTTYD RP
So, I have been gone from the forums for a long time and just recently returned. And as I have mentioned, one of the things I have missed the most about is the roleplaying. That, and well, hanging out and talking with all the friendly people around here. And the art. And the stories. I like it all, really!
Anyway, I FINALLY got an idea, so I'm just going to kinda throw it out there and see what happens. Maybe no one will join. Maybe it will a diaster. But, meh, it's worth a try.
More information coming up soon, and I would like it if no one posted anything yet. So... Yeah....
*Awkward pause*
Sun, 06/17/2018 - 17:35
#5
I like tounge twisters
FORM~
Use this form:
Name: Mychael
Gender: Male
Age: 19
Hybrid half: Silver Phantom
Personality: Michael is always thinking logically and doesn't understand jokes. He is smart enough to understand them but always takes things literally. For example "Mercy then replied "Hey look Michael's back!" Not understanding Michael asked "What! What's on my back?". Michael prefers to be alone and hates being the center of attention. He is always serious and doesn't understand why Vikings socialize. Michael isn't quick to trust people but once you gain his trust he will risk his life to save them. He is very intelligent and thinks outside the box. Not many people want to be his friend because he is so odd. Even though he likes to be alone that doesn't mean he doesn't feel sad about it. In fact often he is often depressed that he doesn't have any friends. Michael is brave though his main weakness is that he has low self esteem. All Michael really needs is a friend he can trust. Michael loves to learn new things and to explore new places. He is more interested in dragons than spending time with Vikings. Michael hates to make speeches and presentations. He loves to teach others and dreams of teaching young Vikings the history of Berk. He is a know it all and often is bullied because of that. Michael keeps a journal of all the dragons he knows about and their stats and it is his most prized possession.
Appearance: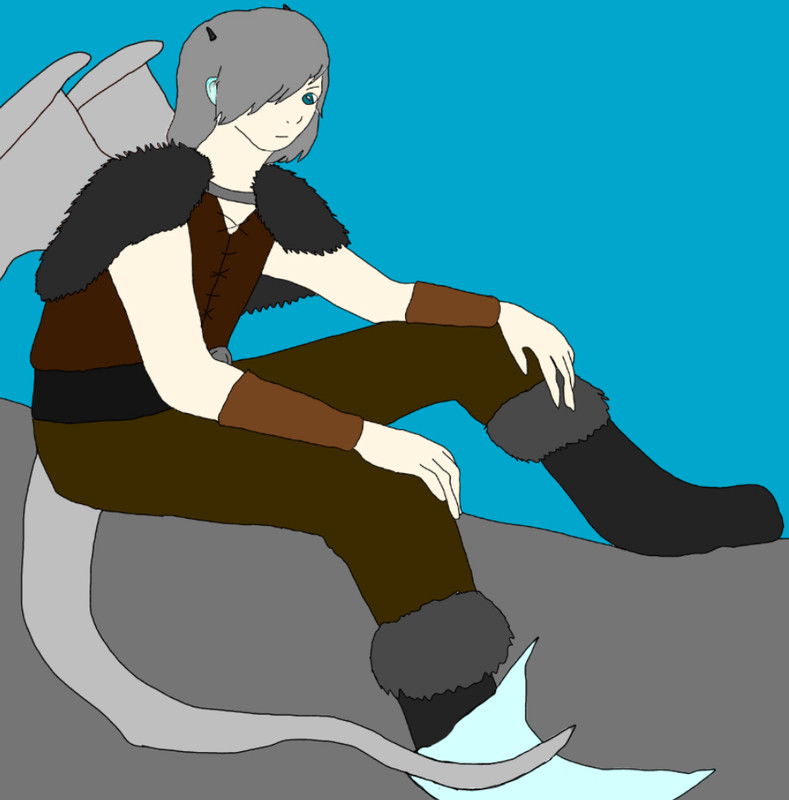 (the part of his face hidden by his hair is covered with light blue scale like his ear)
When in 100% dragon form he is mainly a light grey color with light blue tail fins and underwings and his eyes become bright blue. His head is slightly light blue and he is larger than most Silver Phantoms.