Critique your Art - 2022
This thread goes hand in hand with the Share your Art thread. Come here to get your art critiqued by anyone. I'll definitely try to help but I'm just trying to make a nice place for y'all to go :)
--Rules--
1) Be constructive when critiquing. This is not a place to attack people for their art style. We don't want art-tok moments.
2) If someone critiques your art, don't get defensive. It's merely a helping tip. *this rule doesn't apply if they're just flat out being rude*
3) Follow basic forum rules (no NSFW, etc)
4) You can totally ask for art advice here and I will add some in, so will others!
5) Don't be mean to others. Haven't seen it much here but I feel like it needs to be stated.
6) Try not to spam or have conversations. Short talks are fine, but at a certain point it's too much. That's what PM's are made for :)
7) Try to support other artists if you can by following, liking, or sharing their art.
8) DO NOT steal peoples art. By reshare I mean retweet or share to your story. If I hear that you stole, traced, copied, etc someone's art I will personally pluck out your eyeballs and make a community soup with them.
9) Remember that this is a literal forum meant for kids. If I see anyone say someone's art style sucks I'll steal your soul /th
Thu, 01/20/2022 - 23:20
#1
COBRA-LALALALALALALALALALALALALALALALALLALALALALAALALALALALALALA
Hiiiiiiiiiiiiiii-o! I liked the idea of having a thread like this around and don't want to see it hidewithout a chance, so I finally have this piece I've been working on that I'm okay with sacrificing showing now: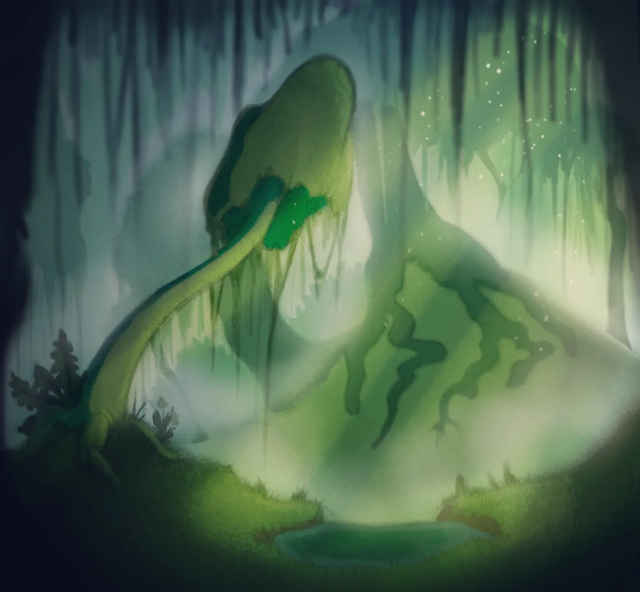 This is my first attempt at a serious background like...... ever! Like.. second actual landscape setting I've done in the past 5 years so I'm working on getting the hang of uhhhh properly parselling up foreground vs. background colors and figuring out silhouettes/level of detail and whatnot.
Left this one kinda simplistic because coloring it was a bit of a pain, I already feel like the big tree in the background could've used a bit more detailwork or else more fog to cover up how unfinished it looks, buuuuut I am not here to self critique I seek the minds of Others!!
Fri, 01/21/2022 - 00:12
#3
COBRA-LALALALALALALALALALALALALALALALALLALALALALAALALALALALALALA
AAAAAAAAAAAAAAAAAAAAAAAA Take care of your eyes silly !!!!! Don't stress about getting a whole comprehensive thing together by tomorrow too I can WAIT ! Artist healths come first (-W -)
Enyway, thank you for the quick response! Don't worry about smashing toes here, I'm very aware of this being very barren for a forest scene as I didn't want to spend too much time on it and get stuck somewhere. Very good advice all around! I definitely want to try adding more varied color elements in my next try, as I was a bit overwhelmed just figuring out the foreground-to-background gradient for this one and thus was antsy about adding even more colors into the mix.
I thought there was something a lil hinky with the background hill, I'll have to keep that in mind next time + interesting proposed fix! This was a sketch outta my sketchbook so I definitely didn't put as much time into asset framing as I should've (again just... was trying to get it finished at all. Talking to a very adamant character artist here so the biggest grapple was keeping interest in this project in general :'D)
Yawwww the pond thingie is a little silly as it is, that was an impulse puddle x') next few goes/studies will probably be focused more about props/foliage because Heck bodies of water !!
Overall thankyou for the review! Good to have a second opinion and confirm some things I need to work on. Eat those mazapans !!! Tell your fish I said hi!! Goodnight and/or Goodday to you !
((It's 2:00am. Forgive my screech energy. I tend to exaggerate my exclamation points to emphasize I am in no way provoked nor hostile in tone and it gets a bit excessive the tired-er I am :'D))
Fri, 01/21/2022 - 20:11
#4
Wooo wait wait wait my lady
Oi hold up, lemme wake up... I'll figure out the proper way to word this, but backgrounds actually require less detail rather than more. You bring up good points, but detail has to be sparse, this I know for sure XD just lemme wake up a bit then show you what I mean XD
Edit: Yes it was maybe 10 hrs later when I finally get to this XD But had some other art stuff to do. Anyways...
To an extent, Moss is right, some more detail is needed. But as long as it's sparse and properly placed. Like, you can't put a put a detailed leaf near the back tree or it'll actually pull you out of the emersion, and kinda make it look a little weird. Which this does pull you in really well, you got a really good grasp on air perspective, you just needed more. Cause the larger tree in the back isn't dusted enough, so it makes it look like it's in the foreground rather than the background.
So, here's what I did.. I hope you don't mind I painted over your piece. I added some more shading on the closest tree, just put some more 3D aspect to it, it looks like the pond is going over the edge to another level, which you did fantasically. But, now that space between the further tree and the upper level seems a little 2D, so I added a bit of the pond below and added some more shading and highlights. This just helps it have more depth as it shows there's something between that large tree and the level where this small tree and pond is. This also helps with the light you have going, and it just lights up that particular area a little better, gives the piece more a focus and fills it in some more.
You don't technially need those light rays to indicate there's an excessive amount of light there, you can add some more light, even if vague like I did here, to the objects it's hitting. Like the larger tree roots have a bit more light there, and the edge of the closest tree has more light. Which stands out more now that the shading is put closer to the edge. I also added a bit more light underneath that closer tree to show it's being lit by the light. Which is what it appeared to be in the original, you just didn't have enough light there.
Aside from those few things, I actually really like this piece, you got a really solid grasp on colours and air perspective.
Oh also pull the fog a bit back too, adds some more air perspective :P
Hope this helped a bit
Fri, 01/21/2022 - 21:49
#6
Sorry about that
Yeah, in certain pieces, having more detail is actually nice. Like Borodante's work is such pieces. But this piece didn't look like it needed such detail. In others perhaps. But this one seems more on the simple side, which is actually quite nice honestly, fits the piece really well.
Sorry about that, I say My Lady to everyone, either if I accidentally brush up against them, or try to kindly get their attention. And I never say it in a condescending way, more like if I was addressing some high class lady in the Victorian era upon meeting her. I'll be sure to keep your preference in mind though. I did check your signature about that, but you placing all the pronouns did somewhat confuse me. So I just assumed you were okay with any you listed. Not to mention, I've only spoken to you.. briefly on the character review thread, and it never really crossed my mind then as it never came up. Apologies though, I'll be more vigilant in the future :) Although, which pronoun would you prefer best?
(Gods, the way I type does sound kinda condescending in a way... Sorry.. Just... when you read my messages, always imagine talking in a victorian era accent to some high class family or something XD That's generally how I type out anything since I'm obsessed with that time frame XD)
Fri, 01/21/2022 - 23:16
#8
"Foiled by a CATTLE SSTAMPEDE?? A CATTLE SSSTAMPEDE!!??!"
Ooooooooo :O nonono no worries, I don't mind the paintover at all! Interesting counter-opinion !
Yaaaayaya I do have somewhat of a grasp of the 'rules of the scene' where you keep all your very detailed thing-os mostly to the foreground and let the background be Silly and Less Rendered ! So no worries there, I totally get what you mean !
I definitely did feel like that farthest-back tree wasn't quite hazy enough- again my biggest issue with the piece that I knew of. More fog !!!!!! Solution to everything.. joking. ..Half joking.)
I see what you mean about the pond yesyes, definitely think I should've done more with that but I am Lazy ! Good to know for future projects.
Overall thankees for the advice! (And the compliment <3) both you guy's advice has been very helpful !