Battle for the Edge Overview
Released on December 18, 2015, Battle for the Edge came unexpectedly as the trailer came out afterwards. The Armorwing was the first dragon from the TV series that was added to the game before the episode introducing it aired (the Armorwing video clip was uploaded a day after the expansion's release).
So without further ado, here are some highlights from the expansion that gave us 8 new islands plus temporary access to the dragon hunter camp.
__________________
Gorge II
Level 50
352000 UDT points
Critical thinker; artistic; patient; obsessive over things he loves; absent-minded
Brightslime is all grown up (& reached level 50)

Battle High Scores:
1. Headvord - 1225
2. Globstract - 1203!
3. Streamglide - 1122
4. Sparkflare - 1070
5. Brightslime - 980
6. Flingshot - 900
7. Grimpinch - 895
8. Bulkshield - 859
Sparkflare Streamglide
Female titan wing Nightmare Male Windwalker
Level 50 Level 50
Found July 18, 2013 Rescued July 23, 2016
Cheerful, ferocious in battle, Caring & comforting, dragon rescuer,
distracted, excitable, reckless brave, stealthy, nimble
Globstract Flingshot
Female Death Song Male Singetail
Level 50 Level 50
Adopted Nov 11, 2016 Bonded Feb 12, 2017
Reclusive, disobedient, Sociable, co-operative, curious,
showy, artistic, cheeky lively, protective of me
Gargle
Persistent & focused; mature; outgoing; confident; short-tempered
Bulkshield Brightslime
Male Rumblehorn Female Flame Whipper
Level 50 Level 50
Hatched Jan 1, 2015 Adopted June 11, 2017
Friendly, stubborn & determined, Adventurous, likeable, observant,
moody, tough, heroic has quick reflexes, poisonous
Headvord Grimpinch
Male Sentinel Male Deathgripper
Level 50 Level 49!
Befriended Oct 10, 2018 Befriended Aug 30, 2019
Dignified, benevolent, tenacious Dangerous, touchy, submissive
Fri, 08/11/2017 - 21:51
#5
Expedition to the Edge
After our fifth anniversary of training at the School of Dragons, Sparkflare and I prepared to soar far away on our own and explore, just like old times. It was half a day's journey to reach the islands surrounding Dragon's Edge, so I packed my gear and left at midday.
Along the way I sang all the songs I could remember teaching to Globstract almost three years earlier. Finally at twilight we passed over a fairly large island where Streamglide and I had helped defend a pack of Hobblegrunts and their young when they were attacked by hunters.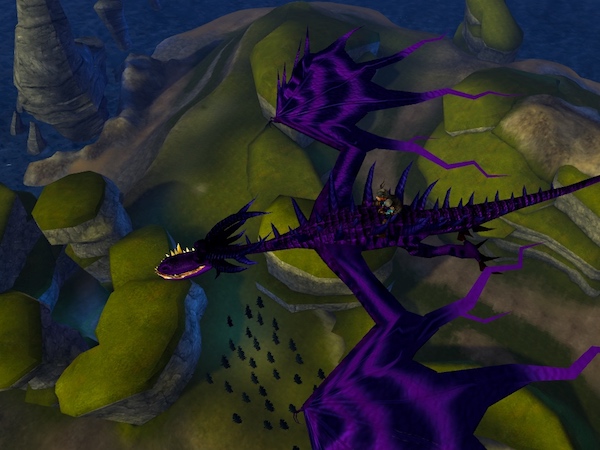 Continuing north, we reached the abandoned outpost and spent the night there.
I got up at sunrise, eager to continue our expedition. I ate a hearty breakfast of dried fruits and mutton, and fed Sparkflare lots of salty mackerel from my pack. Before long we were in the air again. Wetlands appeared on the horizon, a good place for us to replenish our food supply. My dragon shot down a few birds for me to grill on her wing. This was a vital step as we were on our way to a wide expanse of barren land.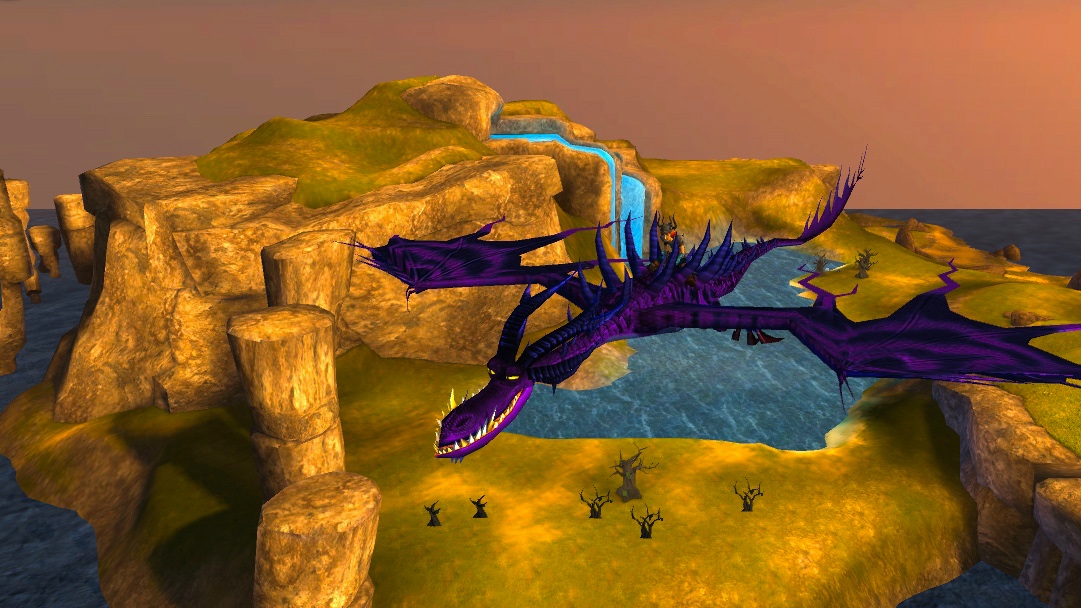 Putting on my warmest coat and a cloth around my face to protect me from the ferocious biting wind, we flew over the natural habitat of the Snow Wraith. I admired the snowy, mountainous terrain far below as my warm dragon powered on further northwest through the bone-chilling air.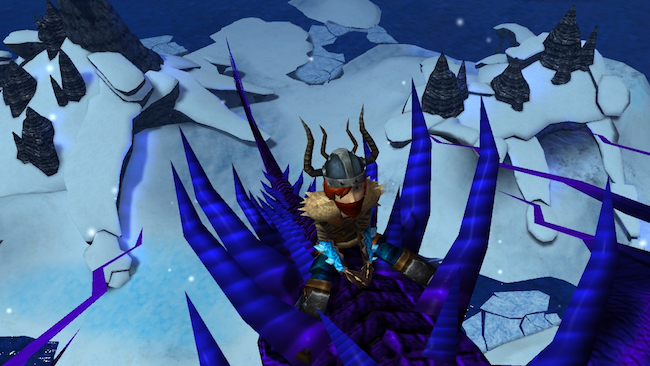 Once we had reached the airspace above another arctic island, Sparkflare dived toward a pack of Scuttleclaws and grumpily fired to make them scatter. With a tired flap of her wings she then landed on the glacial ice.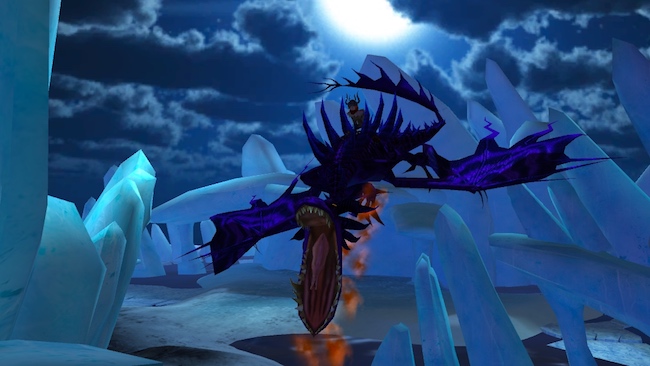 "Aw, come on, girl. Be nice."
She snorted at me and sat down defiantly.
"Okay, I get that you're tired, but your endurance has really improved! We've flown a long way in the last two days." I sat down with a sigh, my back against her sturdy left leg. "We can rest for a little while and then fly back to Dragon's Edge. It's not too far." With that I tossed her one of the birds whose feathers she had burnt off.
The next morning was more relaxed; I went for a stroll through the forest while Sparkflare hunted down a wild boar to eat. A good meal energized us for our next journey. Passing by Melody Island very cautiously we touched down at the place where my dad had bonded with an Armorwing. Climbing the cliffs and watching the geyser spray was an enjoyable way to spend the afternoon.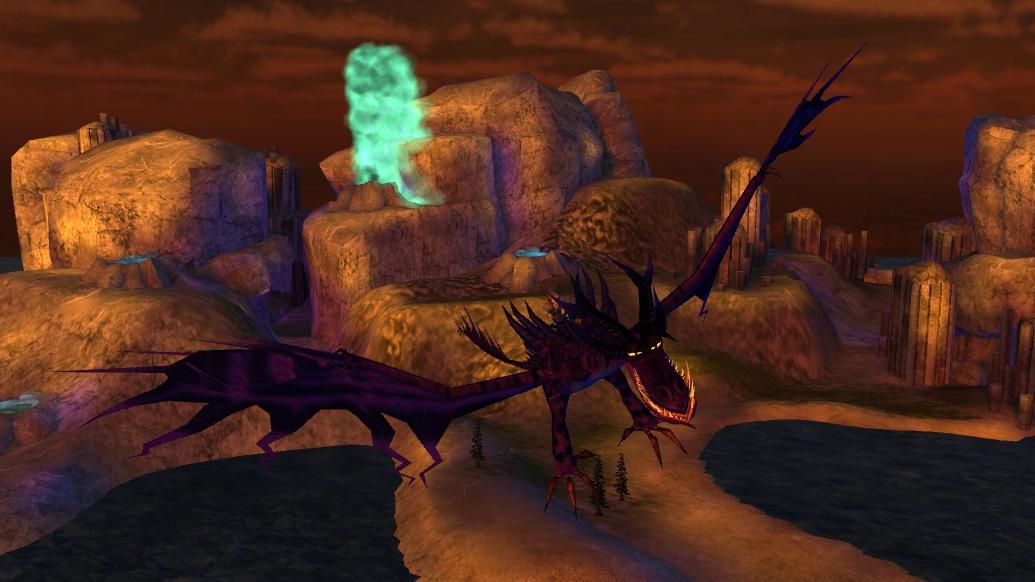 Just before sunset we left Iron Isle behind and returned to the school, where Sparkflare could sleep soundly in her own comfy Stoker stable.
Who's online
There are currently 4 users and 336 guests online.