Any Friday Night Funkers?
(Hope this is the right subforum lol)
Where my funkers at?
And if there's any funkers here, then tell me. What's your favourite character? Can be from a mod.

My fave (modded) character is Whitty or Hex, and the Spookeez are my fave non-modded characters (with good ol' Lemonster being a runner-up).
Tue, 04/06/2021 - 17:13
#1
Weee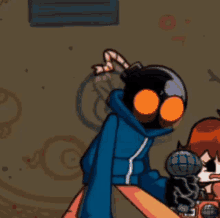 Whitty is my fav so far
I like that Tricky sound too
Tue, 04/06/2021 - 18:29
#2
You know...i saw this game a
You know...i saw this game a lot lately and i've been wanting to know where or how to play it but at this point i am too afraid to ask
Tue, 04/06/2021 - 18:51
#3
Weee
True
I look up and said on newground.com but I'm on iPad so can't tell it work or not