All My Dragons! (2.0)
I wanted to make a new Thread about my dragons... I mean... ALL of them!
I've got so many new dragons and I'm currently too lazy to search for my All My Dragons!'s Thread and post them there xD
So yeah...
That's gonna be my main Post for all my dragons!
This time I'm going to take screenshots at the Wilderness, since the Lighting is better than at Scuttleclaw Island.
These are the things I'll post, such as Name and stuffs.
Name:
Gender:
Level:
Colors:
Personality:
Backstory:
Extra:
You can Track and reply to the posts but not directly to them, so it will avoid me to make a new post for them.
__________________
I AM AGAINST HACKING IN SoD!!!
Casual White Yoshi enjoyer and dragon artist!
Want me as a Friend on your Switch? PM me! I'd love to play Mario Kart with you!


Fantom may protect this Siggy!


Meet Venetia and Luna! The two main Dragons I own on Flight Rising!
Banner made by HeroRivalShadow2 on DeviantArt!
P.S. I'm a HUGE Yoshi fan!
-------------







Follow me on...
Twitter: FantomYoshi
DeviantArt: ImDerpySheyla
Flight Rising: FantomYoshi
-----------------------------------------
Some screenies of my favorite Mario Kart game!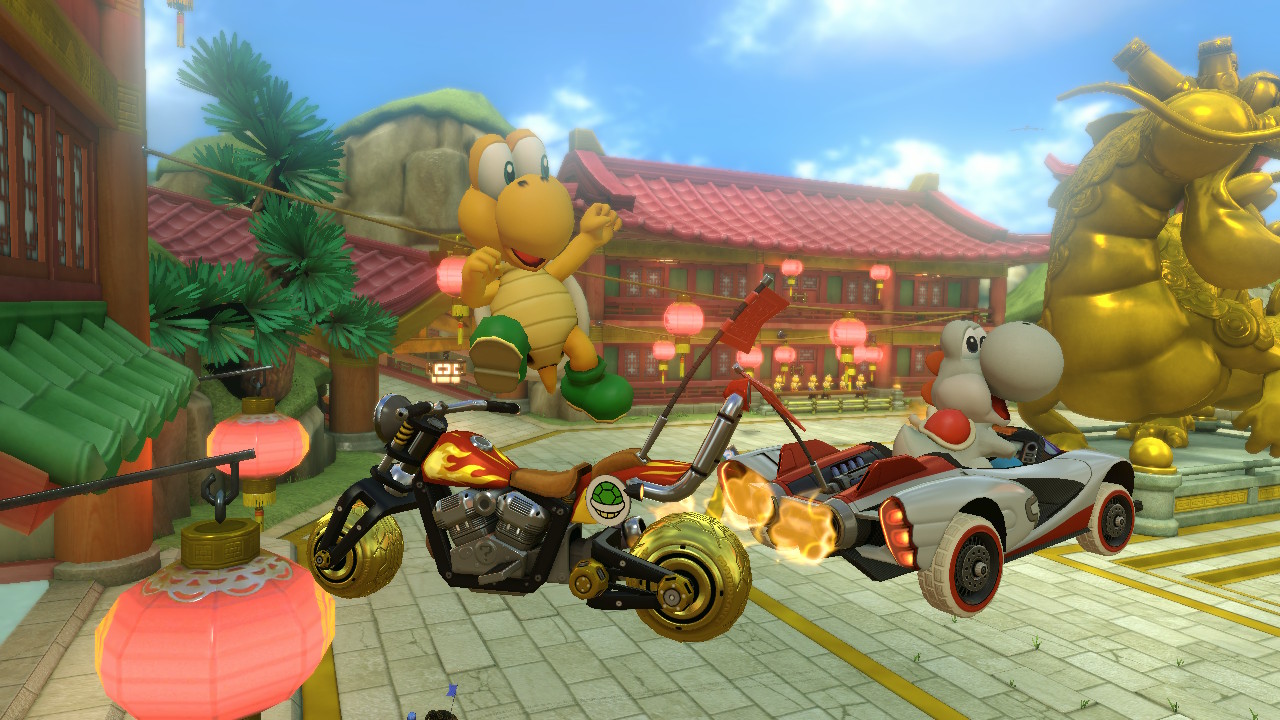 My friend was playing as my Yoshi, Fantom. I was playing as Koopper since she didn't possess any of the Gold Kart set.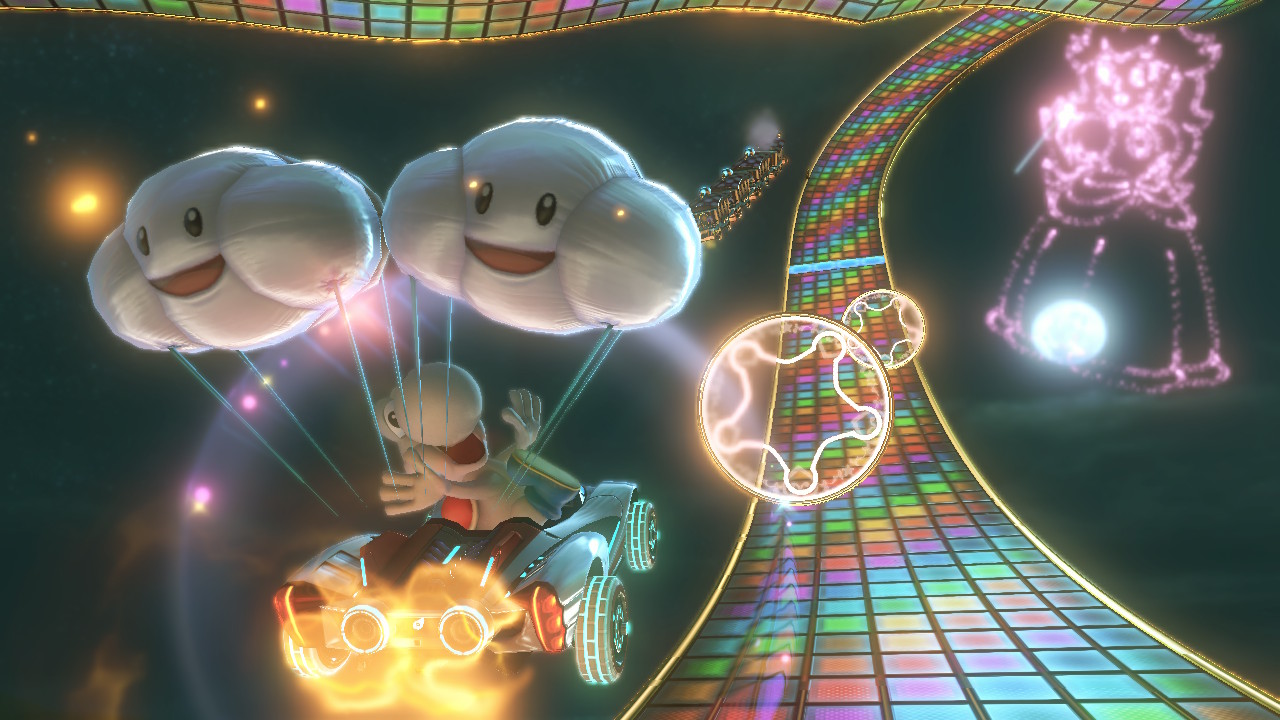 Racing on my favorite Mario Kart race track! Always did the nostalgia hit me whenever I hear the soundtrack!
------------------------------
Amazing banner made by Emerald!
-------------------------------
Overall I'm a very friendly person and I absolutely love to chat! I like to talk about dragons, OCs and their lore/stories, Super Mario stuff and Pokémon!
I'm an artist who loves to draw anything like dragons and Yoshis! Sometimes I do full arts and sometimes I love to make new characters and references! Here are some of my recent artwork showing few of my characters!
I
I
V
My Yoshisona, Fantom! She was my first Mario OC ever created back in 2019, and she is almost 3 years old!
Luna, my Auroclipse character. She is also one of my dragonsona and has a place deep in my heart!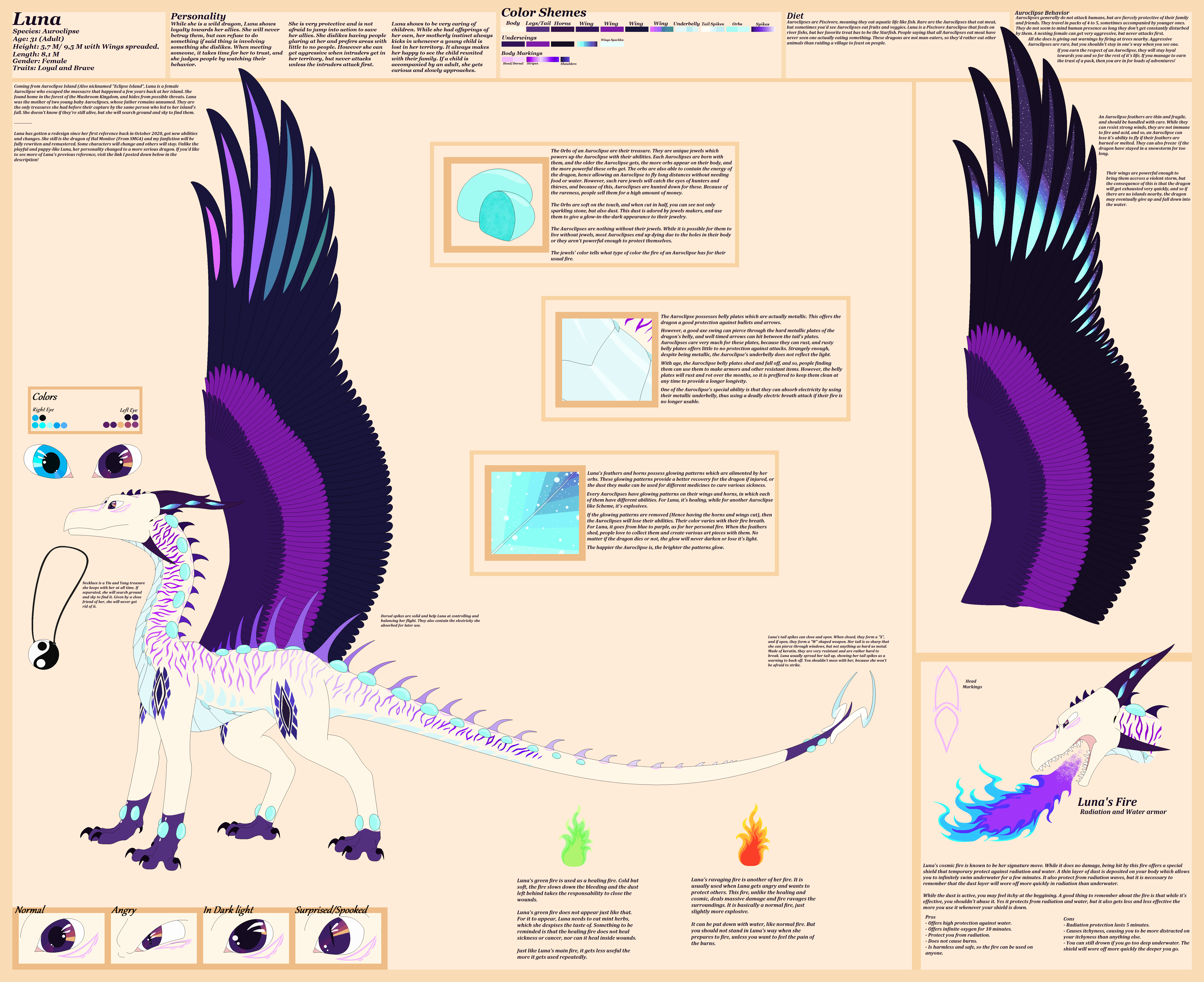 And one of my few full arts, featuring Origin (Right) and Marie (Friend's OC, Left)!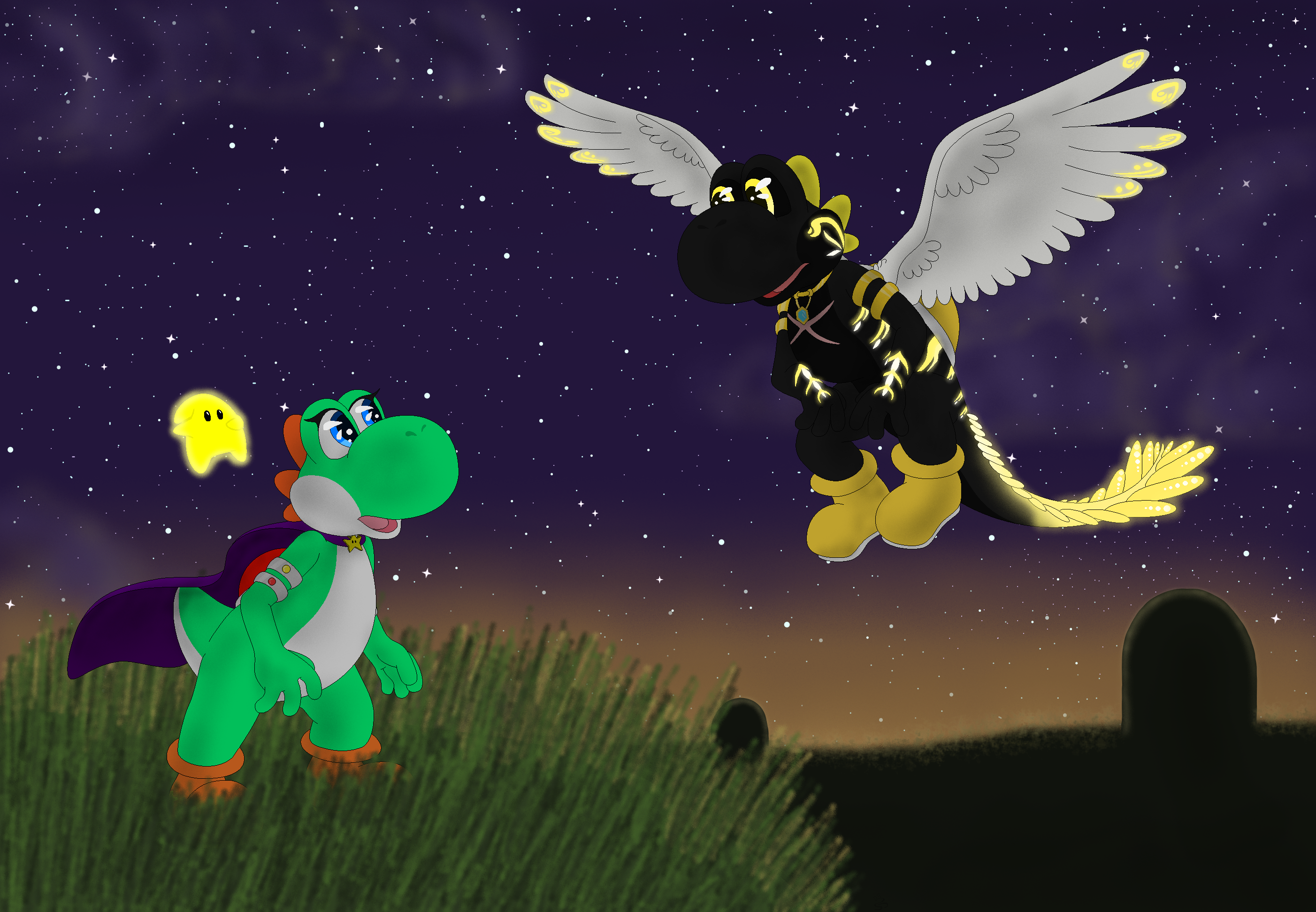 Thu, 04/11/2019 - 11:20
#3
RotomDex Roasted My Subject...
Sand Wraith
I've gotten so many Sand Wraithes by the time I was playing, I count now 21 Sand Wraithes in my Dragon Family! I'm still gonna get more and more of them, I will never get tired to hatch some!
VanossGaming (Lvl 33 Titan Sand Wraith)
Vanoss is my rescued Sand Wraith that I meet 3 years ago, back in 2016. I got very lucky to get a Sand Wraith since these dragons are one of my favorites. Vanoss tends to be very playful towards his friends, especially Delirious the Shockjaw. They sometimes get in trouble when they get to mess with Cursery or Shadow. When he isn't playing with his friends, he prefers racing against Toothlesses and other fast dragons. He shows to like his life too! The only thing he dislikes is that many people follows him all around the map, if it happens, he can fires at them if he gets annoyed.
In a RP with a friend of mine, Vanoss is the father of Jackson, a baby Sand Wraith, who can be found in my old account. I'm planning to get him back in my main as a next Sand Wraith, I miss him a lot!
IAmAgainstHacking (Lvl 32 Titan Sand Wraith)
IAmAgainstHacking is a sort of Police Sand Wraith who fights against bad Hackers. He was once known as Gumball Watterson, but I changed his name so people doesn't treat me as a hacker when I'm not (even though it still happen lol). When Against is out, he always look around for hackers and warn me if there is. If so, I change server by hoping to not get caught.
Exception of his hackers hunt, he is quite loyal and kind, he never starts a fight with other dragons unless those fire at him first. He sometimes gets in a fight with Orokoro, since both act like Leaders, but they always get stopped by Horizon, which is funny.
Winter (Lvl 30 Titan Sand Wraith)
Icarus' little sister and Laki's partner in his Detective series, along with Dobie! She really enjoys company and can even becomes excited if she gets to meet Icarus, her brother. She tends to be uncontrolable in some moments, but she always listen to Laki. She doesn't much like racing since she always loses to Toothless and blame herself to not be useful...
When she has nothing else to do, she likes hanging out with her other friends such as RotomDex, Highlight Blue, etc. She enjoys her life as long as she has friends to play with.
DoritoChips (Lvl 17 Sand Wraith)
DoritoChips is a very... chips eater dragon. Each times she sees chips, she wants to eat some! Beware, the chips eater Sand Wraith has appeared! If you have a bag of chips, hide it when you see this Sandy around... if not... SNAPS, you chips are gone! Her favorite chips are Doritos, so better hide them even better...
She is always looking for chips to eat, but if she's full, she will go race for a while and restart her chips hunt until she gets full again, and it's always like that...
Icarus (Lvl 32 Titan Sand Wraith)
Icarus is the fierce companion of RotomDex, and he likes going on adventure with him! Despites his serious look, he is a very cute and adorable big boy! He is otherwise extremely protective to RotomDex and his family. He is known as the Spyrogias' Alpha, and has similitaries to Toothless (black skin, blue markings that looks like Alpha glow, same silhouette if watched from the sky, almost same speed, super adorable little kittens, both Strike Class, both have a rider, protective)...
Icarus likes to play with Winter when RotomDex is busy with Laki at stuff. He also likes racing a lot and never hits walls unless there's a traps or gets bumped (darn bumps lol).
Mini Sheyla (Lvl 12 Sand Wraith)
Mini Sheyla is me but as a Sand Wraith, nobody judge, I'm sure anyone could have done this xD
*ahem*
This Sandy has a complete different personality than me, she likes to battle and prefers being around Skulder than me... well, it doesn't bother me much since Skulder is kinda my friend. She is overprotective and doesn't want anyone to approach him, not even me or Muddy xD If so, she'll attack you...
When Skulder is too busy with discovering things, she'll just spend time alone at the camp or play alone in the muddy water, which she finds boring...
Shads (Lvl 12 Sand Wraith)
Shads is a pure black Sand Wraith (Not based on Toothless), and is proud to be! He likes to act like Toothless by copying his movements and stuff. He is Toothless' biggest fan as a Sand Wraith! Toothless otherwise finds him really annoying and tries to be far away from him, but Shads always find a way to see him again...
He doesn't have any other hobbies than being around every other Toothless he sees...
DreamLand (Lvl 15 Sand Wraith)
DreamLand is based on a Shiny Hydreigon that I obtained in a Wonder Trade. It's name was FB:DreamLand, and this inspired me to create this guy. DreamLand likes to race and is a calm Sand Wraith. He never fight others, even if those fire at him.
His hobby when he isn't racing is that he likes fishing and hanging around with friends.
Orokoro (Lvl 41 Sand Wraith)
Orokoro is my Sand Wraith's pack Leader, despites Icarus and Winter. He controls them to his will unless Toothless is around, so he'll bow to him. Orokoro shows a lot of respect and loyalty to superior dragons like Toothless. He sometimes gets in a fight with Against, who thinks he is the Leader.
In his freetime, Orokoro is racing and hanging out with friends. He sometimes spend some time alone in Tidal Stables or on Mudraker Island, where he relax the most.
Lana (Lvl 11 Sand Wraith)
Lana is based on the Pokémon Sun and Moon character.
Lana has a lot of potential, she has lots of energy and shows to be a tough girl. She has enough stamina to carry a Monstrous Nightmare! She has some rivalry with Kiawe but both get along well!
Lana likes to challenge her friends in a fishing contest, but she always win. She sometimes let her friends fish more than her then start fishing until she gets more than them!
NightSky (Lvl 10 Sand Wraith)
Previously known as Lunala, NightSky is a very sleepy Sand Wraith. She spend most of her time at sleeping and see her awake only to eat, then it's time to sleep again. As a nocturnal Sand Wraith, it's normal, but I'll really like to see her awake and playing with my other dragons...
IRubyI (Lvl 10 Sand Wraith)
Ruby was a Sand Wraith gotten in Battle Event, he is quite playful but also very mysterious. He has a strange ability to make Rubies grow out of the earth whenever he wants to.
He never gets angry for no reasons, but will fight if others fire at him first.
Firaona (Lvl 10 Sand Wraith)
Firaona was gotten in the Fright of Passage Maze. I was so happy when I hatched her! Unfortunately, I expected to have a little happy and playful girl, but I got the other side of it... She's quite non-caring and prefers doing what she wants. She doesn't listen to orders but only in racing.
She really likes to annoy other dragons by firing at them. My friends and myself call her ''Little Sand Demon'', since she is a real little demon when it comes to annoy other dragons and vikings...
Oxilac (Lvl 10 Sand Wraith)
Oxilac was also gotten by the Fright of Passage Maze. He is the best friend of Furious Jumper and joins him in every adventures! Oxilac loves adventuring and fight monsters and stuff! He is a good friend and easy to trust.
He doesn't mind being fired at, but will get annoyed and fly away if many people fires at him.
Glory (Lvl 10 Sand Wraith)
Glory was gotten from a Battle Event chest, she loves challenges and will challenge any good racers or battlers. Her name fits her well, since she never loses a race. She is quite a challenge for everyone, even Toothless users!
Despites her absolute need of challenges, she can be kind and lovely, seing playful if she doesn't feel like challenging.
Erza (Lvl 10 Sand Wraith)
Erza is based on Erza Scarlet from Fairy Tail. She is one of the adventure companion of Natsu's team. She sometimes shows up to stop the fight between Grey and Natsu if those are starting it. She shows to love Strawberry cakes and never hesitates to eat some.
She is a fierce Sand Wraith and defends everyone in need. She also likes to be around her friends for some jokes.
Sunburst (Lvl 9 Sand Wraith)
Sunburst was gotten from a Mystery Egg Chest. This little prankster likes to do jokes to everyone, and when someone is firing at him, he'll fly around them and do random acrobatics to escape them. He doesn't like being brought into a fight and tries to be away from those.
He sometimes pranks me by burrying himself in the sand and then grabs my foot, which always scares me out. Even though his jokes can be dangerous, he is sweet and caring!
Origin (Lvl 10 Sand Wraith)
Origin was gotten from a Battle Event Chest. She is also based on my OC RotomDex Origin. She is quite gentle and likes flowers. Unlike all other Sand Wraith, her back fins are longuer than any other Sand Wraithes, which makes her unique. She can also see the future at any moment.
She can be serious at some time, but always here to check on her friends if they need help. She is defenitely a good friend to get.
Yxed (Lvl 12 Sand Wraith)
Dexy's twin and a Glitched Sand Wraith, he glitched in my stables a year after Dexy's birth. Just like Sunburst, he is a little prankster, but only toward Dexy and Taisu. Though he is used to be attacked by Taisu, he absolutely doesn't mind being in trouble.
Exception of pranking Dexy and Taisu, Yxed tends to like being in water at swimming or visiting other people's stables, so when someone enters their stable, they could see a Sand Wraith standing on their Stable Quests board...
Kashi (Lvl 10 Sand Wraith)
Kashi is based on my Pykacynd OC. He is quite playful and friendly, but can shows to be quite protective and dangerous if provoked. He likes to hang out with QuickSilver, and shows to like her the way she is despites her blind eyes.
Kashi can also be a good company dragon to babies if needed!
QuickSilver (Lvl 9 Sand Wraith)
QuickSilver, also nicknamed BlindEyes. She was blind since her birth, and tried to survive on her own, but Kashi found her and started to take care of her. Both growed a stong bond, and they never separate from each other.
When she is in trouble, she fleeds to hide until Kashi comes to protect her and help her out.
Mayonnaise (Lvl 10 Sand Wraith)
Mayonnaise is a really energetic Sand Wraith. Nothing makes her tired unless she's hungry. She actually prefers eating fishes that has a bunch of mayonnaise sauce on them... and this is from where he name comes from!
Unlike many other Sand Wraithes, her body lets out a little smell of mayonnaise. It sometimes attracts other dragons to her and this makes her shy and flies off to hide somewhere...
Who's online
There are currently 8 users and 399 guests online.