Adoptables - Glitched Mudrakers!
CONCEPT
The idea is from the glitched Mud hidein game from the Battle for the Edge Expansion. Two Muddies appear so close together they looked like a double-headed Mudraker. This was pointed out by Wolf and Star in this recent thread, "Uh-Oh DOUBLE TROUBLE!"
AN ALTERNATE RETELLING OF HOW THE ARCHEOLOGIST CAME ACROSS MUDDIE
Skulder, the Archeologist, was indeed surveying Mudraker Island for relics from antiquity. But before that, he stopped at a boggy island nearby, to surveil there. The mires this far north were often acidic and sucked in relics and even creatures, the latter were known as "bog bodies".
However, the only remains Skulder found were those of an extensive Dragon Hunter camp. They were no longer there, but left behind their refuse - old unusable dragon cages, old fish, the usual signs of humans such as pots and metal bits, broken down stools and tables, a place for a fire. There were also jars and bottles, and of course, a sludge pit. Skulder noted that the sludge pit was rather toxic, as the grasses and plants around it were brown and withered. He also noticed bits of dried plants in the jars, and even some sort of metal shavings. The plants he recognized as poisonous and included False Hellebores (Veratrum album and Veratrum nigrum) and Hemlock (Conium maculatum). What he did not know, was that these plants are also teratogenic, meaning that they can cause birth defects, and are a problem for farmers with grazing livestock like sheep. A few of the broken jars also contained arsenic and nickel. There was also traces of dragon root, and other herbs. Unfortunately, another finding was a pile of dragon bones and remains.
Skulder deduced that the Dragon Hunters had at one time used this camp as a place to experiment with different concoctions to use on dragons, in order to sedate them, or worse, just outright kill them. They had after all figured out the appropriate dose of dragon root, when applied to an arrow, to knock a dragon out, as well as a way to make an aerosol form. They also created an anicdote to the dragon root, which Dagur had later shared with Hiccup (see Season 3 RTTE). It looked as though many of the experiments had failed, judging by the dragon remains there. Many of those appeared to be Mudrakers, probably captured from the nearby Mudraker Island.
The sludge pit, or midden, did not yield too much information (or none that Skulder wanted to know about). Other than its toxicity to the local plant life, he did note egg shell. Probably those poor captive dragons had laid eggs, after being subjected to the Dragon Hunters' atrocities.
As Skulder prepared to leave this sad island with nothing more than a report for Berk that a Hunter camp had been here, he noticed his small ship was a bit shifted from the beach (for Viking ships were able to sail right up to shore since their draft was so shallow) and the tide hadn't come in. There were also puddles of wet mud about. A ball of mud hit him square in the chest. He heard two dragon roars. On the far side of his ship, two dragon heads peered over the railing. At first he was afraid, but having had good experiences with Hiccup and the students at the School of Dragons, his fear dissipated into just some nervousness. The two dragons seemed genial enough, and merely curious.
Skulder waded out to his ship and climbed aboard. The dragons splashed some water at him, and both chirped inquisitively. They looked to be Mudrakers. Skulder pulled out some dried fish to toss to the dragons to distract them, so that he might go about his business. As he got closer to the starboard side, his jaw dropped in shock. It wasn't two Mudrakers, but rather a single, two-headed Mudraker, with double wings and a double tail! Had the Dragon Hunters' experiments resulted in this? Disturbed, he tossed the dried fish to the one dragon's delight, then sailed away to his next destination at Mudraker Island.
His archeological surveying were a little more fruitful there. However, as he soon found out, the curious but slightly shy double-headed Mudraker had followed him. The creature seemed healthy, if strange, so Skulder decided to try his hand at dragon training. He named the dragon "Muddie".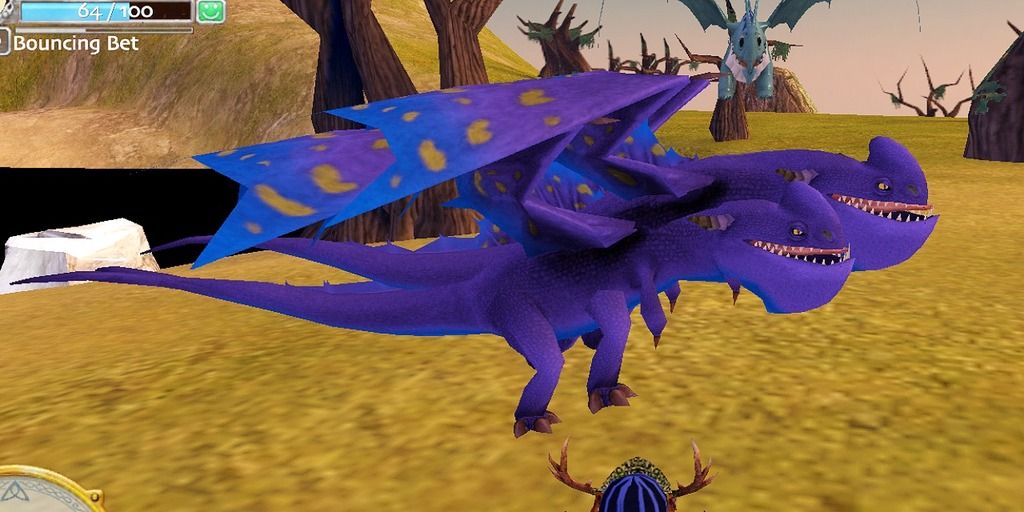 ABOUT THE DRAGONS
These dragons are mutated forms of the Mudraker. It is unknown if they can reproduce, and if so, if the offspring would even be viable. They are able to fly decently, but not as well as single-winged Mudrakers. They have the same sonic breath. There is no formal name for these dragons, but have been called various things like: "Double Muds" or "MuddleRakers".
DISCLAIMER! DON'T PLAY WITH THESE PLANTS OR METALS IN REAL LIFE. They are poisonous. The alkaloid chemicals in these plants, if they don't k.ill outright or cause serious health issues, can cause congenital birth defects. And those defects aren't anything 'cool' like two heads or wings. I am only using them for the purposes of story-telling and to lend an air of authenticity. In actuality, they can k.ill, and are known to cause alot of death, defects, and illness in livestock. Yeah, just felt I needed to throw that out there!
Also, Bog Bodies are real. They are people (and probably animals, too) that for one reason or another (sacrifice or punishment is speculated for a number of them) ended up in a bog. Due to the acidic nature of the bog, the bone is dissolved, leaving a sack of skin, hair, and even organs.
ADOPTION
Please submit the following:
-Which Dragon you are interested in
-Name
-Gender
-A Short Story!
Mon, 08/15/2016 - 19:55
#16
My fourm
Here be my fourm for my Hideous Mudcutter
-Which Dragon you are interested in: le teal one! :D
-Name: Splish and Splash
-Gender: male
-A Short Story!
(tbh I'm on my tablet so there will be plenty of eerroars (like that oone. The spell check here is terrrrrrrribterrrrrrrrible.) and it won't be long cuz if I write to my ful full potential it will turn out too long....)
"Do you remember what you need Wolf?" The disguinished mascline voice asked. Wolf found herself gazing into those serious green eyes of Hiccup Haddock the 3rd. "No need to fuss Hiccup, it's not like this isn't my first mission." Wolf rolled her eyes. "I know i-it's just... oh nevermind." Hiccup stammered. "Mmmhm, yes dad." Wolf joked scarcasticly then turned placing both her hands on Arashi, her titan stormcutter. Hiccup sighed "Just... dont die." Wolf laughed "Not planning on it." Then she swung her legs up, it was a mighty awkard
strech to mount her dragon. Arashi was tall for a dragon. Perched ontop of her dragon she allowed Hiccup to hand her the satcel. Before he could open his mouth to say another word she was off Wolf always loved the thrill of flying, as she and Arashi climbed higher and higher into her sky the thrill only grew. Then the ascend stoped and they were calmly gliding over the sunlit world. Trees pasted underneath them in a green blur. This gave Wolf time to think for herself. SHe understood why Hiccup was so over protective of her, she was 5 years younger than he, but all the same, he knew she could take care of herself.
((NOTDONE!Sorry accidently pressed the send button))
Wolf grimanced as her boots hit the soft squishy sand. She was just off the shore of Mud Raker island, picking up her feet she shuffled twoard dry land. SHe hated how sand managed to get everywhere, in your boots, up your pants, in your eyes, it was nothing less than a nusence! She carefully pricked her way to the Archeologist's camp. Once she got there she paused looking around, yet he was no where to be found.
HIccup said he should be there, she needed some valuable information. "Arashi? See if you can find him." She asked her Stormcutter polietly.
Arashi shook her scaled then took flight all four wings pounding to gain alttitude. Wolf decided to sit down to wait for him. She sat cross legged in the dirt, she exiamed his impossibly small tent pitched up next to her. How could he even fit in that, Wolf's mind was to boggled by this fact that she hardly noticed the noise of footsteps next to her.
The sun began to set over the moutains casting and eerie golden glow over the archepeligo. Wolf sighed, her gut twisted with worry, Arashi nor Skulder (I think thats the archeologist's name) was no where to be seen. Shifting unconfortably in the sand Wolf resolved to watching the long shadows cast over the campsite
. Thats when she heard it. 'Squlish' Wolf perked up, what was that? 'Squash' Slowly she turned her head, in the lake two heads popped up. Glistening droplets of water rolled down their heads rippling the once smooth surface
of the now golden lake. 'Crunch' The creature came closer. Wolf bolted upright, the sudden movement caused her to grow feint, once her head was cleared the creature was closer then ever.
Careful not to make a sound, Wolf identified it as a Mud Raker. Slowly she backed up running through a mental checklist of what she
knew about these creatures.They are shy, don't like scary noises, not very hostile, very curious. She began to form a plan, make a lot of noise and scare it off. Simple as- WOlf gasped. As the creature fully emerged from the water she noticed that it wasnt two dragons, rather one. Just like a Zippleback it had two heads of different mindsets, unlike the ziipleback, it had four wings like a Stormcutter. WOlf decided to
call it the 'Hideous Mudcutter.' But now was no time for fun and games,this may be a new sub species of dragon. As her inner fishlegs emerged, she couldn't let this one n a lifetime oppertunity to go to waste.
Streching out her hand she stepped forward to this unknown creature, the first
step twoards and friendship that would last forever....
TADAAAAAAAA IK it was long but i got emersed in the story.Sorry for any typos, thanks.