Would You Survive The *Hunger Games?*
I know this is kind of unrelated but I spent a few hours working of this and I wish to share it with y'all. I put in a lot of research hours into this so here is the answer to the question you all have been asking yourself: Would YOU survive the Hunger Games?
No spoilers for the actual books or movies so it is safe to take.
https://www.quotev.com/quiz/10500392/Would-You-Survive-The-Hunger-Games
May the odds, be ever in your favour!
__________________
Welcome To My Signature
"If you live among wolves, you have to act like a wolf" -Khrushchev
In Game Name (IGN): WolfandStar
Friend Code: Not Accepting
(By Arrow)
-----------------------------
------------------------------
Wolf
Art was done by Fireflash
Wolf is my in-game character. Her full name is 'Wolf and Star'. She takes on my own personality, which is quite similar to that of Lynx. During quests, Wolf loves to muck around and try to break the system by utilizing glitches- just for laughs, but she always produces reliable results. She is a fair Viking and she never uses glitches for her own personal gain. Some of my profile info will be listed below:.............
In Game Name: Wolf and Star..............
Friend Code: Not Accepting...................
Clan: The Phantom Lords......................
Trophy Count (About): 7,600...............
-----------------------------------------------------------
Characters:
Lynx
Art was done by DuskDayBreak
Lynx is bold and loud. She is like Luna Lovegood in the sense that she is rather... odd. Loud, shameless and weird. She is more animal-like than human. Lynx enjoys being flashy, showing off her skills. Once she sets her mind to something, she is naturally good at it. The problem is that she loses focus easy and doesn't like setting herself to standards. She craves adventure and can grow bored easily. She is particularly fast on her feet but has low stamina levels. She is strong and tall for her age. Lynx is stubborn and laid-back most of the time. She does not like to follow orders. Some of her skills include: being double jointed, the ability to be able to climb almost any surface, very good at mimicking animal sounds and is EXTREMELY good at sneaking around. However, there is a side to Lynx that she does not show very often. She is very lazy and selfish at times, mainly because she lacks compassion towards humankind, caring more about dragons and animals more so than humans. This tendency causes her to be merciless in the face of battle.
..............................Lyra
.....................Art was done by Marg The Loony and Chameishida
Lyra is very sheltered and shy. She suppressed her emotion and looks down on those who do are emotional. Lyra can be rudely sarcastic at times and accidentally offend someone. Don't expect a public display of remorse. This does not mean she is feelingless though, she feels emotion, but, she is just very insecure about it. She does not like showing weakness or personal attachment, more insecurity, and less sociopathy. Though in fights, she doesn't appear to have a sense of honor and isn't afraid to fight dirty. Lyra is willing to do anything to ensure her well being, and the well being of her mother. Which could be a weakness. She values her self-preservation. She usually has her hood masking her pale delicate face, which sunburns easily and long hair.
Nyx
Art was done by DuskDayBreak
One of Nyx's most defining traits is her brash and sarcastic attitude towards everything that breathes. She is the type of girl who does not have to do much to stand apart from the crowd. However, Nyx is no way an extrovert, the reason why she puts herself in social situations is purely one of two reasons, the first one being is that she wants to go people watching. Where she sits in some corner and watches people, how they react and their social cues. She just observes them, untangles their motives and finds their interests. The second reason is that she wants to show up the competition, along with being stubborn, Nyx is a show-off. The problem is, natural talent can only get you so far. Because of her years from people watching, she has become very keen on observations. Smarter than the average person, she is able to look at any given Viking and deduce a thing or two about them. Sort of like Sherlock Holmes but not nearly as skilled. With her great intelligence, comes social anxiety. Nyx buried this under layers of brashness but, this insecurity can be sorted out by the way she avoids social and emotional get-togethers. Due to her inability to express her social anxiety, Nyx finds herself at a lack of friends. She usually plays this off as her not wanting any friends but sometimes, when a dragon is your only friend, you can get lonely. The result, she makes a lot of enemies. Usually because of her showoff-ness and Brash attitude, and sarcasm. In reality, Nyx wants some friends, but she sees this as a weakness and as part of her insecurities which she buries deep inside of her and does not let anyone see. She's not edgy, she's just misguided.
Aeryn
Art was done by Tosilohi
Aeryn also has a sense of show-off-ness, an over-the-top, dramatic character. She takes any given situation, brandishes it with a flare of sarcasm and performs, drawing attention to herself all the while managing to act edgy or sweet, or however she wanted to be perceived. This need of hers to put on a show made her invaluable to the man while she was on his side. Like the theatre kid she should be, Aeryn has expertly crafted this skill of taking on different personas, and she isn't afraid to add in some cliche drama to her dialogue and actions. Constantly referencing pop-culture, Aeryn is interesting, but the tiring person to be around. The problem with her extroverted, boldness is that few get to witness the actual Aeryn, not one of her many characters. In a sense, it is quite similar to the multifaceted personality disorder, only, Aeryn recognizes her many personas. She chooses not to show anyone her true colors due to some insecurities. These different personalities are the shields she has put up for emotional protection. With Aeryn, you never know if her reactions are genuine or just part of the show.
-----------------------------
------------------------------
Dragons:
Nightshade
...............................................................................................................................Edits were done by Rebell and Cocopuppy
Deathstalker
......................................................................................................................Edits were done by Archer and Zikta................. ..................................................................................
Tue, 01/16/2018 - 14:25
#21
Discover The Legend Within
Top 5 - I'm actually proud of that. Being a real Hunter proves very useful.. I had a good run.
__________________
About Me
Female/16/Jehovah Witness/Hunter/Archer/Gamer/Artist/Roleplayer/Writer/Huge Fan Of Lara Croft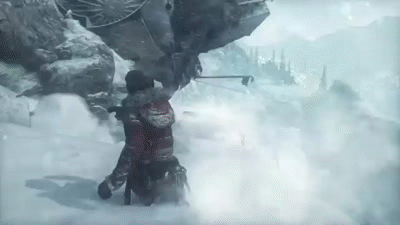 Characters
Mi Viking
Name: AF Mandy Or Mandy For Short
Age: 17
Gender: Female
Friend Code: PM Me
Appearance: Has Brown Hair And Light Blue Eyes - Has A Red Warpaint Thats Around Her Right Eye
Personality: Kind, Brave, Responsible, Adventurous, Smart, A bit of a jokester, Serious when the time calls for it and a thrill seeker. AF Mandy is a great hunter and a type of survivorist. Because she likes to spend most of her day in the woods, she's picked up a few skills.. like creating fires, building a makeshift home, Snares, makeshift bandages ect. Things to help her survive on her own. Mandy is also pretty good at tracking other animals including dragons, but even though she has all these skills.. she has a bit of a fear of spiders, deep down she knows that she can overcome that fear but in time. Now even though AF Mandy is kind, she will not let anyone intimdate her. She will defend herself and she's not afraid to fight.
Backstory: AF Mandy was part of a Village on Dragon's Edge before it was founded by Hiccup and the Gang. Her people were knew as Byzantines but they were more like Viking's rather. Her Father Keiv was Chief and her Mother Lara was second in command. Mandy was one of the brave Warrior's trained by her dear Father, but sadly her parents are dead because of an invasion done by the Dragon Hunters around Mid-night when no one was expecting it. Both Villagers and parents gone forever.
She's the only Byzantine left, she was the only one that survived the invasion. She'd lived alone for about a month or so until Hiccup and his gang came along, they had spotted Mandy hunting nearby and of course approached her. At first she aimed her bow and them, not knowing if they were foe's but Hiccup took control and explained why they were here on her Villages island which they didn't know about. He had told her but dragon's and that they meant no harm to us Viking's; he offered to take her on a flight on Toothless and that sealed the deal. She came to realize that dragon's weren't as bad as her Village had thought.
H
iccup
took her to the School and that's where it all began...
Likes: Hunting, Exploring New Places/Islands, Fighting Dragon Hunter's, Playing With Her Beloved Dragons
Dislikes: Bullies, Spider's, Dragon Hunter's, Pranksters
Weapon Choice: Bow And Arrows And Her Father's Sword
Extra: Can Create Greek Fire
Hybrid
Escapee, Hunter or Wild?: Escapee
Natural Or Experimetal?: Experimetal
DNA Mix: 50% Human - 30% Wolf - 20% Tiger
This Character Is In 'Caged' And 'Hunted' (RPs)
Appearance: Has a Wolf form but has Tiger patterns on her fur. Has light blue eyes ((See Pics Below))
Personality: Adventurous, Curious, Smart, Does jokes in the worst possible moments, Gets the job done type of Hybrid.... She's strong and brave but even though she may be brave... she can also be broken. She's protective of other's.. she never likes to leave others behind, no matter what. But the personality that stands out is that she is kind and caring... but if you push her the wrong way... well... don't expect her to stand there and take it, she will defend herself. Has a cat-like personality as well but it only triggers when theres things that cats like.
Strengths: Herself and other's. When in a fight she relies on her Tiger DNA for flexibility and agility, those cat claws of her's are nothing to joke about... those things are sharp so don't be on the other end. Sometimes she uses her Wolf DNA for things like - Tracking... she can smell scents that are like 5 days old but one thing that she likes is her advanced hearing.
Weaknesses: Being told shes not good enough, other's that she cares about, remembering her past is something that really makes her bawl and losing her mother.
Extra: Tigerlily was born a human, she was just a normal teenage girl going to school... hanging out with friends. Her human name was - Lily Trail. Her parents are - Elizabeth Trail and Harry Trail but this is not one happy family.. her parents are divorced, reasons .... well... Harry wasn't the most sweetest huband or the most loving. Tigerlilys father is a shelfish man, ruthless and someone who will do anything for money. Because of his selfish personality, he kidnapped his daughter and sold her to a place called the Dome. He did all that just for money. That's how she got into this mess of escaping the Dome and being hunted down by hunters with other hybrids and is no longer a human but a hybrid. Has a crush on Hawk.
Young Super Character
Name: Elizabeth Newton
Age: 17
Gender: Female
Crush/BF/GF: None Yet
As The RP Progresses will your character be a Hero or a Villian?: Hero
Theme Song: No Roots - Alice Merton
This character is in 'Alienated'
Appearance(Picture if available, and if not a good description):
Personality: She's a bit shy at first but once she gets to know you more, she'll be more talkative it doesn't take long for her to get used to someone really. Adventurous, Curious, Smart, Kind, Caring and a Jokester. She's extremely protective of her little sister Susan whos Nine years old. Elizabeth is also brave and strong but even though she's brave.. she can also be broken.
Powers: Animal Morphing And Ice Augmentation
Likes: Loves to take long walks on the beach, Watching the sunset, A game of hide and seek because of her little sister, Art, Singing and Dancing.
Dislikes: Bullies,Thieves, Pranksters and The SGO
Strengths: Multitasking, Stealth, Herself and a Planner
Weaknesses: Being told she's not good enough, something that may happen to her family especially her little sister. Not good at tracking.
Powers Limitions: Unable to communicate to others in a Animal form. Has a bit of a problem with controlling her Ice Powers like accidently freezing her door shut.
Anything Else: Lives in a family of four. Her fathers name is Jake, her mothers name is Lara and of course there's Susan, Elizabeths nine year old sister. Elizabeth was born with her powers but it wasn't revealed until she turned eleven, thats when her parents were shocked to see that their daughter had the powers of Morphing into an Animal and Ice Augmentation. They knew they had to protect her from other people who may try to kill her or experiment on her. Now, once Susan was born and grew old enough.. Elizabeth showed Susan her powers, at first Susan was scared but after Elizabeth started explaining Susan found it to be cool and wished she had powers like her older sister.. though Elizabeth is hopeing her little sister doesn't.
Coming Soon - Artworks From Others And Other Things