Woolly Howl SALE!
The beginning of spring has arrived and Hiccup is encouraging Vikings to befriend the Woolly Howl with this week's newest sale!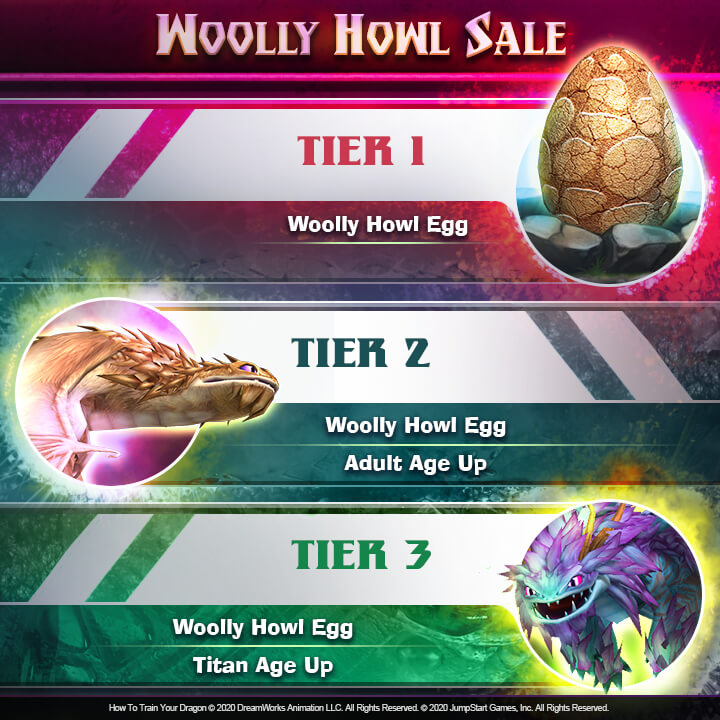 Early this morning Hiccup headed to the Trading Post where he found a crate of Woolly Howls and inspired with the beginning of spring he decided to set up a weekly sale. Vikings can now train this chilling dragon and age him up to a Titan, depending on the bundle.
Only the bravest of Vikings will take this opportunity to explore the School grounds as not everyone has the skills needed to train this dragon. This dragon is known for its chilling blasts of ice and its speed but the Titan Woolly Howl displays a stronger blast of ice and razor-sharp talons on its wings.
Those willing to face this fearless dragon should head on over to the Trading Post and begin a new adventure alongside the fierce Woolly Howl with this latest sale!
Thu, 04/02/2020 - 11:50
#2
COBRA-LALALALALALALALALALALALALALALALALALALALALALALALALALALALALA
They used to do sales alot. Usually a dragon egg would be discounted the first 3 days after its release. Personally I've been enjoying the sales as opposed to random new farm decorations or something.
Plus, it's highly speculated that they're working on another big thing right now (all the signs are there) So... they're doing sales in the meantime to keep us busy. So.. yes. Another sale.