Winter Farm Glitches
Strange things have been happening at Gorge and Gargle's Peaceable farm lately. Come and have a look at the weirdness the two have encountered in this month.
One day when Gargle went to his family farm along with Headvord to gather eggs, there was suddenly a second Elder Sentinel Dragon that looked just like him! They both roared at each other. the one in the middle of the farm wouldn't move from his spot.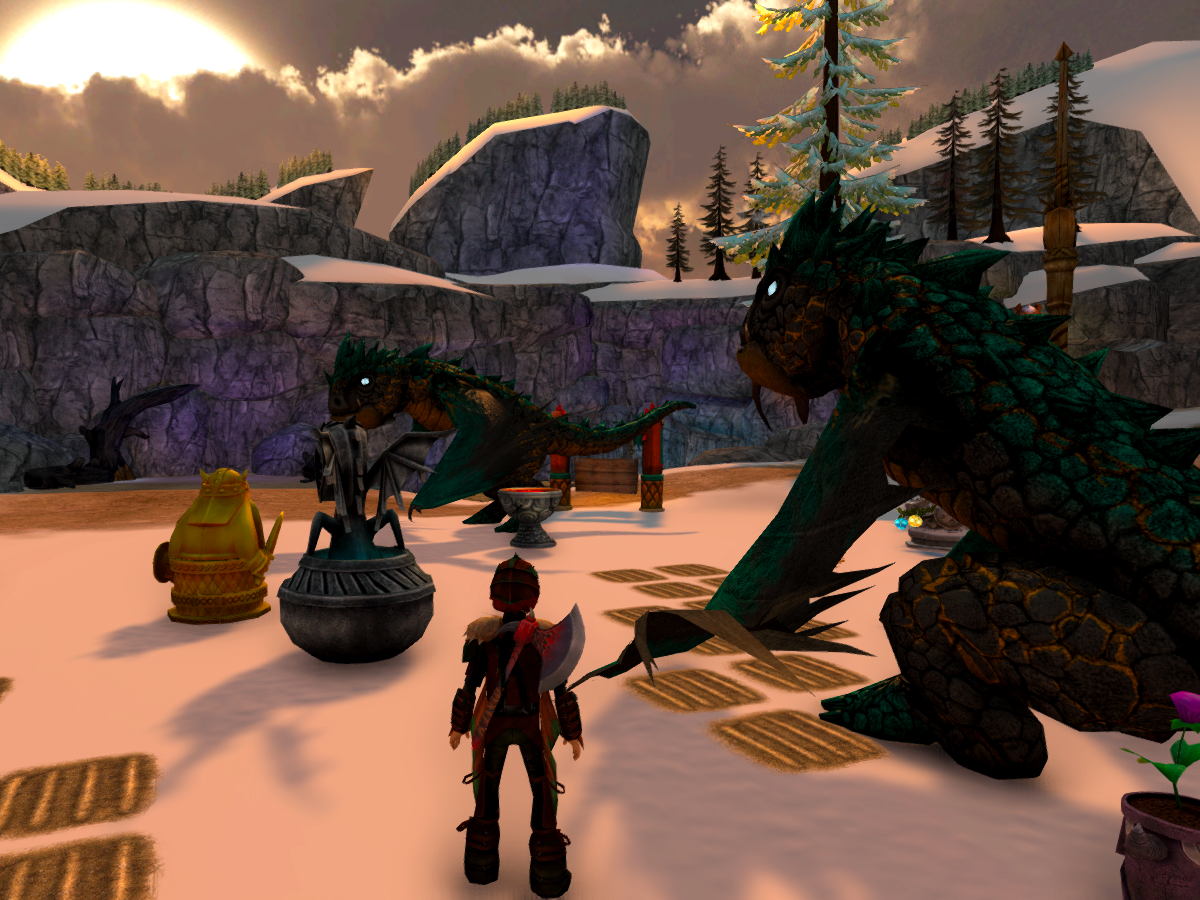 Have you noticed anything unusual going on at your farm or elsewhere this Snoggletog season?
__________________
Gorge II
Level 50
340000 UDT points!
Critical thinker; artistic; patient; obsessive over things he loves; absent-minded
Brightslime is all grown up!

Battle High Scores:
1. Globstract - 1134
2. Streamglide - 1095
3. Sparkflare - 1070
4. Headvord - 958
5. Flingshot - 900
6. Grimpinch - 895
7. Bulkshield - 859
8. Brightslime - 736!
Sparkflare Streamglide
Female titan wing Nightmare Male Windwalker
Level 50 Level 50
Found July 18, 2013 Rescued July 23, 2016
Cheerful, ferocious in battle, Caring & comforting, dragon rescuer,
distracted, excitable, reckless brave, stealthy, nimble
Globstract Flingshot
Female Death Song Male Singetail
Level 50 Level 50
Adopted Nov 11, 2016 Bonded Feb 12, 2017
Reclusive, disobedient, Sociable, co-operative, curious,
showy, artistic, cheeky lively, protective of me
Gargle
Persistent & focused; mature; outgoing; confident; short-tempered
Bulkshield Brightslime
Male Rumblehorn Female Flame Whipper
Level 50 Level 42
Hatched Jan 1, 2015 Adopted June 11, 2017
Friendly, stubborn & determined, Adventurous, likeable, observant,
moody, tough, heroic has quick reflexes, poisonous
Headvord Grimpinch
Male Sentinel Male Deathgripper
Level 50 Level 32!
Befriended Oct 10, 2018 Befriended Aug 30, 2019
Dignified, benevolent, tenacious Dangerous, touchy, submissive
Sat, 12/14/2019 - 11:25
#2
Chocolate is subject.
I floating pink saddle after I go to farm.. After I fail visiting meh sis. Bright pink saddle and Zzz Zzz
__________________
My siggy.
1).If I say stuff, I mean no offense to people whom I mention.
Don't hold my words against me. I'm serious!
I'm not mean. I'm not holding grudges. I'm just... Ally.
Don't make me seem like a demon.
Don't make me seem like an angle. Because I'm neither!
I'm just..Ally.
When I'm upset, leave me be!
When I seem like I want help... Do what you want.
When you need help, I've got your back, as long as you've got mine...
Dragon list!
Nadders: PinkxLemonade. Troublexmaker. GoldenxHeart. Yakstacker. (Others I can't remember!)
Zipplebacks: Sugar and Spice. (Other I can remember)
Deathgripper: Scorpio.
Groncicles: OreosxFrostbite (when we were friends :c). FrostxLilly (I think?)
Speedstingers: Thorns. StupidxChris (Glitched?! And don't blame me abt dat name!)
Lightfury: Hopestrike
nightfury: Howlnight
Woollyhowl: Whisper The Winterwolf
(All I can remember!)
My story...
When I was born, I WAS a bludvist. But I was stolen, and along I went, stolen till I ended up with hiccup. A dragon stole me.. Left me surrounded by wolves. Then I was brought back to Drago, by a scout. Raised where I belong, I have many sibs. Too many to count! I'm too close to my oldest sister, storm. Now, I'm extremely loyal, and I'm willing to defend my family, friends and clan (even though king annoys the fudge-cake outa me). So, do me a solid, don't get in my way of defending my sister :l.
name: IXIAllyBludvistIXI
gender: female
Main dragon: Misty, Female titan flightmare
friendcode: Gepziz
Clan: EthicalxWarriorsz
Catchphrase: EEEEEEEEEEK!
Hobby: Pushing gut into water... Hehe
Family:
Storm
Gutlout
Iern
Kela
Fuz
(Ect....)
misty's personality:
Misty can be a pain.. She's too energetic!
And she freezes everyone!
Misty as done by frugal!
Oh.. And.. Plz help me hatch my little dragons on dragoncave? Please? Here's the link:
https://dragcave.net/user/Reborn-Shapeshifter02
Who's online
There are currently 16 users and 98 guests online.