WingsMaidens Flightsuit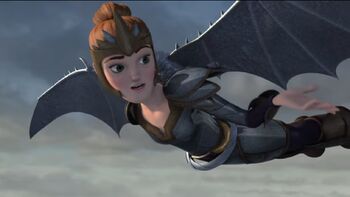 It would be great to WngsMaidens' look/outfit be made into a flight suit. It need to include the Razor Whip baby dragon on the back.
Sat, 02/24/2018 - 09:43
#5
That's exatly what I was
That's exatly what I was thinking about. Or, maybe, an easier version of this idea: the flight suit is available when and only when the player posesses a baby razorwhip.
Or maybe it could be realized as another way of riding of a dragon - Dragon Carry Me. You know, a person can sit in the saddle and the dragon flies. Why can't the person be fixed under the dragon and let the dragon fly? Well, I suppose there would be a few issuis with landing, but that would be AWESOME!
Tue, 02/27/2018 - 05:09
#6
No subject, sorry xD
Or maybe if you could choose either your dragon will stay as a baby and it will carry you or it will grow up and you will sit on it.(Ofcourse it wont be forever for example if you want an adult dragon you could still go to hatchery and grow him up).
Sat, 02/24/2018 - 21:54
#7
I thought of that too but
I thought of that too but what if we don't have one? Could we maybe use another baby dragon that's not a razor whip?
Mon, 02/26/2018 - 10:51
#8
I don't think so. The whole
I don't think so. The whole idea seems a bit ridiculous to me. Anyway, if we postulate thet razorwhips can to this thing, that doesn't mean that other dragons can do it.
However, Razorwhips have one of the best Wing Span divided by Body Weight parametres, and it gives them the possibility to perform really thicky things.