Will Write Fan-fiction for You
Hey there! So this is Rhei, recently I have seen people offering to write pieces for others, and others asking for some. I have been writing some of my own, albiet unpublished yet, and thought I might try my hand at this.
What I would need to know is the
Who
What
When
Where
Why
How
As well as little details about the characters. Character info I might need would inclue
Backstory
Apearance (pictures would be great)
Personality
Likes/Dislikes
Dragons
Weapon
Skills
Other
You can PM me to tell me, or post it here. I will only have three spots open, in case I get busy, if you have anything for me to write, then please tell me!
Rules
1: No Magic
2: HTTYD only, as I am unfamiliar with most other shows
3: Romance, Violence and Gore are allowed, but please don't make it over PG13
4: I will not write profanities into the dialouge
5: Sudden plot twists, crazy random ideas shot at me halfway through, and total recreations of the story are not only allowed, but incouraged. If you want me to rewrite it, then I will.
As long as it follows the above rules, I will write ot for you. I can only do three at a time, but will reopen spots once I have finished. Also, please tell me if you would like the piece posted on forums or PMed to you. I can do either.
-Rhei
Tue, 07/03/2018 - 10:49
#2
"Do NOT let them escape!" *lets dragons escape* "Umm, oops?"
Heya! How about one for my OC Raineir?
Who: Raineir Feralsome (Rain for short)
When: first HTTYD movie
Where: Berk
Backstory: Raineir never participated in fighting dragons. She knew there was more to the winged creatures than was believed. Prior to Berk's peace with dragons, Raineir was Hiccup's only friend (besides Gobber). She believed in his potential. About one month before Hiccup shot Toothless down, Raineir discovered a wounded Skrill in Berk's cove (yes, THAT cove), surrounded by dragon hunters. She defended the dragon, threatening the hunters with her Gronckle Iron sword. Upon doing so, she discovered that her sword has the ability to shoot out bolts of electricity. After gaining the Skrill's trust, she and her new friend, who she named Flash, became very close to one another. Raineir later reveals Flash to Hiccup after they both discover the Night Fury's missing a tail fin.
Raineir is virtually immune to electrical shocks, which don't hurt her in any way. Of course, if she were to be struck by lightning, she would feel a little shaky, but otherwise fine.
Appearance: This is what she looks like in the first movie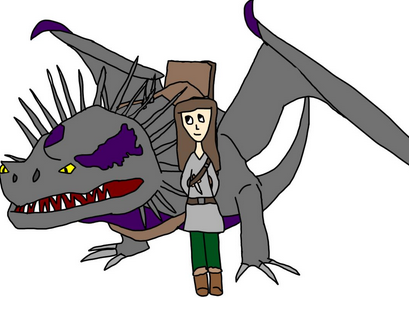 Personality: Raineir is very kind, compassionate, intelligent, and resourceful. She dislikes killing unless she feels like she has to. She is fully willing to fight to defend her friends and family. She always tries to be nice to other people, though she will call them out if they being irrational, mean, or stupid. As one of Hiccup's only friends in the first movie, she does not hesitate to defend him from the other bullying teens, as well as Astrid.
Likes: dragons, exploring, drawing, spending time with Flash, spending time with Hiccup, her parents
Dislikes: killing, bullies, dragon hunters, Mildew (but who really likes Mildew anyway?)
Dragons: Flash the Skrill, and Scout the Terrible Terror she befriends later on
Weapon(s): A Gronckle Iron sword she calls Electro, due to its ability to shoot out bolts of electricity. Before the tv series, she didn't know specifically what Gronckle Iron was.
Skills: Raineir is very nimble and athletic, able to skillfully dodge her opponents with ease, also a proficient swordfighter. Also, with time, one of the best dragon riders and trainers, along with Hiccup.
Other: Raineir's Skrill, Flash, has noticeable scars from her encounter with the dragon hunters.
Also, her Terrible Terror, Scout, who Raineir befriends later on in the movie, is pink with a yellow underside and reddish brown horns and back spines.