Whispering Death Sale!
A new sale has arrived at campus featuring the razor-sharp Whispering Death!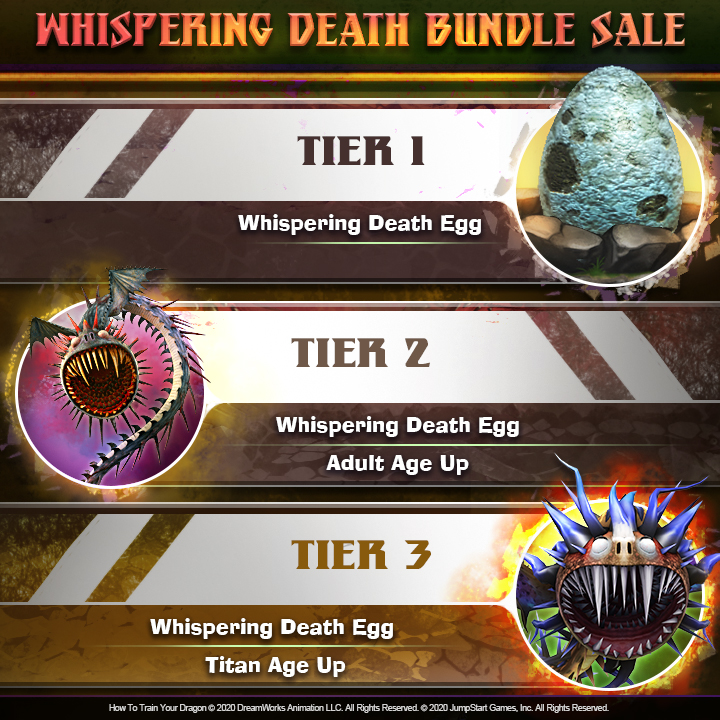 It was early in the morning when Hiccup opened the doors to the Trading Post and began telling Vikings of this latest sale surrounding the Whispering Death. While this dragon is usually found underground, Vikings can still train them and use their speed to explore the Berkian Archipelago. Their long, thin, body is quite flexible and can be used to speed up and fly faster, so Vikings training this dragon can head on to Thunder Run Racing for a quick lap or two.
The sale also includes the Titan age up which will allow Vikings to speed up their dragon's age and train the fearsome Whispering Death Titan. The titan is not only bigger but is also equipped with larger and sharper teeth.
Those ready for this challenge can begin their dragon-training journey by visiting the Trading Post today!
Thu, 09/17/2020 - 08:40
#1
.
Can the forum have a little chat with the devs please? First of all you can get this for FREE. In fact I have way too many. Secondly while sales are great and all, the devs' priorities shouldn't be money at this point, it should be fixing their broken game. And if they simply cannot bring themselves to fix bugs that players have been BEGGING them to fix, then at least give us something to do. All I have left is riding around on my dragon for a couple minutes before getting bored. Would it kill the devs to make a quest board that doesn't involve farming? That's something. I could go and look for items or fly through rings or whatever. And it doesn't even need a prize, I just really want something to look forward to in the game and there's nothing left.
Thu, 09/17/2020 - 10:13
#2
...
I'd like to point out that titan Whispering Deaths are experiencing a glitch right now. They appear to have the hero skin on even if you haven't equipped it. Both of my titan WDs have the hero skin look even though I never put the hero skin on either one of them. The only way to work around this glitch is to put some kind of paint on your titan WD so you can see their normal colors. I'd really like this glitch fixed so my titan WDs can have their normal colors again.
Thu, 09/17/2020 - 14:03
#3
Never fear, for Blobby's here!
My titan W. Death was my main battle dragon, then this glitch happened and since I really don't like the hero skin or any of the paints, I can't use it anymore (won't, I guess would be the better word).
Thu, 09/17/2020 - 15:31
#4
...
Yeah, it makes me really sad that you can now only see their normal colors if they have a paint on. Guess my titan WDs will be staying in their stables for a while.
Wed, 09/23/2020 - 11:21
#5
Flare ate my subject (and lunch)
I know! The glitch was happening before the sale for me. I put some paint on my WD to fix it, but I still can't stand it. The devs really need to fix it.