Which one?
So
I am saving to buy a dargon
I gots 617 gems so still a while
BUT
do I get a triple stryke or a wooly howl
Pros of triple:
Looks frickin awesome
Everyone has one
Pros of wooly howl:
Wanted one since they came out
Furry
Good racers
Awesome
I was thinking wooly howl
Because
One time I saved up my gems to get a razorwhip but whaddya know I get a free membership and I'm stuck with a razor egg
Do not want that to happen with triple
So yeah what's better
__________________
MERP
In Game Name: gianntgg
Main dragons: Saphirra (titan Razorwhip), Death (Monstrous Nightmare, hey I was younger when I came up with the name dont judge), Athena(titan Stormcutter)
Adventurer level: 35
Stars: 1.5 golden stars
Trophies: uh 300+
Clan: Racers from Pure Darkness (but may change if asked by the right clan via pm)
Clan Status: Leader
Trained dragons: Umm 25 or something
Un-hatched eggs: 1
Titans: 2
My farm: Dragonfarmer (so uncreative ikr)
Playing since: first or second year it came out
Friend code: 6tgfv (but please pm first so I know who you are!)
IRL me:
Name: Ah, well it starts with an S
Age: yeah NO
Birthday: Jan 13
Nationality: merca
Hobbies: drawing, reading,well the list goes on
Favorite Musical Band: Imagine Dragons
FANDOMS
Harry Potter (Ravenclaws Ravenclaws oi oi oi!)
The List Goes On...
LINKS!
Modernized Viking Drawings (Open until spots close, and when they do if I finish one then they will reopen)
DRAGON OR VIKING EDIT REQUESTS (OPEN)
ANOTHER EDIT REQUESTS (DRAGON OR VIKING (OPEN))
The Story of a Warrior Tracking Thread
The Story of a Warrior Chapter One
The Story of a Warrior Chapter Two
The Ravers-A SoD RP-Finished-On the Last Page, I Drew Some Art, Check It Out!
Friends on SoD (game)
(No one you'll know)
Roxlied
queen isabella
Marigold brave
liza the first
Astridrdc
Giantrdc
Friends On SoD (forums)
I Am Unsure Who Wants To Be On This List Or Not So Um Idk
Pm Me If You wants to Be Here
KittyLlama
Profile picture recolored by me
Sat, 01/06/2018 - 13:26
#3
:)
Get the Woolly Howl because it's absolutely gorgeous, and the titan version is even gorgeouser. XD
__________________
Hello! I'm Brynne.
This gorgeous lil' gem of a picture drawn by TosiLohi. :)
By the wonderful Katarile!
Made for me by the lovely Georginia47
so cute XD
by me
Pudding Cup by ShiroKageFox. TYSM! :D
~The Amazing Pudding Cup~ by the talented KittyLlama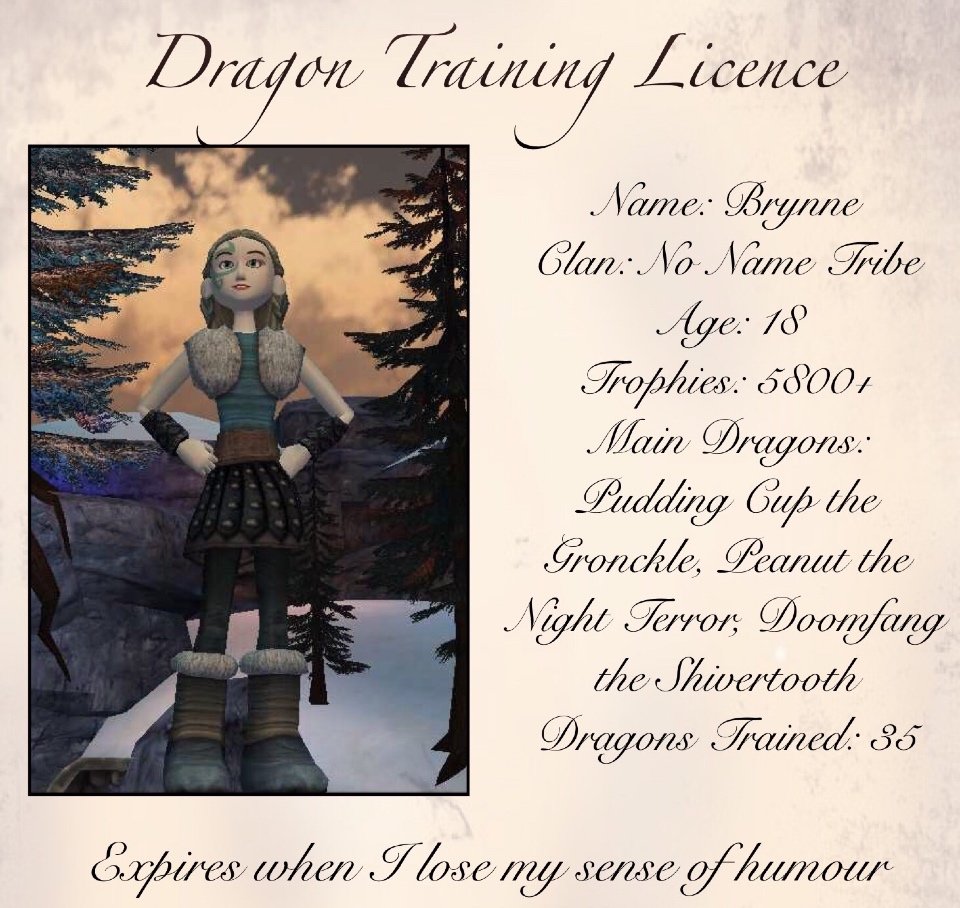 license by the sweet Hestia82 :)
UDT:
400,000 points. >:D
Friend Code:
ENJIYH
Dragons:
Pudding Cup, Female Gronckle- Sweet and always dependable. She sleeps cross-eyed.

Violet, Female Changewing- Named after Violet from The Incredibles. Fond of swimming, and up for any adventure.

Norbert, Male Death Song- Really likes firing at other players. He's... not quite right in the head, and may retain some cannibalistic instincts. Not afraid of the disgusting smell of the Dragon Bloom.

Zappy, Male Shockjaw- Fast. Really fast. We do a lot of racing together, and he doesn't put up with nonsense.

Oddmund and Dinkly, Male Zippleback- When I first

hatched

these guys (this guy? who can tell), I took them to practice their fire skills at a fire pit. They lit it successfully, then promptly laid their heads in the flames and went to sleep. True story.

Lucius, Male Groncicle- Named after Frozone from The Incredibles.

Adelaide, Female Raincutter- Named after Snotlout's little sister from the HTTYD books. Likes battling Berserkers.

The Hulk, Male Rumblehorn- Likes going on stable quests, doesn't really like to be ridden.

Dash, Male Speed Stinger- Again, named after Dash from The Incredibles.

Puddles, Female Mudraker- She's pink, and lives up to her color.

The Whisperer, Male Whispering Death- Cranky, stubborn, tries to eat me occasionally. His name sounds uncreative, but I love the Mysterious Benedict Society. :P

Horrorcow, Female Razorwhip

Eggingarde, Female Flame Whipper- Helpful and good at racing.

Tony

Stank

, Male Armorwing- Iron Dragon? No?

Dr. McCoy, Male Boneknapper-

hurhurhur

i'm

so punny

Doomfang, Male Shivertooth- Named after the Doomfang from the books. Affectionately nicknamed Dinosaur.

Old Wrinkly, Male Smokebreath

Susan Storm, Female Typhoomerang- Because she looks like Torch's sister.

Cinnamon, Female Monstrous Nightmare

Emergency, Male Singetail

James, Male Eruptodon

Florence, Female Hobblegrunt

Squirrel, Female Moldruffle

Dottie, Female Sweet Death

Furious, Male Terrible Terror- Even Furious was a baby once. Hard to imagine, isn't it?

Max, Male Skrill

Madgesty, Female Stormcutter

Thunda

From Down Unda, Male Thunderdrum

Lloyd, Female Thunderdrum

Tricycle, Female Triple Stryke

Peanut, Female Night Terror

Innocence, Arrogance, Patience, and Huh?, Male Snaptrapper

Tater Tot, Female Hotburple

Hairy Scary Librarian, Male Wooly Howl
Second Viking:
CrystalSnowdrop
Clan:
Isle Of Gazoo
Main Dragon:
Rhonda, Female Flightmare
You can PM me for art requests if you like. :)
Who's online
There are currently 35 users and 92 guests online.