Which Dragons from the HTTYD Books do You Want to See on Campus?
Mon, 03/28/2016 - 08:52
#161
Isn't a Toxic Nightshade
Isn't a Toxic Nightshade tiny?
Tue, 03/29/2016 - 12:38
#162
Bigger species & more unique designs
While I wholeheartedly agree with you about dragons with the same body structure, I can't comprehend why you would say these two nanodragons are your favourites. Are you aware that the Arsenic Adderwing is the one that looks the same as the Glow-worm with the exception of the tail? I'm just wondering how you can say that you actually like this literal slug with wings.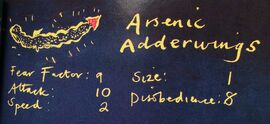 The Toxic Nightshade is similar to a desert lizard. I remember seeing a fan art of this dragon which took a lot of artistic liberties. It was blown out of proportion and I think this is part of the reason it became so popular.
In any case I would prefer it if the art department made the book dragons distinct from the others. They have certain characteristics that distinguish them from the ones in the franchise. For example, I would like to see them with the teeth pointing down, arrowhead shaped tails and eyes further back from their noses.
I realize you are trying to give some leeway if they decide to create some of these suggested species. Making nanodragons big enough to ride doesn't seem like it will turn out well though. They already jumped through hoops to justify the Prickleboggle's size, so next time it may be better for the game developers to choose a species that is already big enough.
Tue, 03/29/2016 - 19:12
#163
To be technical, a
To be technical, a classification is not given for the arsenic adder wing, I don't think, though we can guess it's a nanodragon. The Toxic Nightshade is a small Bog dragon, not a nano (still not riding size!)
Really, the nightmare, Gronkle, and Nadder are not supposed to be rideable in the books, but they are in the franchise. So I think any dragon from the book is fair game to make rideable. But, as you say, there are lots that are riding size in the books that can be looked at for inclusion in the franchise!
Also to note - I think I remember reading that a lot of the hobblegrunt and Snafflefang body types are derived in part from HTTYD 2 and the background dragons. Evidently Dreamworks played mix and match body parts on the same frames, or something like that. A few are totally SOD reusing bodies, though.
Personally, I don't mind if the Franchise "super-sizes" smaller book dragons to ride (or shrinks the over large ones). Certainly they won't be exact as the book to fit into the Franchise, but I would like to see them honor the key characteristics and abilities of the species they pick. For example the arsenic adder wing should have poison abilities, have a serpentine body type, and have that red spot on their tail. I don't think in the books they are depicted with limbs, but not going to be too put out if they have a pair!