Whaaaaaaaaaaaaaaaaaaaaaaaaaaaaaaaaaaaaaaat?????????????????????????????
I just don't get what's up with a psyco chicken: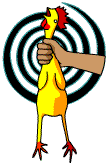 It looks like a rubber chicken getting betrayed trying to hipmotize you.
Its really loco!
This loco chicken I belive would be better if it was not a chef.
He would be in super big trouble if it was real.
What does this chicken think he doing?
A pirate?
That one is REAL NUTS.
True thing they are all:
s