Well- This Was Rather Unexpected...
Alright- so. Like any normal SoD player, I logged in today. Like any normal SoD player I saw the second loading screen. And (probably) unlike any normal SoD player- I choked on my orange juice when I saw-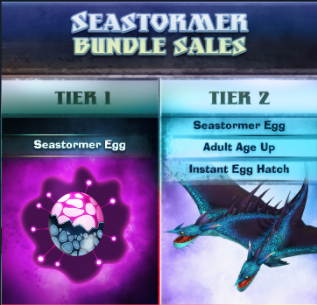 I don't know what to say.
On one hand this is a great oppurtunity for people who missed Thawfest to flourish and prosper in Dragon Tactics and Battle Events (and maybe something else- I don't know really. )
On the other hand- this kinda just ruined events for people. If they can't get Le Grande Prize on an event somewhere in the future- they're just going to think "Oh I dIdN't FiNiSh My eVeNt ThIs TiMe. NeVeR mInD- i'lL jUsT wAiT a FeW mOnThS aNd tHeN i'lL hAvE iT- WoRkInG eVeN lEsS h.ArD tHaN thOSe WhO fINiShEd ThE eVeNt In TiMe."
And- I'll just skip the huge rant I was planning to type out, what are your thoughts on this?
Wed, 09/22/2021 - 04:27
#7
~
This always happens. Ever since the 'exclusive dreadfall only' dragons got plopped into the store not very long after the actual event was over and done with. People rightfully got upset about it so the 'exclusive' part was dropped from future events.
My personal thoughts are... well, I'm not sure. To be honest I skipped a bunch of events since the first dreadfall because I had no reason to grind in the game when I could do literally anything else and get the dragon later, without any effort. I'm happy that there's no FOMO idea anymore, I guess, but it does make the events feel unrewarding.