Welcome to the Semi-Finals!
As we now wave goodbye to week 2, we greet the start of this week's Semi-Final round! The TOP 4 clans can now grab their armor and mount their fastest dragons as they battle it out for the reigning title!
Head inside the School to finish what they started!
Week 3 starts….NOW!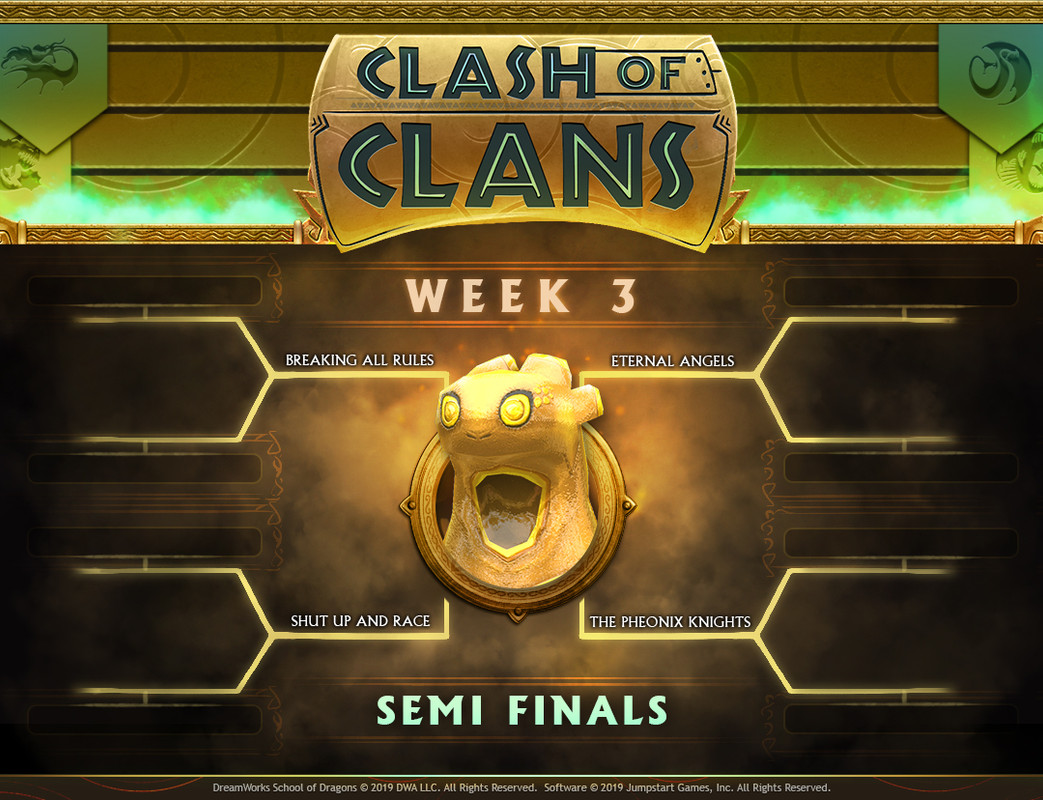 These 4 remaining clans will be paired off and go head-to-head to see who can make it into next week's finals. Don't forget to look back at the "Announcement" post for a rundown on all tournament details.
These top 4 clans have earned their rightful place into the Semi-finals and shall continue to battle for the title! As for the rest of us, let's join the stands as we cheer for the remaining clans.
Race with passion and bring glory back home!
smarturl.it/CoTCsifnls
Mon, 04/15/2019 - 13:45
#2
...
They don't give anything out to the clans who didn't make it. You have the reward of knowing you did the best you could but that's it.
Mon, 04/15/2019 - 18:03
#3
It's ok! It was great being
It's ok! It was great being in the Top 8! it was a great experience!
Mon, 04/15/2019 - 21:26
#4
~
Apparently, there's supposed to be "great rewards" for clans that
don't advance past the Top 8. What that means and whether or not
they'll actually get something is an entirely different thing. lol
SOURCE: Clash of the Clans 2019 is Here!
Tue, 04/16/2019 - 10:07
#5
...
Totally forgot about that. hahaha. If they actually get something, I bet it'll a box of fish or something like that 1 year. I can't remember what year that was but I remember that the announcement was something about it being a coveted prize and it turned out to be a box of fish.