Welcome the Armor Update at the School of Dragons!
Soar into more extraordinary adventures with the release of the Armor Update of the School of Dragons!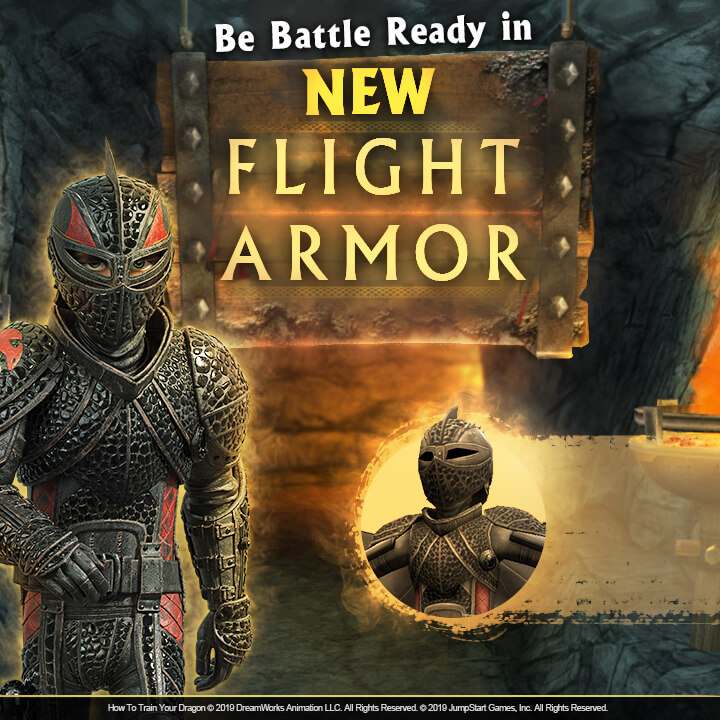 Discover new features and jaw dropping items that will help Vikings create unforgettable memories alongside their dragon companions!
A few things Vikings can look forward to with this new release is the welcoming of Hiccup flight armor, as well as the ability to fuse armor and weaponry in Dragon Tactics!
Vikings all around are rushing to armor up and embrace the appearance of the Chief of Berk, giving Dragon Trainers the opportunity to embody the strength and leadership that Hiccup possesses. The suit was designed to look like Hiccups beloved dragon, Toothless, and it exemplifies a large part of Toothless fierce characteristics and fearless personality. Vikings wearing this suit will ride like the ultimate dragon rider while remaining a warrior at heart!
There is more than just a flight suit! Vikings will now be able to fuse both weapons and armor in Dragon Tactics for stronger and more powerful stats. This will allow to defeat foes trying to disrupt peace at the School and help Vikings become a mighty opponent for battle!
Great changes are upon this new release that will encourage all Vikings to ride at extreme heights! So, glide high amongst the clouds as your beloved dragon will always be at your side for every catch!
Tue, 06/11/2019 - 11:20
#2
Swoopin' In!
This is fine and dandy and all but I'd like to point out a few things.
1: Still can't make your dragons black and existing paint issues remain intact; such issues include the Deathgripper having the Hero Skin/default look in Dragon Tactics no matter what color it is and paints that aren't Titan friendly (Red Racing Stripes for the Stormcutter and all of the Rumblehorn's paints are some examples). In addition to that, there's an additional skin/paint issue that makes certain dragons have weird textures and turn white; I've heard some people say it happened with the Shockjaw Hero Skin and I saw a Skrill wearing the warpaint have the same problems.
2: The update isn't available on all platforms (at the time of writing). So far I've only been able to get the update on the PC version (not Steam) of the game. And yes, I've done the whole uninstall/reinstall the game and restarted my phone.
3. The dragon order glitch/bug is not only still around but is happening to Viking slots as well.
4. Titan Scauldron still has a double neck thing going on.
That all being said, allow me to express what I do like about this update.
1. Dragons that didn't have FiFA (Fire-in-Flight Animations) now have them; such dragons include the Skrill, Thunderdrum, and Hideous Zippleback.
2. Hiccup's Night Fury armor.
3. The newest addition to the Dragon Tactics roster: The Crimson Goregutter!
4. The mysterious purple cave on New Berk; I wonder what it could be?
5. You can now use your Flight Suit on New Berk.
I'm sure there's more to explore but the update isn't exactly. . .stable. I've endured two crashes in the past hour while trying to see what's new, what's been fixed, and what's [still] broken. Hopefully it'll get fixed soon or just resolve itself on its own.