Unlimited RP; Town of Strangers
Plotless general roleplay, until I decide to eviscerate someone's or several someone's backstories to make one.
CHARACTER REQUIREMENTS
Let's get some variety! Yes this is set in the base HtTYD universe (because it's one we're all familiar with), but you don't need to be a dragon rider or trainer or anything dragon related at all. Make a brand new fresh character, get something completely outside the box, or opposite end of the spectrum and make someone entirely basic and the kind of thing that usually goes ignored in the background.
Have some mystery to them! A loose end in their story or a missing piece to the character, if I'm gonna be cobbling together a story from you lot, it helps to have some kind of unknown element about your character that I can surprise you with later.
Optional third element is to give them an enemy which you give to me in either a solid complete state, or just a vague idea for me to finish and match to the character.
RULES
If you have posted recently in the roleplay, say within the last 24 hours, and only one or two other people have responded, don't post again until more people have had a chance to respond. This is usually how people get left behind and drop out. If it's been more than 3 or 4 days of inactivity, however, feel free to continue.
This won't be abiding to httyd lore and cannon in any recognisable way, shape or form. Consider yourself warned that FICTIONAL and even possibly ARCANE events may occur!!!!!
I know my character wouldn't pass the standard httyd character bill, that's for sure!!
Watch me steer this thing directly into crossover territory and just try to stop me
[every other basic roleplay rule and request of being nice or whatever y'all know the drill]
Wait for DNR with spots and additional info before posting.
Thu, 12/06/2018 - 11:50
#2
.....
Edit: Sorry about the reply... I'm new to this kind of thing and didn't know how the forums worked (what in the world? No editing if there is a reply?!) or what 'dnr' stood for.
Again, my sincerest apologies and I won't do it again.
Thu, 12/06/2018 - 10:29
#3
*sigh*
Dude, now he can't change it. Now he can't add spots. I'm being polite and only replying to his post so that you can change your post if you feel inclined to do so. He even said, "DO NOT REPLY' which is what DNR stands for. Do not reply directly, is what all roleplay hosts and drawing request takers who have any common sense say.
Thu, 12/06/2018 - 17:47
#4
Thu, 12/06/2018 - 18:10
#5
I feel like tuffnut when astrid yelled TEARS!!!!!!
rrrrrreeeeeeEEEEEEEEEEEEEEE-
Sincerest apologies, my mom talks like that... ex: our dog MilkyWay is female, but she still says he. Sometimes she calls me my her OWN NAME. So... oof
O ya and I'm mistaken for male all the time when tryin to find a bathroom in a gas station~~
Fri, 01/04/2019 - 23:38
#8
Sure Why Not...
Seems interesting.... sooo here.... I'm working on his picture, but I'll add that later...
Name: Kyrr (Quiet) Leynask (Hidden)
Race: Human
Age: 19
Attire/Appearance: He has blond hair with black streaks and heterochromia eyes, left being green and right grey. Wears a grey cotton long sleeve shirt with a black leather over shirt on top. A jacket made of changewing skin that can be flipped around to turn him invisible. Slim leather pants with buckled up flaps of changewing skin which may wrap around his legs and feet to provide the same hidden effect as the jacket. He's lean, and about average height, has a few piercings with other random accessories.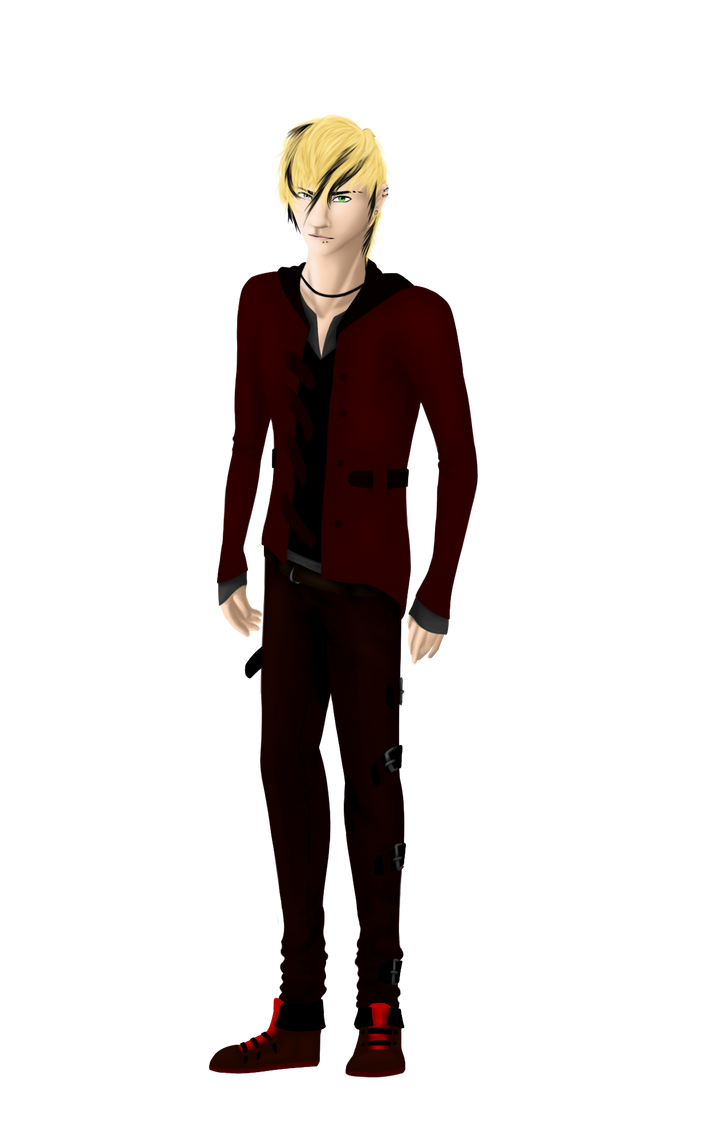 Personality: Adventurous yet snappy, witty, and periodically sarcastic. Has a creative mind but does tend to be selfish at times. Sociable to an extent, but generally talks most to close friends, otherwise is vague with responses. If he is curious about something however, he will talk non stop with questions after questions.
Strengths: He has a wild imagination, and is very innovative. He's a quick thinker and rarely acts before thoroughly going through his possibilities.
Weaknesses: Is easily annoyed by certain sounds or actions, and is very indecisive at times.
Other: Has a Light Fury named Odyssey who reflects his personality greatly. He is also decent with bows but would rather a sword or a sickel headed staff to defend himself with.
Story: He grew up traveling the seas with family as a merchant trader for many tribes. Finding a Light Fury on Berserker Island to kickstart his adventurous behaviour. He took residence on Berserker Island for sometime and made a few enemies within his travels, some being previous family enemies but most being ones after his departure from the Berserkers.
Wed, 12/05/2018 - 08:30
#9
Take and Levi
Name:Take
Race: Human. Racially ambigeous but definitely not Caucasian.
Age: 15
Appearance: Tall, Tan, short straight jeet black hair and has a few stand fallen on his forehead. Sharp black eyes. Look thin but got nice farm boy muscle going on. Wear normal farm boy clothing without any armor(almost identical to Hiccup's outfit in movie 1). People might consider him handsome.
Personality: Standoffish wheter if he stand out or not he desperately try not to be and blend in as just normal farm boy ohgodjustletmebe-- Easily annoyed and grumpy, resulting in some rude and sarcastism.
Strengths: Good with handling dragon despite not to fond of them and either show no interest or explicitly state that he's against having any dragon relate job. to the point that he would pretent to be bad at it sometime. Deligent,hard working, family dedicated farm boy!
Weaknesses: Anything Social. Unlikable personality(at least on the surface) Kind of a push-over(and maybe even soft??) despite it. not a warrior.
Other: Has a Death song(?) named Levi. Pretty weird dragon. and Take just has him one day after saying he don't want anything to do with dragons.
Story: Him and his family have been living up hill in the hourse with own land of farm since forever. The family are well known and liked by the village as this nice humble family of farmers. At least the parents, they're nice supportive parents.
Wed, 12/05/2018 - 18:55
#10
COMIN IN HOT, BLOWING OUT- nevermind
Name:
Race: Darkness Quencher (Basically a snek. oh and they're known for cannibalism for the sheer fun of it)
Age: 42
Appearance: Has two horns going forwards from his eyes on a speed stinger type face and hobblegrunty frill.... lots of frill... gotta get that frill in there... all over the place... I need to draw a base for him... and two huge wings resembling a monstrous nightmare. Has a tendancy to change colors like a rainwing from Wings of Fire. Normally he has White as a base, comparable to that of an Black eyed Leucistic Ball Python. A little bit of red lining the pupil, while the rest of the Iris is Black. This is because it takes mental exertion to change colors, and the eyes do not change colors. If, in the middle of the night, you see an eye of sauron, it's probably just this guy.
Personality: No happy or angry, or any of those other "Annoying emotions". Just Unimpressed and Hungry. But, by the time he's hungry, you won't see his face... You'll se his stomach, though.
Strengths: Strong... bodily? muscles, Good at constricting. His near emotionless state helps him not get emotionally attached to victims, and therefore not biased when deciding who is most beneficial to him.
Weaknesses: No legs, can't grab anything without crushing it into oblivion for his life. Sometimes he gets depressed, at seeing himself be so heartless. But no one is ever around to see this. Or at least has lived to tell the tale. Can't chew, so eating can be fairly disgusting
Other:
Story: Pretty bland backstory, because he leads a bland life. He hatched in an old warehouse, lived there, held up to the same standards as Teiflings in the D&D world, and so he grew into it, always hated and feared. But as a hatchling he was always full of emotion, happiness, anger, sadness. His black eyes were a deep shade of blue, before he became what he is today.
I just realized I forgot to give him a name. Hmm. How about Ubiystvo. Cuz why not. Why not name him 'K.ill' in Russain. Ironic, really.
Thu, 12/06/2018 - 10:05
#11
Here we go!
Name: Eindride [ien-DREE-de] Felman (loosely translates as "one-who-rides-alone" and "man-of-the-mountains")
Race: Human
Age: 20
Appearance: Average build; not much in the way of muscle, but what is there is well toned.
Personality: Very un-confrontational and generally soft-spoken; Empath
Strengths: Accurate with a bow; Has an inventive mind
Weaknesses: Has a tendency to bottle up emotions only for them to explode later in the form of cutting words which comes as quite the suprise to those who know him. Definitly NOT a morning person.
Other: Has a dragon friend (prickleboggle) he named Heilloga. While not proficient in healing yet, he works with the healers during the day in return for food and a roof over his head. In his spare time, he works on his "dragon" arrows; all he says about them is "they're still in the experimental stage", and "not really safe as of yet".
Story: Been living in this town for almost two years. All anyone knows of his past is that he claims to be from the mainland (is this town on the mainland?) and that he was dropped off while in a starvation and hypothermia induced coma by a snow wraith (?!). Though the healers say that while he was in their care, he often had nights of fitful sleep where he would mutter something about dishonour and banishment.
Sun, 12/09/2018 - 13:49
#12
merp
Name: Aralah Guga
Race: TWI'LEK
Age: 18 (dunno if twi-lek years are different than human years help)
Appearance:
if people stopped staring at her purpleness, lekkus, and tattoos, she'd actually be very beautiful
Personality: Aralah is from Coruscant but obviously no one on Berk knows that... she's got these frickin' scary weapons called blasters and like she sorta fell down from the sky one day in this super crazy contraption like what the crap and like she has these scary antenna things and we're all afraid of her now
very edgy according to us
oh yeah and she's like purple
Strengths: great shot with a blaster
Weaknesses: hates uh dragons and like kinda wants to contact the rebellion to save her but she's torn whether to fix her communicator or throw it in the ocean
Other: She can be heard saying things like, "I still love you, V," or "I'll get back to you, V."
Story: She fell from the sky on a sunny day, and then landed in a Nadder nest. Surprised, she scrambled for her blasters and revealed them, but not after a Nadder spine skimming her collarbone. She then shot the Nadder and ran away, building a small shelter by a pond. People try not to go near her, but then one day she strolled in the village and demanded to see the leader. No one knows what they talked about, and she strolled right on back to her shelter. She has so many scary contraptions, they don't know what to do with her.
What they don't know is what she plans to do.
Wed, 12/05/2018 - 18:15
#14
Sweet! I'll see if I can put
Sweet! I'll see if I can put a form up later. I have a lot of stuff going on right now...
Thu, 12/06/2018 - 20:36
#15
20 Days Until Christmas!!!!!!!!!!
Well, I finally made my first OC so presenting... Dawn Andreassen!! (Ignore the surname... XD)
And here is her form!!
Name: Dawn Andreassen
Race: Viking, but more will be revealed with time...
Age: 19
Appearance: Dawn is pretty much exactly what she looks like in the picture above. XD Her shirt and skirt vary often but she always keeps the same cloak. She has had it for a long time now, and has made enhancements to it such as pockets on the inside and more. Her shield was given to her by her father, and her bow and arrow by her mother, so she treasures them as if they were her own children. Her horn was given to her when she was born and it still works just as well as it did when she first started using it. The horn is able to 'communicate' with dragons, depending on how it's blown, it can either calm dragons or thoroughly enrage them. So yeah. Quite a powerful weapon in the viking world.
Personality: Very headstrong and strong-willed, she is a born leader although often prefers to work and be alone. She is very cooperative when need-be but if she senses a traitor or enemy, she will be the exact opposite. She also has a mischievious side to her, and can be a lot of fun to be around.
Strengths: She is (as mentioned before) very strong-willed so she can often get out of sticky situations. It also helps that she has a mischievious streak so pranks and tricks also often get her out of tough situations. :D And one more thing... she has a VERY good sense of smell...
Weaknesses: Due to her looks (blonde hair, blue eyes, you get the idea.), many people think she is innocent and weak so they often go after her. Her tendency to like being alone also makes her a target for those who she makes enemies with. She is also useless with a sword, which is why she prefers to use her bow and arrow and fight from afar.
Other: She has never been seen without her cloak.
Story: She lived a normal life with her parents in her small town of Glitnir, until one day she went venturing in the woods and when she returned, she seemed... different. No one knew what had happened but something inside of her changed and she stopped socialising with everyone, often preferring to be alone by herself on the other side of the island. One day, out-of-the-blue, she just disappeared. Although it was rumoured by some traders and vikings they saw her leaving, no one could quite remember how and why. Now she roams the archipelago, never staying in one place for too long, and always, ALWAYS wearing her cloak.
Well, I hope you like Dawn! I can't wait for this role-play! :D
Thu, 12/06/2018 - 18:12
#16
Here ya go!
Name: Syren
Race: Half human/half mermaid (she turns into a mermaid when she is at least fifty percent submerged in water)
Gender: Female
Age: 14
Appearance: Dirty blonde hair down past her shoulder blades, blue eyes, and olive skin. She is built for speed, not strength. She is also tall and slimmish.
Personality: In a way, sweet. She is innocent and always suspects the best. Very trusting and optimistic. Also loud and sometimes annoying.
Strengths: She has a good shot with her bow and arrows, good runner/swimmer, optimistic, thinks outside the box, she can breathe underwater/depth pressure doesn't affect her
Weaknesses: Has no control over her mermaid form, sometimes can't get people to take her seriously, literally can't lie, innocent and trusting
Other: She has a Hobblegrunt named Frill. He is playful and just about as innocent as Syren herself.
Story: When she was seven, Syren just appeared one day in the village. She was just sitting on a rock watching everyone creepily. A family took her in at the village, but Syren can't remember anything that happened before she showed up at the village. She met Frill in the forest as a baby dragon and carried him home a few days after she showed up in the village.
Mon, 12/10/2018 - 16:42
#19
question
Will our post be after the backstory or a retelling of it?
Wed, 01/09/2019 - 13:55
#23
Boooooooooooooooooooooooooooooooooooooooooooooooooooooooooooooop
PING
just checking up on this thread
Sun, 02/03/2019 - 14:01
#24
Is this ever going to
Is this ever going to restart?