Unleash the Strength of the intimidating Crimson Goregutter!
Vikings, unleash the power of the incredible Crimson Goregutter! Continue the journey in defending the school grounds by adding one more lava spitting dragon to your fleet!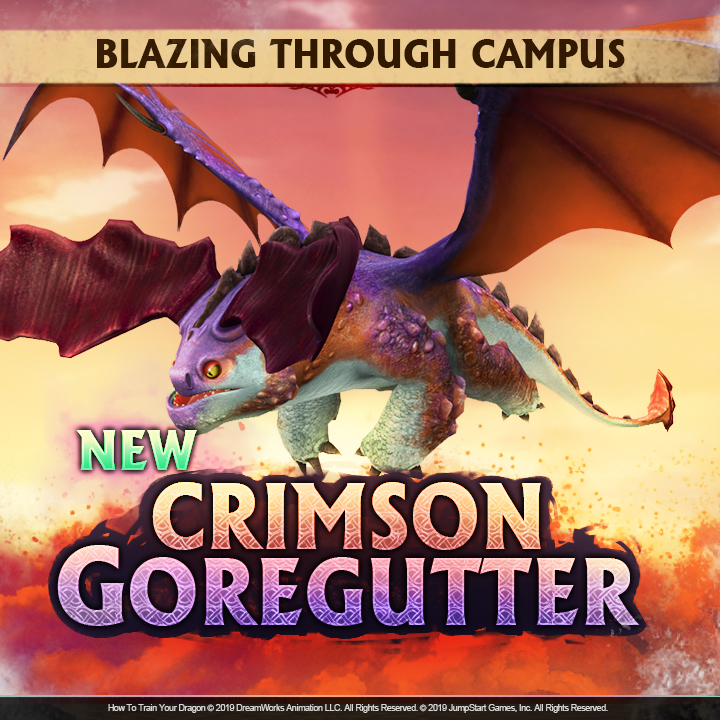 Crimson Goregutters are massive in size and carry an unbelievable amount of strength, helping them destroy anything in its path when feeling opposed. Mighty as they are, these creatures are loyal to their alpha and caring to those who they consider their friends. Though they may not be one of the fastest dragons around, don't be fooled as their size is there gift, and you can spot a Crimson Goregutter from miles away!
These unique dragons are born with enormous antlers used as weaponry in battle and a shocking axe-like tail; enemies don't stand a chance against them! They have incredible ear-spitting calls, which they use to communicate with others from a far way distance. These roaring calls coming in handy whenever reinforcements are needed.
Dragon riders, it is now time for you to embark on a never-before journey alongside the newest addition of the Crimson Goregutter!
Thu, 03/21/2019 - 16:37
#6
I was about to grow up my
I was about to grow up my Crimson Goregutter from a baby to a teenager and the game froze. Loaded and loaded but nothing, I did not even see my dragon for edit his colours. And now I can not enter either, the game not stop loading and gets stuck. I try to uninstall it and reinstall it but it remains the same. It does not work, neither on my tablet nor on my pc. Can you fix it please?