Unleash the Hero Behind the Deathgripper!
A brand-new item has just landed at the Trading post and Vikings all around are rushing to grasp one of their own! Introducing the newest addition of the Deathgripper Hero Skin for all Vikings to collect!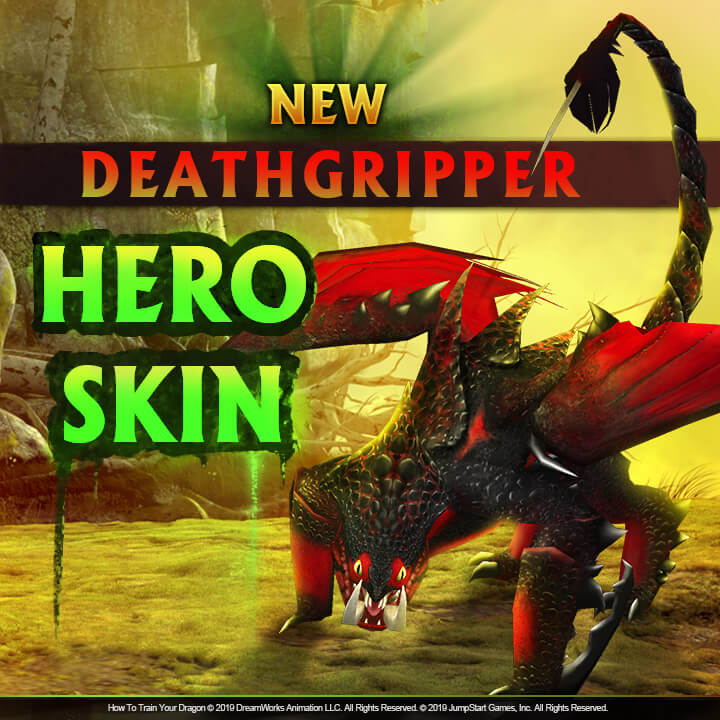 As seen in the newest film of HTTYD3 this Strike Class dragon arrives with its mighty and prominent look at the School. Vikings can now soar the sky with the same fierce red and midnight black colors on their very own Deathgripper!
Deathgrippers are a one-of-a-kind dragon, born with venomous pincer tails which are eerily to those of a venomous scorpion. These dragons love spending time up in the air, helping Vikings reinforce dragon riding skills as they go.
Those who have a Deathgripper alongside their fleet will only leave others envious and wanting one of their own!
Don't wait any longer! Take pleasure in more flights with the Deathgripper Hero Skin!
Tue, 05/14/2019 - 12:10
#1
RotomDex Roasted My Subject...
In exception of the Rare Skins (Which I possess all of them) The Deathgripper's Hero Skin is my new favorite! I'm also quite happy it didn't cost me 240 gems like how the Crimson Goregutter Hero Skin was... before it gets changed to 70 gems *facepalm*.
I have 4 Deathgrippers, 2 Standard and 2 Titans, and each Titan and Standard have their own skin! The details on each are just so good! The scales are visible and everything of the skin is perfect! Even though the skin on the Titan looks darker... I'm happy to finally have a skin which I sure will love!
I hope you would also release the Skrill and Flightmare Hero skins in the future updates! (since the Hero Skin with Warpaint got removed when they got their Titan form...)
Tue, 05/14/2019 - 12:14
#2
*Grabs popcorns*
Thanks for relasing it!! Since we STILL can't color our dragons with black, i'm glad that you at least gave us a black skin for our deathgrippers, because some people (like me) love the colors of the movie, so it's nice to able to get them, at a not-too-high price. Thanks again!
Tue, 05/14/2019 - 14:07
#3
...
Nice! I'll definitely be getting this. Since I really wanted Axel, my Deathgripper that I got from the HW expansion, to have a red and black color scheme which I couldn't achieve because black hasn't been added back to the color palette, I'm torn on whether to put it on him or leave him the way he is and just get another Deathgripper at some point to put it on. Decisions are the worst. XD