Unforgettable~(Limited Spot RP)
Wed, 04/11/2018 - 15:12
#703
Mizuko and Viriz
Viriz} Forest Spirit
((@Vanilia, wanna timeskip till they arrive at the lake))
Mizuko} Siren
After Mizuko defeated the sea serpent, she felt a tremendous amount of power.
"This pressure, it couldn't be...a leviathan!" She said, trembling slightly when the creature revealed itself.
"Mizuko! There's no way you can handle something that powerful! We need to get out of here!" Zonia cried out.
The leviathan, a legendary sea beast which even gods fear, Mizuko recalled hearing tales of the creature.
It glared at Mizuko with a furious expression. Without warning, it swung its tail at Mizuko knocking her into the depths.
"Mizuko!" her three sisters screamed simultaneously.
The creature then turned to the other three sirens and let out a mighty roar. Just as the legend says, the leviathan's roar is mighty enough to rip the flesh right of a living being. All the creatures around them began dying, reduced to a skeleton in an instant, as the soundwaves from the creature's roar tore them apart.
The three sisters attempted to protect themselves by combining their magical power to create a barrier. But it wasn't enough, it hadn't even lasted a second and the sigil already started to crack.
"What?! Impossible!" Souri remarked, struggling to maintain the barrier.
"It's just too strong!" Zonia added.
"So is this how our lives will end?" Nila sighed.
Down below, Mizuko's body drifted with the current, as if she'd drowned.
So this is the power of a leviathan, if hadn't created that barrier in the instant it attacked I may have di.ed. This form is too weak to face off against such a creature, she dwelled, Legend has it that the leviathans are close relatives to the dragon, both of which are members of the A-Class. Those dragons who strayed far from their homeland and entered the seas, absorbed the power of water itself and made it their own. With every generation, the sea dragons were able to better manipulate their new water based powers, which their ancestors living in Ionia could not, until they were eventually considered an entirely different species. They were now known as, the leviathans-Titans of the Seas.
The siren's frown turned into a smirk, Still, If can face off against a creature that even gods don't dare anger, then that bas.censored wont ever be able to interfere in my life again. A mysterious blue glow covered her entire body and then broke into fragments, like how a snake sheds its scales. Mizuko's entire appearance had changed, her hair grew longer and her facial features were no longer human-like. In addition, Her power had risen to immeasurable heights.
At lightning speeds, Mizuko rushed to her sisters' aid and created her own barrier just as theirs broke.
The three sisters were blinded by the blue light of her ability.
"M-Mizuko, is that you?" Zonia asked, struggling to believe it was her sister. Her aura felt the same, just that it was immensely more powerful, but she was unrecognizable.
Mizuko nodded, "hmm."
"Since when did you have this form? I've never seen it before," Nila questioned, intrigued.
"Well whatever happened to Mizuko, her power is incredible, she hasn't even broken a sweat blocking that creature's attack," Souri stated.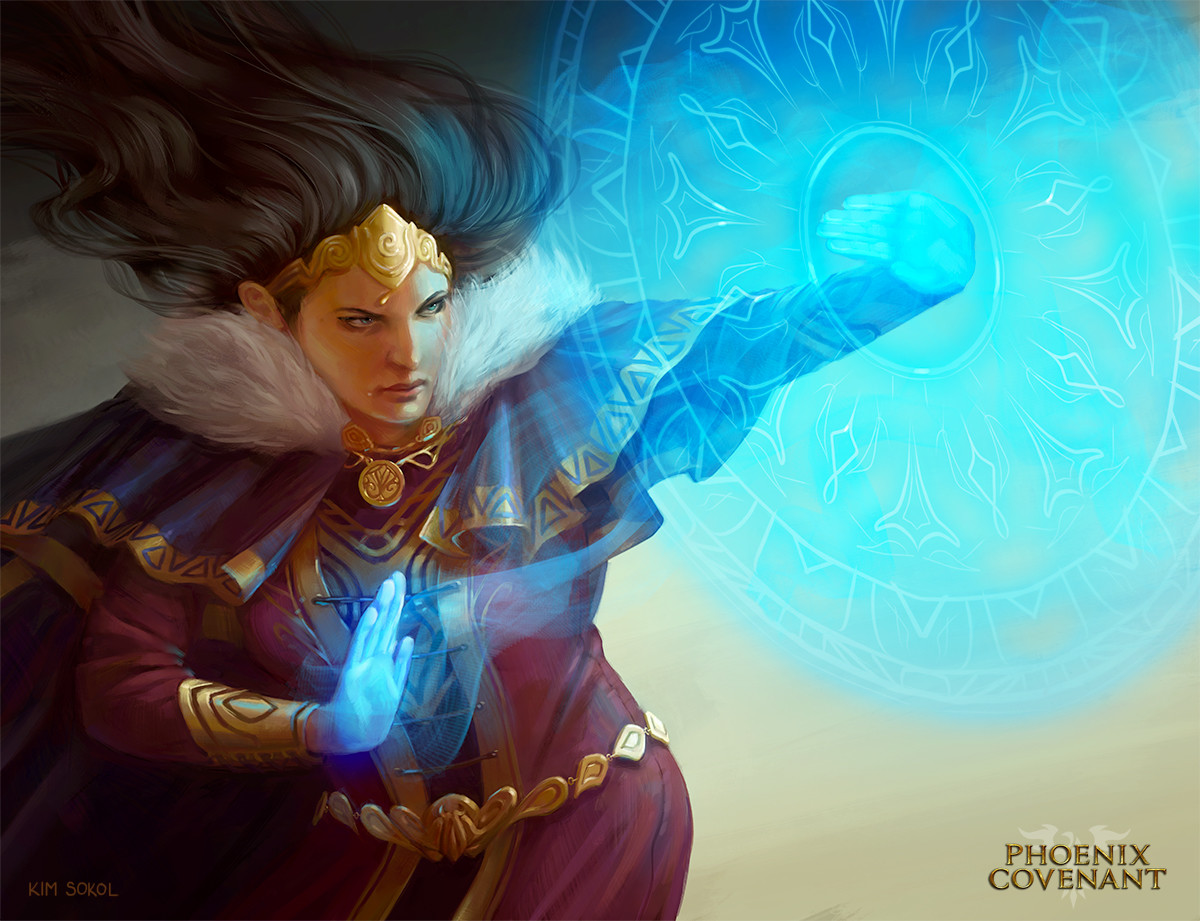 (Though the sigil would be much larger so that it can defend her and her sisters)