Treasuring our stuffed friends
Ok, so... it has been quite a bit of time since I last created a thread on the forum, though I have posted a little on other threads. Anyway, this thread is about the best (in my humble opinion) toy in the history of toy kind (ok, I might be exaggerating a bit here, but bear with me): the stuffed animal! Stuffed animals: soft, huggable, comforting, don't give you grief or drama. What's not to love about them? Many of us had a favorite stuffed animal when we were very young, and some of us still have that one favorite to this day. Here's mine: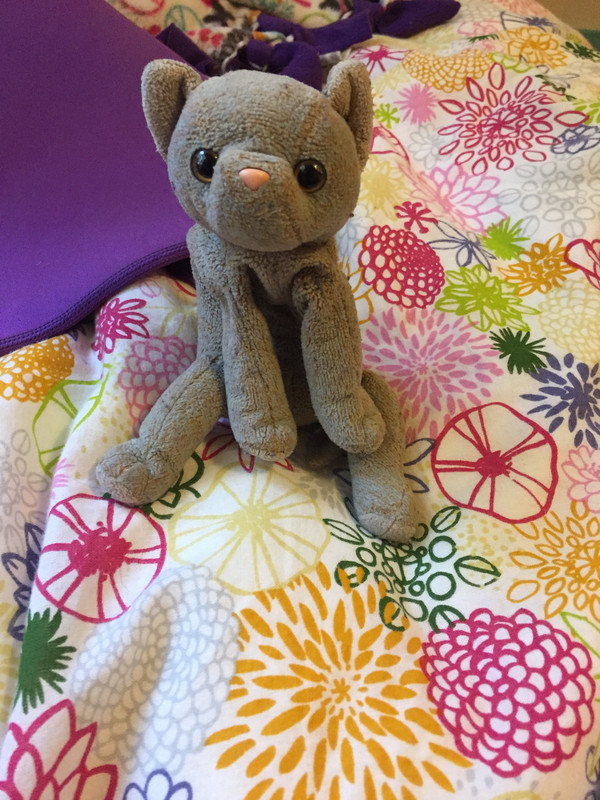 Meet the Beanie Baby that's been with me for 20 years: Scat! I've had her since I was 3, and she is my favorite stuffed animal that I have. I don't sleep with her as much as I used to, but I still do from time to time. Scat has gotten a bit worn over the years. Her whiskers are gone, and the classic beanie baby tush tag is mostly frayed, but I still love her! Who else had/still has a favorite and treasured stuffed animal?
Sun, 09/29/2019 - 12:55
#1
...
Yes! A thread to appreciate our adorable, always there for us stuffed friends! This is right up my alley.
Awww! She's sooooo cute! I love stuffed animals. I actually collect stuffed animals and dolls(Barbies and other similar dolls.) I don't have any pictures but I'll tell about a couple of my favorite stuffed animals anyway. One of my favorites is one I got in 2016. It's a pinkish/purplish bear from Build a Bear in a Jedi outfit that I named Starlight Bearington. Another favorite stuffed animal is one I've had since childhood. It's a rainbow teddy bear that I've had since I was about 5-7(can't remember exactly what age I was when I got her) that I named Rainbow(Yes, I know. Very original. lol.). I was going to get tubes in my ears and I was really scared. I was told at my preop appointment(pretty sure that was when it was, it's been so long ago some of the details are hard to remember) that I could bring a stuffed animal with me on the day of my surgery. We had to go to the store after the appointment and I saw those rainbow bears on a shelf and I decided that was the one I wanted to take with me when I had my surgery. My mom bought me one and on the day of the surgery I took Rainbow with me and she's been one of my favorite stuffed animals ever since.